Gigabit Switch Vs. Fast Ethernet Switch: What Is the Difference?
Upgrade your network with EtherWAN's high-density Gigabit Ethernet switches, built for bandwidth-intensive applications. These Gigabit switches speed up to 10 Gbps supporting long-distance connectivity with PoE-enabled SFP slots, eliminating bottlenecks, and optimizing data flow for reliable performance. Choose managed or unmanaged switches with copper and fiber port modules for scalability and flexibility. Streamline data transmission and Maximize performance with EtherWAN's gigabit switches.
Benefit of Gigabit Switch  |  How to select Gigabit Switch  |  How Much Do You Know about Gigabit Switch?
Increase your Ethernet advantage
| Feature | Fast Ethernet | Gigabit Ethernet |
| --- | --- | --- |
| Speed | Up to 100 Mbps | Up to 10 G |
| Bandwidth | 100 MHz | 1000 MHz |
| Scalability | Limited | Large inudstrial |
| Cable Type | Cat 5 or better | Cat 5 or better |
| Maximum Cable Length | 100 meters | 100 meters |
| Duplexing | Half-duplex or Full-duplex | Full-duplex |
| Latency | Up to Higher latency120 Km. | Lower latency |
| Coverage limit | Up to 120 Km. | Up to 120 Km. |
Select the Industrial Gigabit Ethernet Switch to meet you need
Industrial Gigabit Ethernet Switches
EtherWAN's full gigabit Ethernet switches provide high port density, and are an economical solution for applications with high bandwidth demands. They are a cost-effective way to upgrade existing networks to gigabit speeds, and there by improve data flow and eliminate bottlenecks. Designed and built for reliable long-term performance, all switches are rigorously tested to ensure that they meet the strictest industry requirements. SFP slot options allow for interconnectivity over long distances using fiber optic cables, and full gigabit switches that are PoE (Power over Ethernet) enabled allow for the convenient powering of remote devices through the data cable.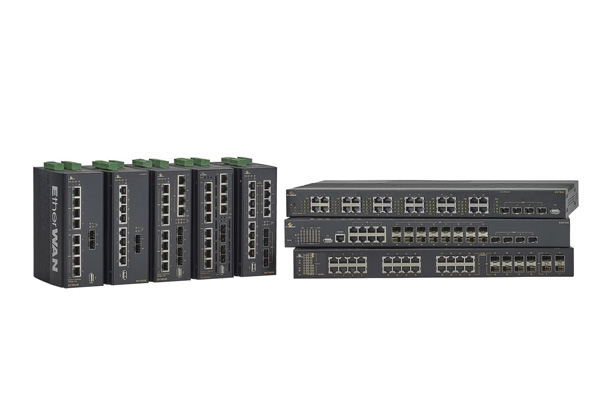 1G/10Gb Ethernet Switches
EtherWAN provides a broad range of high density and high-performance rack-mounted 1 and 10 Gigabit Ethernet switches. 1G/10G dual rate devices are ideal for migration from an existing network to Gigabit speed and providing 10G high bandwidth to the backbone. These switches are ideally suited for backbone and edge device applications in industrial, educational, and enterprise environments, providing nonstop data transfer at extremely high bandwidths. Options include hardened construction, Lite Layer 3 and Layer 3. Flexible connectivity selections for specific models in each series include a choice of AC or DC power input through AC inlet or terminal block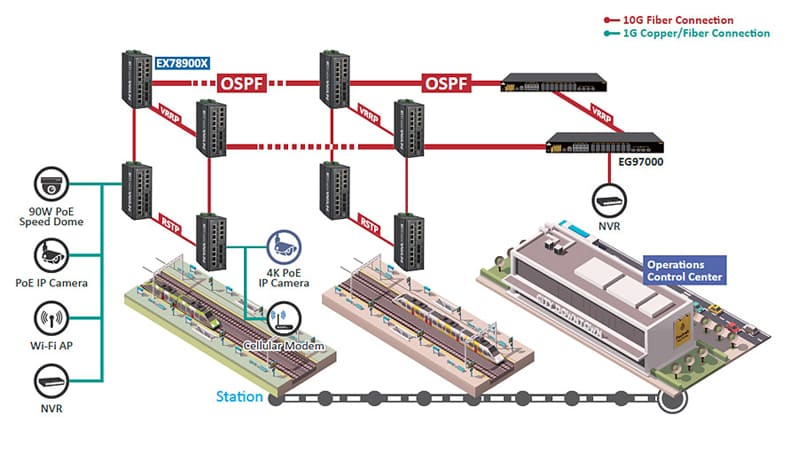 Go one step ahead with Highest 90W PoE & 10G solution
Cameras are becoming higher resolution, connected devices and the related networks are growing exponentially. Especially in critical Infrastructure, with an increased volume of data and the emergence of more connected devices, there has never been a more crucial time to ensure that your network can meet the demands of the future. 10G offers unparalleled speed and bandwidth to support industrial networks for years to come. EtherWAN's EX78900X Series keeps your network ahead of the curve with 10G ports and 90 Watts of power per port. Furthermore, it provides reliable, long-term connection under harsh environmental conditions.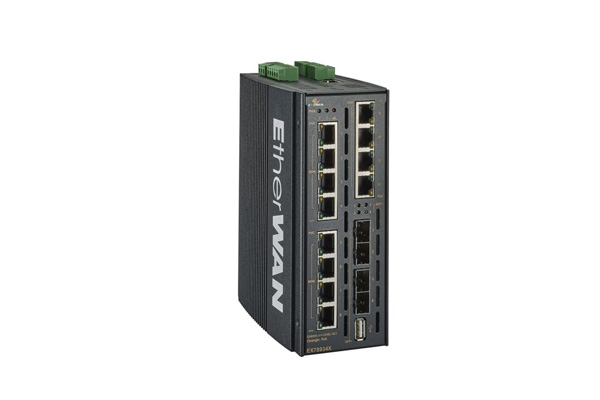 Frequently asked questions on Gigabit Ethernet Switches
What are gigabit switches?
Gigabit Ethernet switches support transmission speeds of at least 1 gigabit per second (Gbps). This is the current standard for LANs, with gigabit Ethernet replacing the older and slower "Fast Ethernet." 
What is the difference between a gigabit switch and a Fast Ethernet switch?
The difference is in data transmission speed. Gigabit Ethernet switches support transmission speeds of at least 1 gigabit per second (Gbps). Fast Ethernet switches can only transfer data at 100 megabits per second (Mbps). 
What are the advantages of gigabit switches?
Not only are networks increasing in size, but the devices that connect to networks are creating data at volumes never seen in the past. Because Gigabit Ethernet switches is 10 times faster than 100Mbps Fast Ethernet, gigabit switches are better equipped to handle the high data loads of modern networks. 
Is 10/100 Ethernet fast enough?
For small networks with low bandwidth requirements, 10/100 Ethernet (Fast Ethernet) is often fine. But when purchasing network switches, it is important to consider scalability – how well will existing equipment work as the network and data volumes increase over the years. 
How much traffic can a gigabit switch handle?
Gigabit Ethernet can transmit 81000 full size frames each second. An Ethernet frame is a data link layer protocol data unit. 
What is a 10 GB Ethernet switch usually used for?
10G Ethernet switches are usually used as core switches: switches installed at the backbone a hierarchical network. 10G Ethernet switches operate at full-duplex, eliminating the need for collision detection and devices such as repeater hubs. 
What cable do I need for 10Gb Ethernet?
Both copper and fiber cables can be used for 10 Gb transmission. Fiber options include both Single-mode fiber (SMF) and Multi-mode fiber (MMF). At higher speeds, copper cables are best used for shorter distances.