High Power 90W PoE Switches with High-speed 10 Gigabit Communication for Increasing Power & Bandwidth Demands in Industrial Field Applications
Cameras are becoming higher resolution, connected devices and the related networks are growing exponentially. Especially in critical Infrastructure, with an increased volume of data and the emergence of more connected devices, there has never been a more crucial time to ensure that your network can meet the demands of the future. 10G offers unparalleled speed and bandwidth to support industrial networks for years to come.
EtherWAN Systems Inc.'s latest product, EX78900X series, featuring next generation PoE and ultra-fast speeds allows for a wide range of devices to be powered and connected to the network. The EX78900X series is a hardened, managed PoE switch, built to support the latest IEEE 802.3bt PoE protocol, with 12 PoE ports each providing up to 90W power to compatible devices, along with 4 10-gigabit uplink ports.
The EX78900X series adopts the latest standards to better support the long-term networking needs of PoE applications. 90W PoE opens the door to many more devices being powered and networked with a single cable, and is also backward compatible with PoE af and PoE at (15W/30W). 10-gigabit speeds ensure that data-intensive applications can be handled properly.
Additional features provide more flexibility and control. With PoE auto-recovery, the switch monitors and automatically reboots unresponsive PoE devices. Built-in digital inputs and relay outputs allow for notification and alarm functionality for devices. PoE power can be controlled granularly, allowing power to be toggled on and off on a user-defined schedule, ideal for PoE-powered security lighting applications.
How Can EtherWAN's PoE lighting solutions help?
Efficient Technology to Reduce Crime Rates
With crime cases an ever-growing concern, lighting has become increasingly important - not only in order to record crimes clearly but also to deter criminal behavior. EtherWAN has collaborated with Cast Lighting to write a new page in the world of PoE solutions. By using the latest PoE technology, lights can be automatically turned on when movement is sensed.
Safety through Triggered Outdoor Lighting
One PoE lighting application is the chasing away of intruders. When the surveillance system is installed in a place that to be secured, the PoE lighting can work with EtherWAN's PoE switches to efficiently turn on the lights, startling intruders. According to an investigation by UChicago Urban Labs, effective lighting can result in a 36% reduction in nighttime outdoor crimes, due to the fact that the lighting makes intruders more likely to abandon their targets.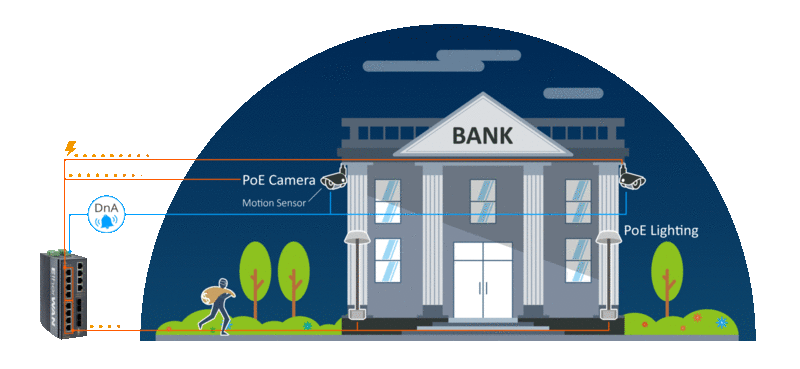 Surveillance systems are made to secure areas and record events. However, sometimes the nighttime light sources are inadequate to make recording viewable after the event. Now there is a solution with EtherWAN's PoE switches that can not only output power to PoE cameras, but also to PoE lights to enhance recording quality. This eliminates the problem of black and white or blurred video.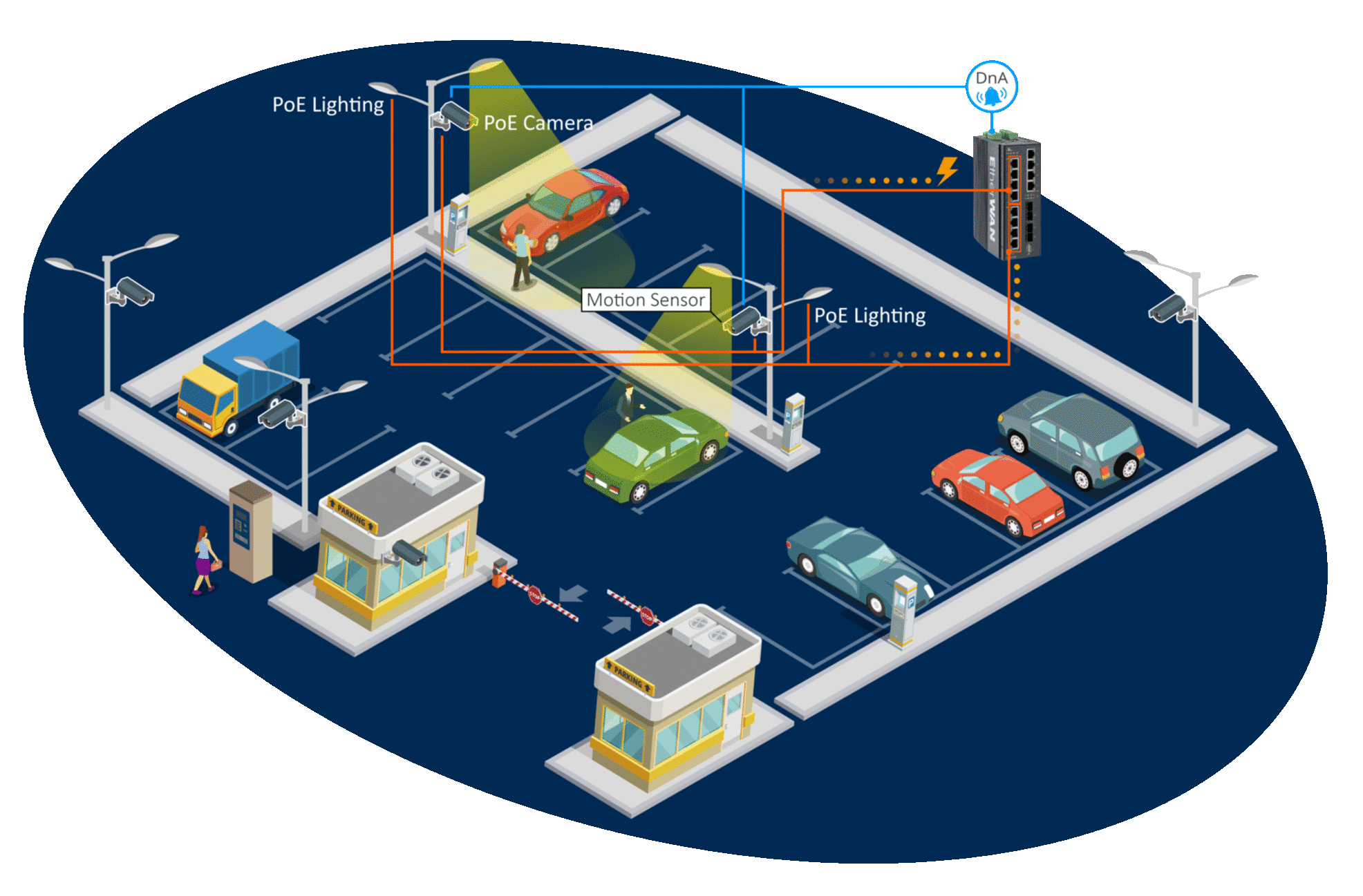 Application example – Next Generation 10-Gigabit, 90W PoE Switch, Built for Urban & Building Infrastructure and Security Networks
EtherWAN's EX78900X Series keeps your network ahead of the curve with 10G ports and 90 Watts of power per port. Furthermore, it provides reliable, long-term connection under harsh environmental conditions.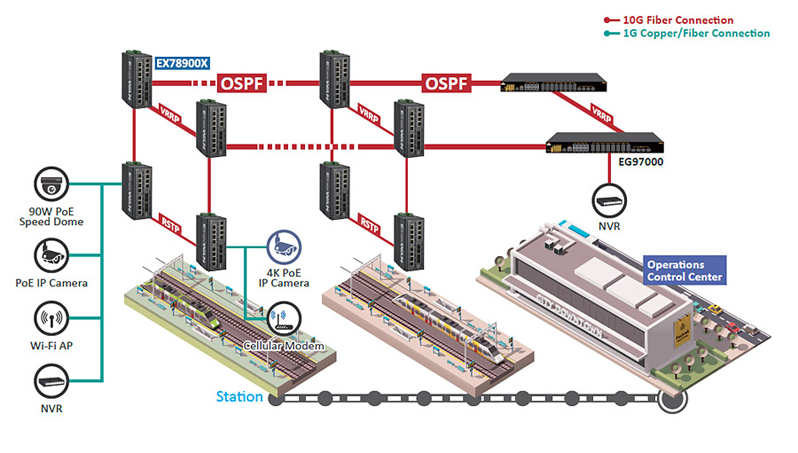 All of EtherWAN's products are backed by professional technical support, giving customers the confidence to plan for the long-term needs of their networks including maintenance and future growth. Hardened products, backed by a limited lifetime warranty, are rated to operate within a -40 to 75°C range and can resist vibration and electromagnetic interference.
Visit EtherWAN's website for more details and learn how to integrate the EX78900X into your network.