Customer Support Service
+886 (2) 6629-8986 (Pacific Rim Office) +1 (714) 779-3800 (US office)
To maximize the benefits of the warranty on your new EtherWAN product, please fill out this form.
Your privacy matters to EtherWAN. By clicking submit, you consent to receive calls and emails at the information you provided regarding EtherWAN Systems, Inc. warranty services. Please note, we will never sell your information (name, address, email, etc.) to a third party and consent is not required to receive EtherWAN warranty services.
Need help locating the model and serial number on your device?

Model Number is located in the upper left corner of the product information sticker.
Serial number is located beneath the S/N barcode of the product information sticker.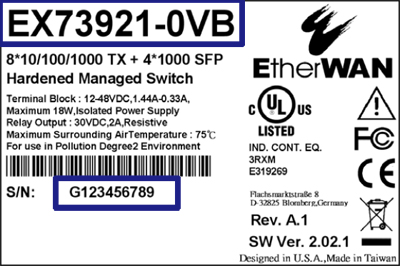 More