Not all PoE solutions are created equal. At EtherWAN, our PoE Switches, PoE Media Converters and PoE Ethernet Extenders have the technology to make networks smarter, reliable, more compatible and easier to use. Read on to learn more about the innovative features in EtherWAN's PoE products.
Send Power Even Farther
Go beyond the standard 328 feet (100M) PoE power distance. With EtherWAN's Extend Mode enabled, a single PoE port can send power and data over 820 feet (250M)--2,5x farther than before. Save money by eliminating the need for additional switches, repeaters or even electrical work.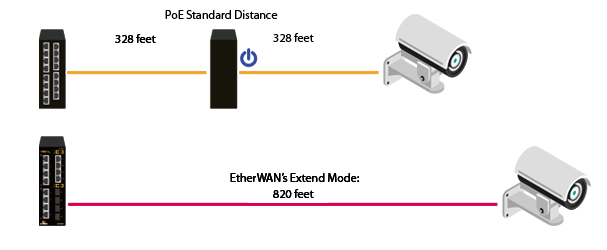 PoE Scheduling for More Efficient Networks
Supplying power to a device 24/7 can waste energy and bandwidth. Additionally, security may be a concern for devices like wireless access points if left on outside business hours. With EtherWAN's PoE scheduling, you choose when devices need power and when they don't.



PoE Force Mode for Unusual PoE Devices
For those in the industry, running across powered devices that don't strictly follow the Power over Ethernet standards (IEEE 802.3 af/at) can cause headaches during installation. Examples include some IP cameras, IP phones and Wi-Fi APs, all of which may require higher power or non-standard resistance and capacitance.

When Force Mode is enabled, the PoE switch can send more power to PoE devices, allowing even non-standard devices to choose the right amount of power. This greater flexibility means your EtherWAN switch is more compatible and can power more devices.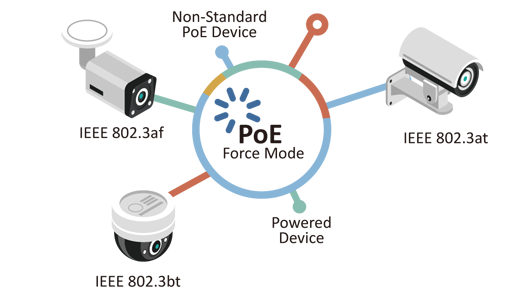 Improve Up Time Automatically with PoE Watchdog
Knowing when a PoE device fails is not always easy, and rebooting devices in hard to reach areas isn't always practical. PoE Watchdog automatically checks and reboots PoE devices when they don't respond. The PoE watchdog maximizes your device's uptime by preventing the need to send personnel on site to perform a manual reboot on the unresponsive device.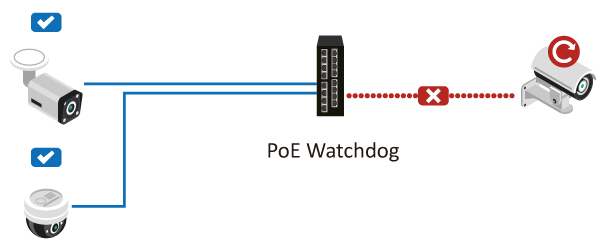 Higher Protection Against Power Surges
Power surges caused by indirect lightning strikes can damage or destroy network systems and can cause costly downtime. In addition to the protection of the power supply system, data ports need to be safeguarded against electrical surges.  EtherWAN uses 6KV surge protection, well above the commercial standard, which helps prevent electrical damage to the Ethernet port caused by sudden power surges, thus helping ensure the reliability of data transmission.