Optimized Information Technology Solution for a Fast-growing City
---

---
Background
Bandwidth and performance problems were at the heart of an affluent West Coast city's transportation system. With a population of over 140,000, the data network underpinning the city's intelligent transportation system was becoming less and less adequate, and a need for more advanced surveillance equipment was arising. The city's salty marine climate, paired with wet winters and dry summers meant the aging network of 177 interconnected signalized intersections was in need of updates that would provide short and long term support for their transportation system.
---
The Challenge
Like many municipalities, the existing network was an assortment of connected systems: copper, 100M and 1G fiber using 9-port utility-grade Ethernet switches with several strands of dark fiber installed. To improve public safety, the city planned to upgrade nearly one thousand video cameras to high definition (HD), and required an infrastructure to support the new data-heavy surveillance footage - a solution that needed to fit into existing traffic cabinets.
---
Customer's Requirements
Improve speed and reliability of existing network
10G solution to accommodate a vast network of HD Cameras
Equipment must fit into existing traffic cabinets (300mm deep)
---
Solution
EtherWAN was able to implement an inclusive solution to deliver the network capacity needed by the HD video cameras, a solution that provided for future possible future expansion needs, and satisfying the city's space requirements.

EtherWAN implemented the below products to support the more robust network:*

► EX78931 hardened managed PoE gigabit Ethernet switch
► EX77964 light Layer 3 hardened managed gigabit switch
*Both models were customized by EtherWAN to meet city's needs.

The EX78931 switch is equipped with Ultra PoE ports to provide up to 60 Watts per port with a total power budget of 240W. The switches have versatility to connect with different brands of HD cameras and stoplights signals—both PoE devices, but ones that have different bandwidth and power consumption requirements.

Meeting the city's requirement of a more reliable network, EtherWAN implemented Alpha-Ring self-healing technology. This minimized any fault recovery time to less than 15ms. These features provided the reliability and network redundancy required by the customer.

The EX77964 provides a hardened full-gigabit managed switching platform that combines the advantages of Layer 3 routing protocols with robust management features to ensure all data from the new HD Cameras was flowing alongside the logic of thousands of stoplights in the 177 intersections. With support for static routing, Routing Information Protocol (RIP) V1/V2, and Virtual Router Redundancy Protocol (VRRP), the new system delivers outstanding flexibility and security in a 10 gig high-performance package that exceeds the needs for today and tomorrow.

Both models have hardened specifications, allowing the products to operate at temperatures ranging from -40 to 75°C (-40 to 167°F), and in environments where high ESD (electrostatic discharge), shock, and vibration may be present. These hardened products were chosen due to their location in cabinets outside where interior temperatures can skyrocket. With a 60+ year life expectancy (MTBF), there's no ongoing maintenance either. Additionally, earthquakes pose significant infrastructure threats in this area and hardened products' can minimize shock and vibration.
---
Application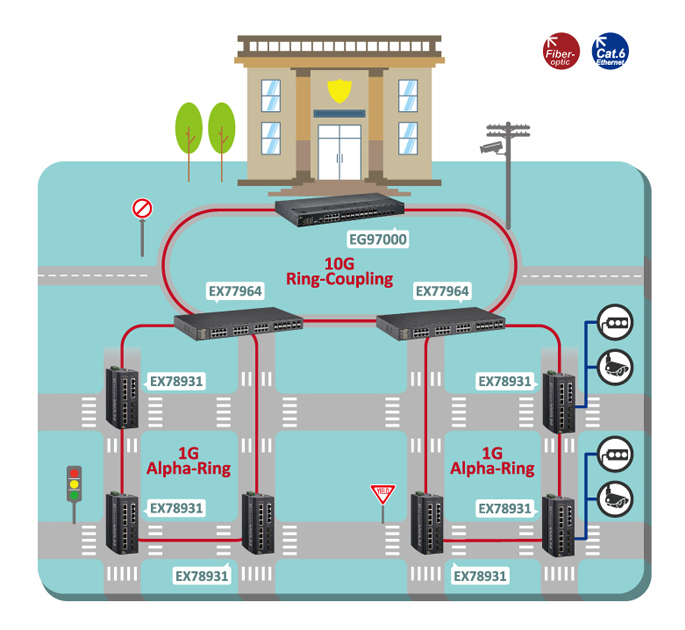 ---
Conclusion
With more robust switches, higher capacity network, and improved network redundancy, municipalities can accommodate every-growing installation HD video cameras and other new devices that require more bandwidth. Partnering with the right company can add the level of expertise needed to ensure that your project has the right equipment for your infrastructure and for future opportunities. Contact EtherWAN to learn more about how the company can support your municipality's infrastructure projects.
---
Related products:
---
EtherWAN – " When Connectivity is Crucial "
► For more information, please contact: [email protected]
---