Streamlined ITS Solution for a Booming City
---

---
Growing Demand for Advanced Surveillance
Bandwidth and performance issues plagued the transportation system of an affluent West Coast city with a population exceeding 140,000. The city's intelligent transportation system relied on a data network that was progressively becoming inadequate. Additionally, there was a growing demand for advanced surveillance equipment. Given the city's salty marine climate, coupled with wet winters and dry summers, it was clear that the aging network of 177 interconnected signalized intersections required immediate updates to ensure both short-term and long-term support for the transportation system.
---
Expanding ITS Opportunities
Similar to many municipalities, the existing network comprised a mixture of connected systems, including copper, 100M, and 1G fiber, utilizing 9-port utility-grade Ethernet switches, alongside multiple strands of dark fiber. In pursuit of enhancing public safety, the city embarked on a plan to elevate nearly a thousand video cameras to high-definition (HD) quality. This endeavor necessitated the development of an infrastructure capable of accommodating the substantial data load generated by the upgraded surveillance footage—a solution designed to seamlessly integrate with the city's existing traffic cabinets.
---
City's Network Demands
Improve speed and reliability of existing network
10G solution to accommodate a vast network of HD cameras
The device must fit into existing traffic cabinets (300mm deep)
---
Creating a Reliable Network Backbone
EtherWAN successfully implemented an all-encompassing solution to address the network capacity requirements of HD video cameras. This solution not only catered to the current needs but also considered potential future expansion needs while adhering to the city's space constraints.

EtherWAN introduced the following products to bolster the network:

► EX78931 hardened managed PoE gigabit Ethernet switch
► EX77964 light Layer 3 hardened managed gigabit switch
*Both models underwent customization by EtherWAN to align perfectly with the city's specific requirements.

The EX78931 switch boasts Ultra PoE ports, capable of delivering an impressive 60 Watts per port, with a total power budget of 240W. These switches offer the versatility needed to connect with various brands of HD cameras and stoplight signals, all of which are PoE devices with varying bandwidth and power consumption demands.

To meet the city's demand for a more robust and reliable network, EtherWAN introduced Alpha-Ring self-healing technology. This innovative feature drastically reduced fault recovery time to less than 15ms, ensuring the required reliability and network redundancy for the customer.

On the other hand, the EX77964 provides a robust full-gigabit managed switching platform, combining the benefits of Layer 3 routing protocols with powerful management capabilities. This ensured the seamless flow of data from the new HD Cameras alongside the logic of thousands of stoplights across 177 intersections. With support for static routing, Routing Information Protocol (RIP) V1/V2, and Virtual Router Redundancy Protocol (VRRP), this new system delivers exceptional flexibility and security within a 10-gig high-performance framework, exceeding present and future needs.

Both models feature hardened specifications, enabling them to operate effectively in extreme temperature ranges from -40 to 75°C (-40 to 167°F). They can withstand environments where high levels of ESD (electrostatic discharge), shock, and vibration may be present. These ruggedized products were selected due to their deployment in cabinets outdoors, where interior temperatures can soar. With an impressive 60+ year life expectancy (MTBF), ongoing maintenance is virtually eliminated. Furthermore, considering the area's susceptibility to earthquakes, these hardened products play a crucial role in minimizing the impact of shock and vibration on the infrastructure.
---
Alpha-Ring Network Topology Diagram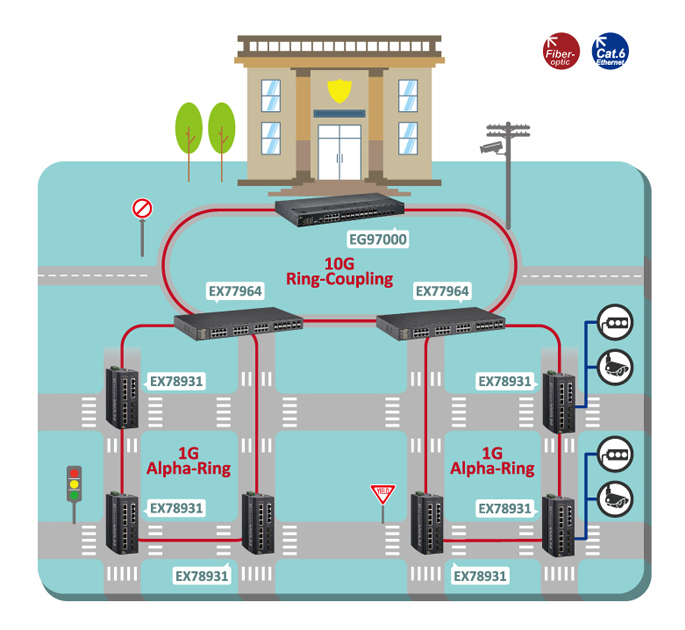 ---
Future-Ready Municipal Networks
With the integration of robust switches, enhanced network capacity, and increased network redundancy, municipalities can seamlessly accommodate the ever-growing installation of HD video cameras and other emerging devices with heightened bandwidth demands. Collaborating with the appropriate company can infuse the project with the essential expertise required to select the optimal equipment for your existing infrastructure while staying prepared for future opportunities. Reach out to EtherWAN today to discover how our expertise can bolster your municipality's infrastructure projects.
---
Related products:
---
EtherWAN – " When Connectivity is Crucial "
► For more information, please contact: [email protected]
---