How to choose the best IoT connectivity for your M2M applications?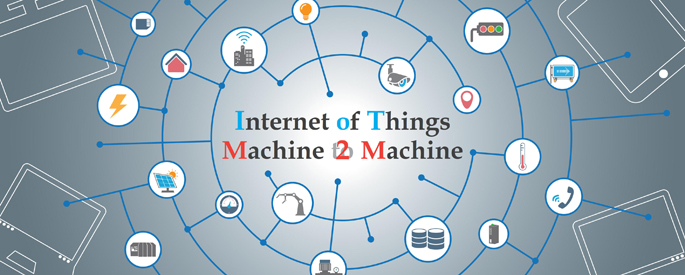 In the past few years, there have been many connectivity options available in the market that have boosted many IoT deployments. With many possibilities around, researching and finding the most suitable one for your specific demands may be a challenge. Here, we provide an overview of connectivity options for your reference.
■ Why is it so important to choose suitable IoT connectivity?
There are many solutions available on the market. However, customers don't usually know what is available and what the benefits are, and this is a barrier to selection.

Selecting the most suitable connectivity technology is one of the critical decisions that customers need to make in their IoT launch strategy, as connectivity is an important component in an end-to-end IoT solution. The main question to ask is how the connected product and the data generated are going to be used, and how they deliver value to the enterprise and its customers.

If we can define both the strategic and financial/budget objectives and risk, the customer can proceed to identifying technology requirements and selecting the most suitable technologies. Every use case has specific needs, which translate into certain technology requirements that determine the choice of the most suitable connectivity technology. There are 3 major parts that customers must check and analyze for their requirements:
Technical

Coverage
Energy efficiency
Data rate & Data delivery frequency
IoT Protocol (MQTT/HTTP)
Security/Bidirectional communication
Monitoring & Reporting

Commercial/Business

Ecosystem

Solutions
Interoperability
■ Typical IoT connectivity solutions, Now and Beyond
In general, the IoT landscape or rather the machine-to-machine (M2M) communication has been dominated by radio technologies such as ZigBee, Bluetooth and Wi-Fi for short range local area networks, and traditional cellular such as GSM (2G), UMTS (3G), and LTE (4G) for wide area networks. In the near future 5G will be also considered into the list.

A number of new radio technologies have emerged recently to connect things that were too expensive or had limited coverage to be connected. These newcomers are characterized by their low power consumption and wide coverage, and are known as Low Power Wide Area (LPWA) technologies. There are two main categories. The first one is proprietary LPWA such as LoRa, Sigfox, and Weightless which operate on unlicensed spectrums; they are typically deployed by non-telecom actors but can be also deployed by telecom operators. The second one is 3GPP standardized LPWA (for simplicity often referred to as "cellular LPWA") such as NB-IoT and LTE-M, which are carrier managed networks and operate on a licensed spectrum. These technologies were specifically developed to provide a cellular option that addresses the needs of IoT.

As illustrated below, traditional cellular technology emphasizes data rates and range with complex designs optimized for mass video, voice and data service; short range technologies like Bluetooth Low Energy (BLE) and ZigBee focus on data rate and battery life at the expense of connection range; LPWA technologies, including NB-IoT, lower the data rate to gain better power consumption, improved battery life, and coverage.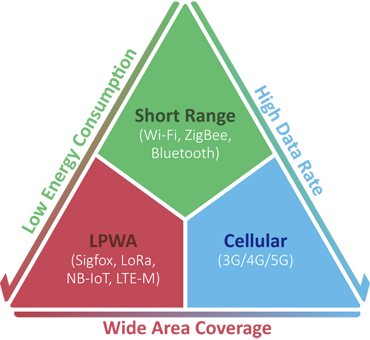 Cellular 3G/4G
Traditional cellular technology, such as 3G or 4G, is a typical wide area solution with excellent coverage communication. It remains the backbone for many IoT applications and is one of the most popular solutions for service providers. However, the cost for sending a high quantity of data is high. Cellular not only has a high cost but also needs high power consumption for several applications.

Wi-Fi
At 2.4GHz or 5GHz transmission, Wi-Fi is able to carry more data, the widespread Wi-Fi standard 802.11 presents the ability to transfer hundreds of megabits in only one second. However, it has limited range and high power consumption. Thus, IoT applications that use Wi-Fi connectivity only do so in short range.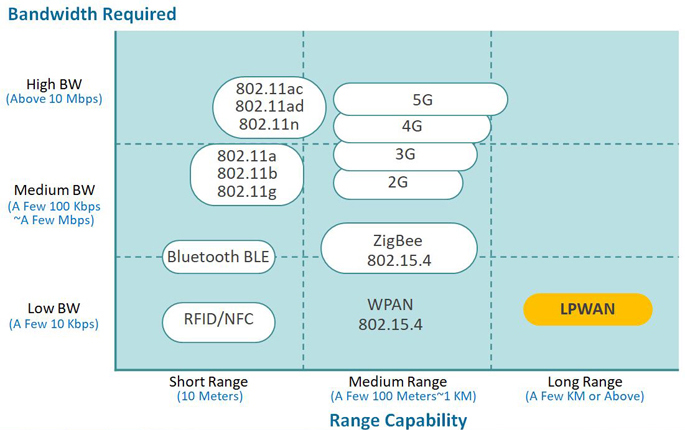 ■ LPWA goes further
LoRa, NB-IoT, LTE-M
Low Power Wide Area technology is a kind of distinct IoT connectivity technology that is also spread over a wide area and requires low power consumption. There are a number of LPWA connectivity solutions such as LTE-M, NB-IoT, LoRa and others. They are truly helping and growing the IoT market. They provide huge coverage of up to 20km and enhance the battery life for sensors and edge side devices. LPWA technology is good for many applications in smart cities, smart agriculture, and smart sensing.

LoRa with LoRaWAN
LoRaWAN is one of the IoT Protocols for wide area networks. LoRaWAN IoT Network Protocol is specifically designed for supporting the vast networks with the help of millions of low-power devices. Smart agriculture uses this kind of protocol. LoRaWAN is also famed in scores of industries for protected bi-directional communication. The data rates of LoRaWAN run between 0.3-50kbps. In urban areas, the range LoRaWAN varies from 2km to 5km. In suburban areas, the range is about 15-20km.

NB-IoT
NB-IoT is designed specifically for cellular M2M communications infrastructures, and a SIM card is necessary to communicate through the protocol. NB-IoT is a solution that makes it easy to deploy devices within an operated network. Compared with other LTE technology, NB-IoT improves the power efficiency of networked devices and can support years of battery life. Instead of using the full 10 or 20MHz bandwidth of standard LTE, NB-IoT uses a 180kHz wide resource block of 12-15kHz LTE subcarriers. Data rates will be in the 100kb/s to 1Mb/s range. This more simplified standard provides very low power consumption for connected devices.

LTE-M
LTE Cat M1 is a low power wide area (LPWA) air interface that lets you connect IoT and M2M devices with medium data rate requirements (375kb/s upload and download speeds in half duplex mode). As compared to NB IoT, LTE Cat M1 is also ideal for mobile use cases, because it handles hand over between cell towers similarly to high speed LTE. For example, if a vehicle moved from point A to point B, crossing several different network cells, a Cat M1 device would behave the same as a cellular phone and never drop the connection. An NB IoT device on the contrary, would have to re establish a new connection at some point after a new network cell is reached. Thus, LTE-M technology is the perfect solution to develop IoT devices designed for asset tracking.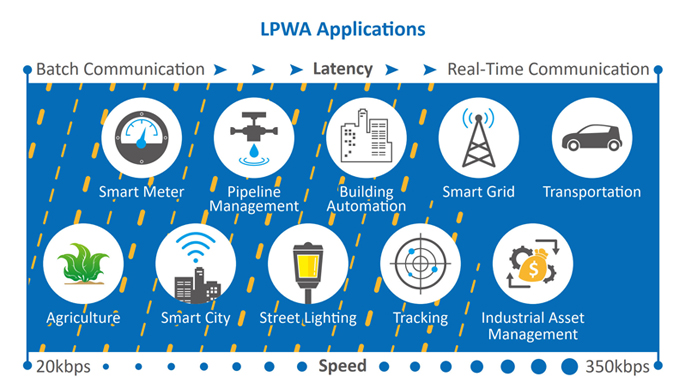 | | | |
| --- | --- | --- |
|   | LTE-M | NB-IoT |
| Also as known | eMTC, LTE Cat-M1 | LTE Cat-NB1 |
| Bandwidth | 1.08MHz | 180KHz |
| Max. Thoughput | 375kbps | 32kbps (DL)/70kbps (UL) |
| Network deployment | Relatively easy for operators to add to existing LTE networks | Easier for operators with GSM networks to incorporate |
| Frequency deployment | LTE in-band | LTE in-band, LTE repurposing and GSM repurposing |
| Voice/Data support | Voice and data | Data only |
| Mobility | Yes | No |
■ Before your project deployment
After defining both strategic and budget objectives and risk, the customer can proceed to identifying technology requirements and selecting the most suitable technologies. As illustrated as below, deploying IoT entails securing an end-to-end technology solution that includes hardware (device, components), connectivity technology, platform and applications (software, SaaS), often brought together with the help of a system integrator/technology consultancy.
Preliminary Thinking 1
Application (Software)
Platform
Predictive, Analytics (SaaS)
Control Management
Connectivity
Traditional Cellular (3G/4G-LTE), LPWA
Devices (Edge Node)
Smart Meters, Smart Sensing, Fleet Trackers
Components
Sensors, Meters, Battery Legacy Device
Preliminary Thinking 2
Monitoring & Reporting

Live Dashboard (Visualization)-SCADA or Cloud
Status Report
Alerts & Notifications
Data Analytics & Analyze Connectivity
Remote Control

Network Selection

Range
Bandwidth
Power Consumption
Budget

Traditional Cellular (3G/4G)
LPWA (LoRa/NB-IoT/LTE-M)

Field Site M2M Requirement

Device (Include Legacy Device) list & Qty.
Device interface (Analog/Serial Modbus..)?
Data rate? How often to send out the data?
Coverage?
There is no perfect technical solution that satisfies all requirements in the market. Thus, just focus in choosing the best IoT connectivity that has to be placed on the specificity and requirements of your application/project. Hopefully, the above illustrations about the choices for best IoT connectivity can make your deployment smarter.