Contact Us

The EX45900 Series — a Slim and Powerful Hardened Unmanaged 5-port (4 x PoE) Gigabit Ethernet Switch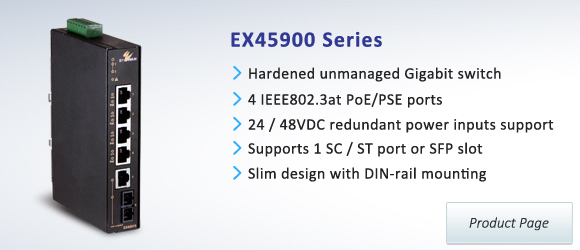 The EX45900 Series Hardened Unmanaged 5-port 10/100/1000BASE (4 x PoE) +1-port 1000BASE-X Gigabit Ethernet Switch is a new release from EtherWAN. The PoE/PSE ports are IEEE 802.at compliant, providing up to 30 watts per port. The EX45900 suits in applications such as machine vision industry, IP video surveillance solutions, and 802.11n WIFI connections, which require more bandwidth and packet priority setting however energy efficiency is mandatory.

Although unmanaged, the EX45900 provides IEEE 802.3az Energy Efficient Ethernet (EEE) and IEEE 802.1p Quality of Service (QoS). The hardware provides 24/48 VDC flexible redundant power inputs, and a DIP switch for port fault alarm, broadcast storm and jumbo frame features.

The EX45900 is with special circuit design for LAN port protection. The data ports can be fully secured when lightning strike occurs. This protection can be guaranteed no matter the power is given from a non-isolated or an isolated power supply unit.

The slim DIN-rail design of the EX45900 is good for space-sensitive installations. The front panel LED indicators display link, PoE status, power status, and alarm for easy monitoring.

The EX45900 Series offers the following benefits to users:
| | |
| --- | --- |
|   | Two uplink ports available (1 x 10/100/1000TX +1 1000SX/LX/SFP) |
One Gigabit going into the switch port from the host and one Gigabit leaving the switch port towards the host.
| | |
| --- | --- |
|   | Power over Ethernet on Gigabit Ethernet |
No extra power cord needed for PD installations while larger bandwidth for data transmission can be expected as well.
Better throughput rate to transmit larger packet size data.
Better interoperability and backward compatibility.
Connection with wireless AP or some bandwidth-demanded devices.
Carries up to 10K bytes of payload to increase throughput and network efficiency.
Complies with IEEE 802.3az Energy Efficient Ethernet (EEE) standard to allow less power consumption during periods of low data transmission.
4 Priority markings are carried in Virtual Local Area Network (VLAN) tags that user can use existing resources efficiently and ensure the required level of service without reactively expanding their networks.
Hardened Unmanaged 5-port 10/100/1000BASE (4 x PoE) +1-port 1000BASE-X Gigabit Ethernet Switch
 

Field-proven Reliability
Hardened Ethernet equipment with superior reliability, long MBTF, redundant power support, wide operating temperature range, EDI, EMI, RFI and surge protection.

Full Product Testing
Our hardened products are required to pass stringent real-time data transfer testing at the temperature from -40° to +85°C for up to 72 hours without compromise.

Customer-centered Services
EtherWAN has a professional support crew, with domain know-how and hands-on experience working with system integrators and solution providers.
If you do not want to receive this e-bulletin in the future, please reply
here
© EtherWAN Systems, Inc. All rights Reserved.