Contact Us

EtherWAN Helps to Structure IP Surveillance Backbone at Hospital

A major hospital in central Taiwan houses 1,500 beds and 3,000 employees. It is able to take care of 6,000 outpatients, 130 inpatients and 180 patients in the emergency room daily. As a public medical center, it provides safe, high-quality medical services with advanced facilities and training programs as well as outstanding research and development programs.
The hospital consisted of 6 major multi-level buildings where analog-based cameras were installed, and the surveillance systems took places on their own. The client wanted to turn them into fully digital with centralized archiving.
First, 8-core fiber cables are installed to connect the buildings to each other. Among the buildings, fiber-to-fiber connections are established by EtherWAN's commercial-grade PoE switches. A total of 49 units of them are connected with more than 460 PoE cameras on site.

The PoE cameras are installed in each building, powered by CAT6 cables. In the main control rooms, 2 units of EtherWAN's EX25611 managed Ethernet switches, equipped with Gigabit data ports and 10G uplink ports, are deployed to connect the CMS servers and NVRs for video storage and monitoring. A simplified network structure is shown below: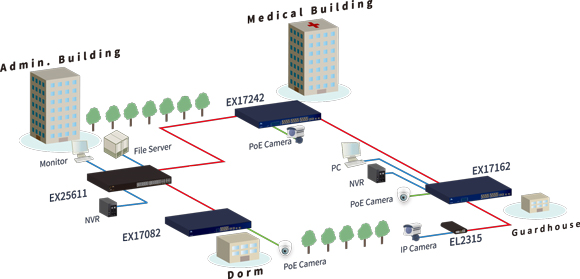 The overall surveillance result is good. The live actions are captured, recorded, and transmitted back to the NVRs and control rooms smoothly. EtherWAN has provided the client fast product inquiry, network design suggestion, and technical support service, together bringing the customers great cost/ performance ratio and satisfying quality.
Managed 24-port 10/100/1000BASE-T (4-port SFP Combo) and 4-port 1G/10G SFP+ Ethernet Switch
Web-Smart 8-port 10/100BASE-TX PoE (IEEE802.3at) and 2-port combo Gigabit SFP Ethernet Switch
Web-smart 16-port 10/100BASE-TX PoE (IEEE802.3at) and 2-port combo Gigabit SFP Ethernet Switch
Web-smart 24-port 10/100BASE-TX PoE (IEEE802.3at) and 2-port combo Gigabit SFP Ethernet Switch
 

Field-proven Reliability
Hardened Ethernet equipment with superior reliability, long MBTF, redundant power support, wide operating temperature range, EDI, EMI, RFI and surge protection.

Full Product Testing
Our hardened products are required to pass stringent real-time data transfer testing at the temperature from -40° to +85°C for up to 72 hours without compromise.

Customer-centered Services
EtherWAN has a professional support crew, with domain know-how and hands-on experience working with system integrators and solution providers.
If you do not want to receive this e-bulletin in the future, please reply
here
© EtherWAN Systems, Inc. All rights Reserved.