WHY SHOULD I MIGRATE TO 10G?
Cameras are higher resolution, Wi-Fi access points are faster, connected device use cases are expanding and networks are growing exponentially. With an increased hunger for data and the emergence of more connected devices on the edge, there has never been a more crucial time to ensure that your network can meet the demands of the future. 10G offers unparalleled speed and enough bandwidth to support your booming network for years to come. EtherWAN's EX78900X Series keeps your network ahead of the curve with 10G ports in a compact DIN-rail form factor and 90W power per port to support an ever-growing number of PoE devices. The future of networking is fast approaching — is your infrastructure ready?
Over the next 7 years, the range of applications and use cases enabled by 10G networks will generate economic benefits in the amount of $131.7 BILLION in cumulative GDR and 300,000 new jobs.
Source: Telecom Advisory Services
EX78900X SERIES HIGHLIGHTS
High Bandwidth

Support high bandwidth connections such as PTZ cameras with 10G speeds - the highest speed available in a DIN-Rail form factor

Hardened for Harsh Environments

Fanless design and a wide temperature range of -40°F to 167°F ensure long-term operation in non-ventilated places

90W Power

Up to 12 gigabit PoE ports with 90W power(backward compatible with 60W, 30W, and 15W), 360W power budget and IEEE 802.3bt protocol support

PoE Watchdog

Automatically monitors and restart unresponsive devices, eliminating the need for onsite, manual rebooting

Simplified Management

Configure and monitor devices with EtherWAN's network management software eVue™ and eLite™

Support

Receive complimentary mobile and onsite technical support from our team of certified network engineers
HOW IT'S USED
As devices on the edge become more data-intensive, more bandwidth is needed. It's time to move to 10G!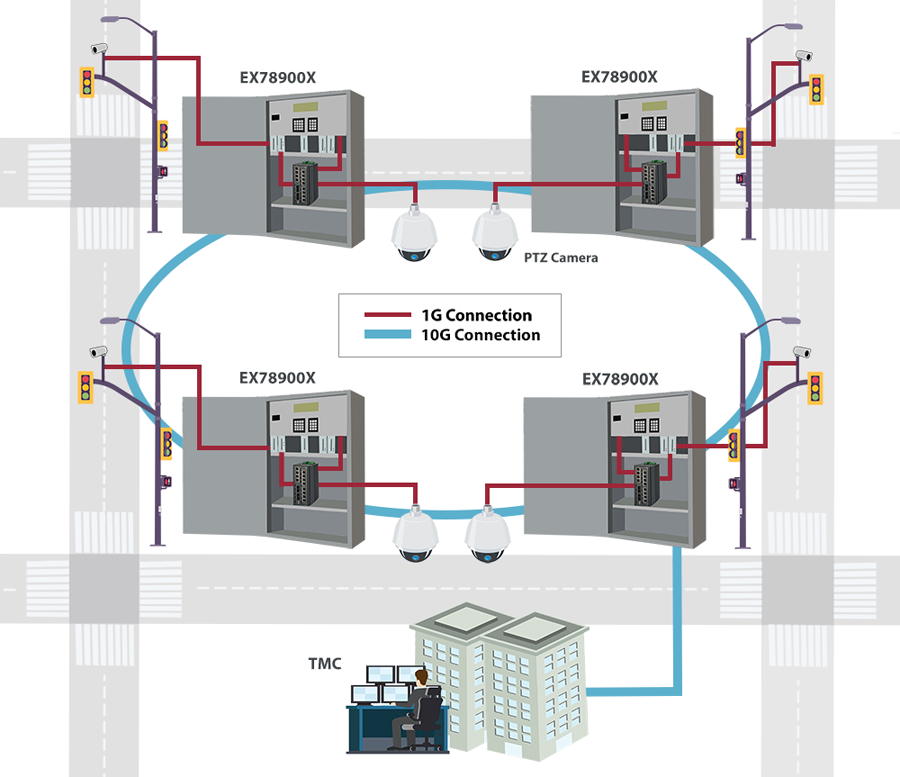 WANT TO LEARN MORE?
Stay up-to-date with our latest networking solutions.