Successful Migration from Analog to Digital Video Traffic Surveillance
---

---
Overview
The advantages of traffic surveillance cameras have become broadly acknowledged over the past several decades, and seeing multiple video cameras at a single intersection is now common in major cities throughout the world. However, video surveillance technology has evolved rapidly, and in recent years the adoption of IP over analog systems has become a major trend. This has created many new and unusual challenges in network design and implementation.

Analog CCTV systems send video in baseband format over coaxial or Ethernet cables to a digital video recorder (DVR), where the signal is converted to digital format and stored on some type of hard drive. With IP cameras the streaming video signal is already digital, and the signal can be directly stored on a network video recorder (NVR), resulting in vastly lower processing requirements. A further advantage of IP systems is that only one Ethernet cable is required to be connected to the NVR, whereas with analog systems each CCTV camera requires its own cable to be connected to the DVR.

It is against this backdrop that many educational, enterprise, and urban entities find themselves facing the task of system migration from a traditional analog to IP network. Choosing the correct network topology and connectivity equipment is paramount.
---
The Challenge
A city with a population of over two million came to the conclusion that it was time to upgrade their city-wide traffic video surveillance from analog to digital. To monitor an expanding urban center, legacy CCTV cameras and coaxial cables were becoming inefficient and unsuitable for application across an ever-growing area. With over 100 intersections, most of which have 6 to 8 cameras each, and many small intersections that have no local power source with which to power IP cameras, the city required a robust solution that could handle heavy data traffic with minimal downtime in the event of a link failure. The enormous volume of data from so many IP cameras had to be transmitted to both branch police stations and city police headquarters. Furthermore, the solution had to be cost-effective, minimizing the expense of laying new cable wherever possible.
---
Application Requirements
Need for high resolution video surveillance year-round
Equipment needs to be highly resistant to heat and moisture, and hardened against electrical surges from lightning
Easy scalability for future expansion
Needed to be able to handle large bandwidth
Some areas in which surveillance is needed do not have power source
---
Solution
EtherWAN resolved the many issues in this complicated project with a combination of traditional network topology and proprietary know-how. For intersections where PoE could be used to power the IP cameras, the hardened and versatile EX78000 switch was deployed, providing fast Ethernet PoE ports for connection to IP cameras and traffic controllers, as well as a gigabit fiber backbone capability for connection to other switches.

In intersections where PoE was not required, EX73000 switches were installed. With 16 fast Ethernet ports, the EX73000 provides reliable connectivity to numerous IP cameras and cabinet-mounted traffic controllers. Hardened against extreme temperatures, the EX78000, like the EX78000, also supports EtherWAN's proprietary Alpha-Ring protocol, ensuring redundancy and minimized downtime in the case of a dropped connection.

However, some areas which required monitoring did not have a local power source, and were too far (over 100 meters) from the nearest intersection for a PoE solution to work. In these areas, EX73000 switches were used in conjunction with pairs of ED3638 Ethernet extender. With support for EtherWAN's proprietary Power over Link (PoL) technology, the ED3638 transmits both data and power over existing wiring (in this case, the coaxial cable from the previous CCTV system). The ability to satisfy wattage and bandwidth requirements by using the existing coaxial cables, saved significant amounts of money and manpower. This unique solution extended the surveillance capacity of the police force to what had previously been hard-to-reach areas.

Another issue to be resolved was the danger to equipment from lightning. In addition to standard surge protectors, which only protect from electrical surges on a device's power cables, the copper data cables that enter the switch must also be protected. EtherWAN's PD1041 hardened surge protection device was employed on each active data port for all switches, providing much-needed protection for valuable equipment.

Groups of switches were sub-netted and arranged in an Alpha-Ring, with each ring having a single EX73900 switch. Located at branch police stations, and transmitting data to the local NVR at gigabit speeds, the EX73900 also has two gigabit ports used for the Alpha-Ring, and two linking to Layer 3 switches at police headquarters.

Two Layer 3 switches located at police headquarters provide IP routing from the subnets back to the storage pool, and run Virtual Router Redundancy Protocol (VRRP) to eliminate the danger of lost data from a single point of failure.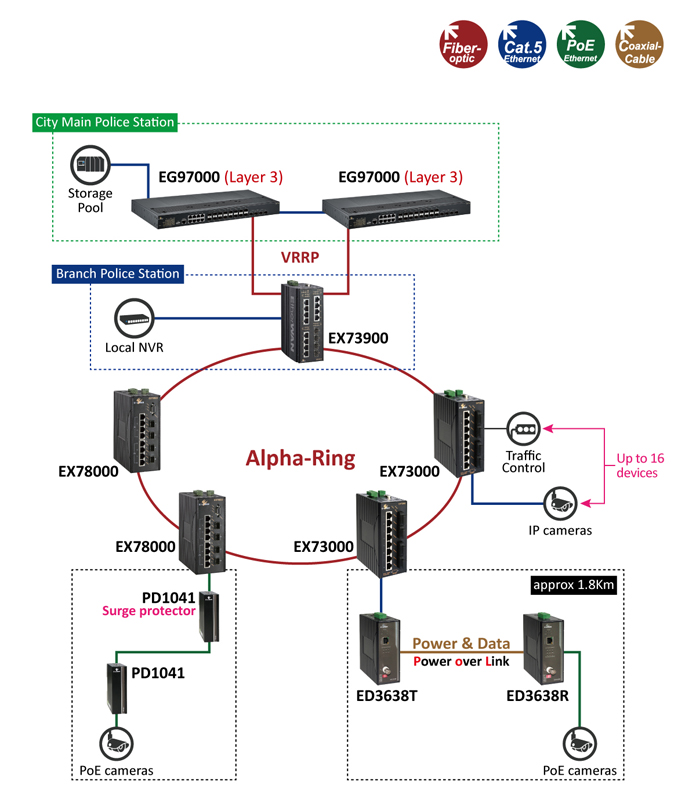 ---
Conclusion
IP-based traffic surveillance systems are important tools used by police forces around the world, providing traffic management capability, enhanced law enforcement, and an improved ability to react to emergencies. When implemented in expansive urban environments, the networks supporting these systems must be hardened, with support for Layer 3 features and fiber optics. Additional challenges include camera installations in areas without a power source, and climates where lightning strikes are common. EtherWAN's broad product range, which includes Layer 2 and Layer 3 switches, Ethernet extenders, and surge protectors, are exceptionally well-suited for these crucial applications.
---
Related products:
---
EtherWAN – "When Connectivity is Crucial"
► For more information, please contact: [email protected]
---