Faster and More Secure Routing in Modern Transportation Applications
---

---
Background
In cities across the United States, and increased emphasis is being placed on the use of technology to improve the safety of drivers and pedestrians, as well as reduce the costs incurred by traffic congestion. Intelligent Transportation Systems (ITS) and Traffic Management Systems (TMS) are comprised of such functions as real-time traffic monitoring, dynamic message sign control, incident monitoring, and traffic camera monitoring and control. These systems create enormous volumes of data, which must be transported reliably across long distances, 24 hours a day.

In order to take full advantage of the benefits offered by these systems, several cities in the American west have been upgrading their existing network infrastructures, specifically cabling and switches. These transitions represent a shift towards smart cities, in which the data from both traditional and IoT sensors is used to manage resources and improve public safety.
---
The Challenges
For these upgrades to be effective, they must integrate legacy traffic systems with newer and faster technology that supports a large number of connections between intersections and traffic management centers. The management team and the servers at the traffic control center must be able to receive traffic status instantly, with no loss of data. Equipment must be able to withstand extreme temperatures.

System requirements include:
Multiple long distance fiber connections for highways and large urban systems
Support for OSPF and VRRP for fast routing with built-in redundancy
Because devices are installed in outdoor cabinets, the solution demands hardened equipment that can withstand extreme temperature ranges of -40 to 75°C (-40 to 167°F)
Network security (multi-level users, link down disable, MAC authentication, RADIUS, TACACS+, and AES) to prevent unauthorized access to the network
---
The Network Solution: EG97000 and EX77900
► EG97000 Hardened Managed 8-port 10/100/1000BASE-T +16-port 100/1000BASE SFP +4-port 1/10G SFP+ Layer 3 Ethernet Switch
► EX77900 Lite L3 Hardened Managed 24-port Gigabit and 4-port 1G/10G SFP+ Ethernet Switch

The EX77900 is a Lite Layer 3 switch, and the EG97000 supports full Layer 3 functionality, including RIP and OSPF routing protocols. They support routing between VLANs and segmented larger networks, making the connection of connecting sub networks much simpler. Unlike Layer 2 switches, both the EG97000 and EX77900 can separate network traffic into different switches instead of sending all broadcast traffic data to all switches. This reduces the total traffic volume, and can help the traffic management staff to more easily control geographically remote signals through multiple traffic flows.

The large number of intersections across the cities requires a vast amount of fiber interconnections, and this need is met by the multiple SFP ports on EG97000. Additionally, the 10G backbone satisfies the high bandwidth needs of large city-wide traffic management systems. In addition, these fiber interconnections need optimal methods of routing and management. The EG97000 has the ability to provide up to 8000 multicast routes at Layer 3 levels, and the switches can be configured via the OSPF protocol to find the shortest and fastest routing result. The VRRP protocol ensures redundant path communications in case one of the paths fails.

For security concerns, due to some of the switches being located inside cabinets at the corners of these intersections, the outdoor installation unavoidably leads to situations where intruders break into the cabinets. So it is important to keep unauthorized persons from gaining access to switches resources. One of the security features on the EG97000 and EX77900 is MAC authentication and the establishment of users with different levels of privilege, prevent the release of unauthorized information due to spoofing and/or forgeries. Additionally, the RADIUS authentication feature on the switch will help override the default authentication operation which is to automatically assign an authenticated client to the operator privilege level.

Both the EG97000 and EX77900 series offer multiple copper and (1/10G) fiber interfaces. Support for the OSPF routing protocol on multiple EG97000 models ensures fast convergence – the state in which all routing devices have the same topological information about their network. Routing redundancy is provided by Virtual Router Redundancy Protocol (VRRP) on both models. VRRP allows for multiple routers to be configured as the default gateway router, sharing a virtual IP address. This allows for instant failover if one of the VRRP-enabled routers goes down. It also allows traffic to be shared by multiple routers.

The EG97000 and EX77900 are equipped with redundant power inputs, and can withstand extreme temperature ranges of -40 to 75°C (-40 to 167°F).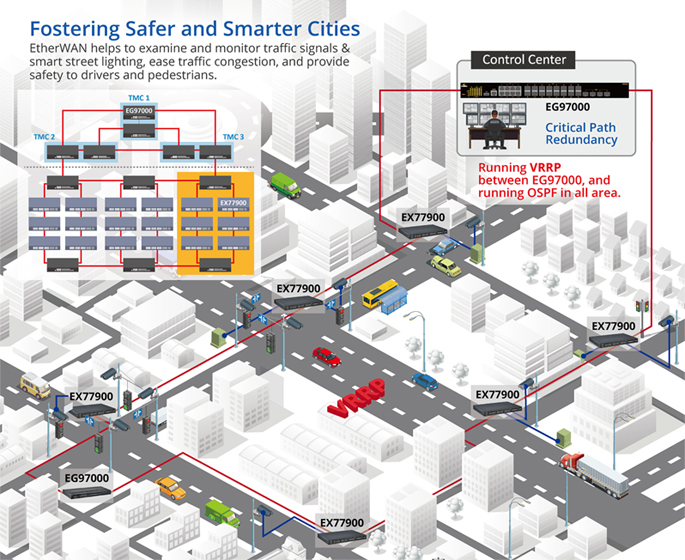 In the application shown, the entire network architecture is designed using multiples of EG97000s and EX77900s, running VRRP between the EG97000 and EX77900 to provide routing redundancy, and running OSPF between EG97000s to find best routing path in order to forward data to the traffic management center as quickly as possible. The whole infrastructure is significantly more complicated than the application diagram shown here, since there are many similar network segments like the above interconnected.
---
Conclusion
In order to deliver safety and efficiency in urban environments, modern ITS & TMS solutions are highly dependent on instantaneous data flows and communication. EtherWAN has more than 18 years of experience in TMS topology, planning, and consultancy services. EtherWAN's hardened Layer 3 managed switch series with fast (OSPF and VRRP) routing performance is well-suited for these advanced traffic systems.

EtherWAN's industrial-grade solutions bring together a variety of critical data types in a timely fashion by providing high-speed throughput and the Layer 3 functionality needed to connect sub-networks. The result is increased efficiency and safety for a range of urban traffic scenarios, including roads, tunnels, bridges and highways.
---
Related products:
---
EtherWAN – " When Connectivity is Crucial "
► For more information, please contact: [email protected]
---