Enhanced Network Speed for Modern Transportation Applications
---

---
Transforming American Cities
In cities across the United States, there is an increasing emphasis on harnessing technology to enhance driver and pedestrian safety while simultaneously mitigating the costs associated with traffic congestion. Intelligent Transportation Systems (ITS) and Traffic Management Systems (TMS) encompass functionalities like real-time traffic monitoring, dynamic message sign control, incident monitoring, and traffic camera surveillance and control. These systems generate vast volumes of data that necessitate reliable transport across extensive distances, 24/7.

To fully capitalize on the advantages offered by these systems, multiple cities in the American West have undertaken upgrades of their existing network infrastructures, particularly in cabling and switches. These transitions signify a move toward smart cities, wherein data from both traditional and IoT sensors is harnessed to optimize resource management and enhance public safety.
---
Modernizing Traffic Management Infrastructure
To ensure the effectiveness of these upgrades, it is imperative to seamlessly integrate legacy traffic systems with newer, high-speed technology capable of accommodating a significant number of connections between intersections and traffic management centers. The traffic control center's management team and servers must have the capacity to receive real-time traffic status updates without any data loss, and all equipment must be robust enough to endure extreme temperature fluctuations.

The system requirements include:
Establishment of multiple long-distance fiber connections to cater to highways and extensive urban systems.
Implementation of support for OSPF and VRRP protocols to facilitate swift routing with inherent redundancy.
Given that devices are deployed in outdoor cabinets, the solution necessitates hardened equipment engineered to withstand extreme temperatures, ranging from -40 to 75°C (-40 to 167°F).
Implementation of robust network security measures, including multi-level user access, link down disablement, MAC authentication, RADIUS, TACACS+, and AES encryption, to prevent unauthorized access to the network.
---
Urban Traffic Network Solutions
Ethernet Switch Models:
► EG97000 Hardened Managed 8-port 10/100/1000BASE-T + 16-port 100/1000BASE SFP + 4-port 1/10G SFP+ Layer 3 Ethernet Switch
► EX77900 Lite L3 Hardened Managed 24-port Gigabit and 4-port 1G/10G SFP+ Ethernet Switch

The EX77900 is a Lite Layer 3 switch, while the EG97000 offers full Layer 3 functionality, including support for RIP and OSPF routing protocols. Both switches facilitate routing between VLANs and the segmentation of larger networks, simplifying the connection of subnetworks. Unlike Layer 2 switches, the EG97000 and EX77900 can efficiently separate network traffic into different switches rather than broadcasting data to all switches. This reduces overall traffic volume and enhances the control of geographically dispersed signals through multiple traffic flows for traffic management staff.

The multitude of intersections in these cities necessitates an extensive fiber interconnection infrastructure, which is met by the multiple SFP ports on the EG97000. Furthermore, the 10G backbone satisfies the high bandwidth requirements of comprehensive city-wide traffic management systems. These fiber interconnections demand optimal routing and management methods. The EG97000 can provide up to 8000 multicast routes at Layer 3 and can be configured through the OSPF protocol to determine the shortest and fastest routing paths. The VRRP protocol ensures redundant path communication in case of path failure.

In terms of security, given that some switches are installed inside cabinets at intersection corners, outdoor installations can be susceptible to unauthorized access attempts. It is crucial to prevent unauthorized persons from gaining access to switch resources. Both the EG97000 and EX77900 incorporate security features such as MAC authentication and the creation of user profiles with varying privilege levels to thwart unauthorized information access through spoofing or forgeries. Additionally, the RADIUS authentication feature on the switches can override the default authentication operation, automatically assigning authenticated clients to the operator privilege level.

Both the EG97000 and EX77900 series offer multiple copper and (1/10G) fiber interfaces. Support for the OSPF routing protocol on multiple EG97000 models ensures rapid convergence, where all routing devices have consistent topological information about the network. Routing redundancy is achieved through the Virtual Router Redundancy Protocol (VRRP) on both models. VRRP enables multiple routers to be configured as the default gateway router, sharing a virtual IP address. This allows for instant failover in case one of the VRRP-enabled routers experiences issues and enables traffic sharing among multiple routers.

The EG97000 and EX77900 are equipped with redundant power inputs and can withstand extreme temperature ranges from -40 to 75°C (-40 to 167°F).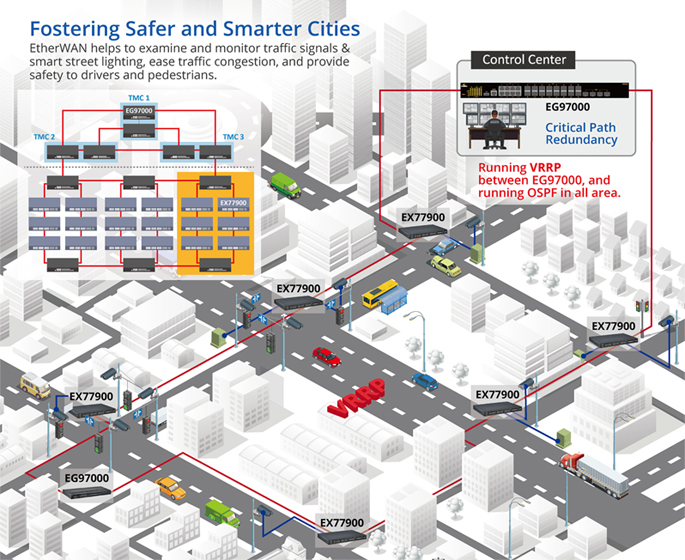 In the showcased application, the network architecture is comprehensively structured employing multiple instances of EG97000s and EX77900s. VRRP is seamlessly implemented between the EG97000 and EX77900 to ensure routing redundancy, while OSPF is configured among the EG97000s to optimize routing paths, facilitating the rapid transmission of data to the traffic management center. It's important to note that the actual infrastructure is considerably more intricate than the simplified diagram presented here, given the interconnection of numerous comparable network segments, as illustrated above.
---
Achieving Smarter and Safer Roads
To enhance safety and efficiency in urban environments, modern ITS & TMS solutions rely heavily on seamless data flow and communication. With over 18 years of experience in TMS topology, planning, and consultancy services, EtherWAN offers a wealth of expertise in this field. EtherWAN's line of rugged Layer 3 managed switches, boasting high-speed routing performance with OSPF and VRRP capabilities, is ideally suited for these advanced traffic systems. EtherWAN's industrial-grade solutions effectively consolidate a variety of crucial data types, ensuring swift data transfer and providing the necessary Layer 3 functionality for interconnecting sub-networks. The result is a substantial increase in efficiency and safety across various urban traffic scenarios, encompassing roads, tunnels, bridges, and highways.
---
Related products:
---
EtherWAN – " When Connectivity is Crucial "
► For more information, please contact: [email protected]
---