Connected Lighting and IP Security at the World's Largest Airport
---

---
Background
Connecting lighting and security cameras in the world's largest airport requires solutions that deliver on reliability, functionality and minimal maintenance. Considering the infrastructure of this project is at a city scale, reliability is at the forefront to ensure passenger safety in the terminal. Located on the black sea in Istanbul, Turkey, construction on the world's largest airport is nearly 90% complete as of June and will have an annual capacity of over 150 million passengers. EtherWAN was the selected partner to provide connectivity solutions for an intricate outdoor lighting system and a network of HD security cameras.

Because of its large size, the airport has a plethora of exterior lights and cameras that must be linked.

The robust exterior lighting system EtherWAN was tasked to support is controlled through a Digital Addressable Light Interface (DALI) network. DALI is a lighting control system that provides a singular interface for all connected components. From ballasts to transformers and emergency fittings, DALI allows different products from different manufactures to work from a centralized location.

Not only will the DALI system connect lights, it connects thousands of microwave sensors, motion sensors, PLCs (programmable logic controllers) and relay modules, which are part of the advanced exterior security system. Up to 64 devices are connected to each DALI gateway.

The vast volumes of data generated by devices are fed to a virtual data center. From that centralized location, controllers monitor and remotely control equipment across the entire network.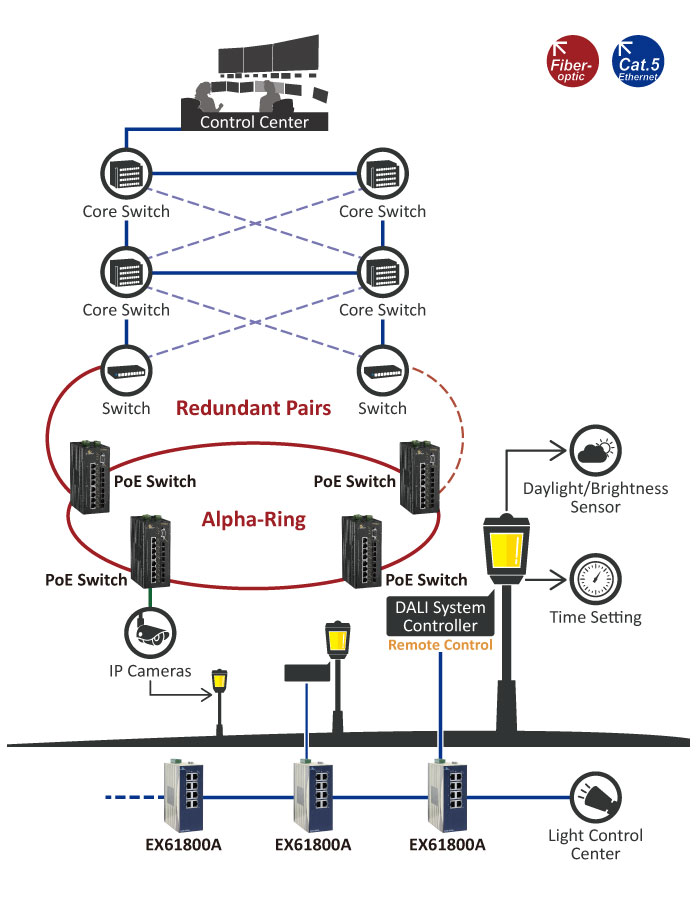 ---
The Challenges
The DALI system needed to be completely integrated with the airport's IP network, which ultimately means hundreds of third party gateways must be reliably connected to Ethernet switches. Additionally, PoE (Power over Ethernet) was needed to power separate security cameras. Both the DALI device network and the security device network needed to be 100% reliable and compatible.
---
Solution
After understanding the logistical challenges with the project's magnitude, two EtherWAN hardened managed switch models were chosen to support the DALI system and security cameras. A series of EX61800A-00B switches, which have no fiber ports, were set up in a daisy chain using copper Ethernet cable. The EX78802 provided the necessary PoE ports for IP security cameras. The hardened specifications of both switches ensured stable performance even when used in non-temperature-controlled areas. In order to keep the network as robust as possible, two proprietary EtherWAN redundancy protocols were employed: Alpha-ring and Redundant Pair.

Alpha-ring is an Ethernet ring topology in which one segment is kept deactivated as a backup path. This means even if a single network failure occurs, there is no interruption in security camera footage, thus keeping the airport safer and more secure. When any segment of the ring is disconnected or fails, the backup path will be activated and connectivity reestablished within 15 milliseconds (before any noticeable interruption in the data stream).

The "Redundant Pair" protocol helps keep networks stable while scaling to larger and more complex topologies. In this example, The Redundant Pair protocol connects separate redundant rings together. It supports 253 groups, delivering improved flexibility and scalability with a failover time of 50 milliseconds. Redundant Pair are compatible with third party protocols allowing seamless integration of all systems. See the topology diagram below for example.
---
Conclusion
Because of the scale of the world's largest airport, newer smart connectivity networks were used to keep travelers safe. Modern lighting and security systems need to operate nonstop and without error to ensure minimal interruptions in air travel. With thousands of devices, multiple vendors and unique protocols in play, EtherWAN's high performance networking equipment was matched for this project because of its high compatibility and versatility.
---
Related products:
---
EtherWAN – " When Connectivity is Crucial "
► For more information, please contact: [email protected]
---