Elevating Airport Competence: Network solutions for Revolutionized Connectivity
---

---
Secure Connectivity for Seamless Surveillance
One of the world's largest airports, located by the edge of the Black Sea in Istanbul, Turkey, was nearly completed in mid-June of 2018 with a forecasted annual capacity of over 150 million passengers. EtherWAN, a chosen partner, offers essential connectivity solutions for extensive outdoor lighting systems and HD security camera networks to ensure passenger safety.
To efficiently manage the airport's extensive lighting infrastructure, including the scene lighting system, the airport tower automation control system incorporates a Digital Addressable Light Interface (DALI) network. This DALI network enables seamless integration and control of lighting fixtures, facilitating precise management of illumination levels and energy consumption throughout the entire airport.
With the airport's immense size, reliability takes center stage in this ambitious project. The robust exterior lighting systems, controlled via a Digital Addressable Light Interface (DALI) network, require a seamless connection between multiple integrations. EtherWAN's DALI system enables centralized control of ballasts, transformers, emergency fittings, and other connected devices, providing a reliable solution for the airport's lighting requirements.
Beyond lighting systems, the scope of the DALI system extends further. The DALI system also integrates thousands of microwave sensors, motion sensors, programmable logic controllers (PLCs), and relay modules, forming an advanced exterior security system. Each DALI gateway can connect to 64 devices, creating a comprehensive network infrastructure.
A virtual data center serves to manage the huge data generated by these devices. Controllers in this data center monitor and remotely control equipment throughout the entire network, ensuring efficient operation and enhanced security.
With EtherWAN's reliable connectivity solutions, the largest airport in Istanbul can effectively illuminate its surroundings while maintaining a vigilant security network, prioritizing the safety and seamless travel experience of millions of passengers.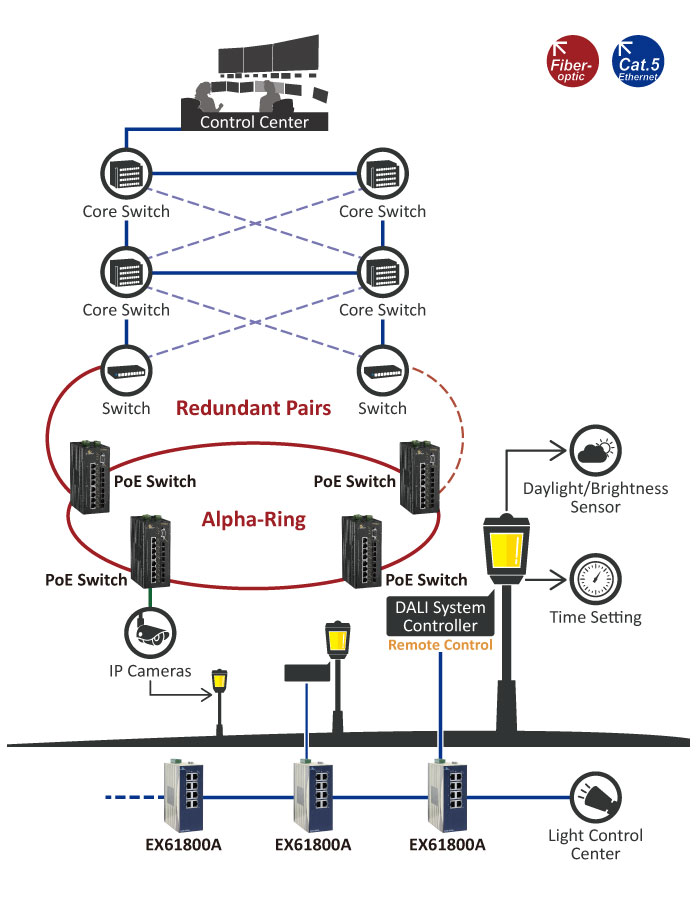 ---
Power and Secure Network are Crucial
The integration of the DALI system with the IP network is crucial. This involves establishing reliable connections between numerous third-party gateways and Ethernet switches. Moreover, Power over Ethernet (PoE) is significant in providing power to individual security cameras. Ensuring 100% reliability and compatibility is critical for both the DALI device network and the security device network.
---
Significance of Redundancy Protocols
After the logistical challenge analysis, two EtherWAN hardened managed switch models were selected to support the DALI system and security cameras. The EX61800A-00B switches, part of the series with no fiber ports, were strategically deployed in a daisy chain configuration with copper Ethernet cables. Meanwhile, the EX78802 switches provided the essential PoE ports for IP security cameras. With the ability to withstand extreme climates, both switches delivered stable performance even in non-temperature-controlled areas.
To strengthen the network reliability, EtherWAN implemented two proprietary redundancy protocols: Alpha-ring and redundant Pair. Alpha-ring employs an Ethernet ring topology, designating one segment as a backup path to ensure uninterrupted security camera footage. In the event of a network failure or disconnection, the backup path swiftly activates, reestablishing connectivity within a mere 15 milliseconds, imperceptible to data stream interruptions.
The Redundant Pair protocol contributes to network stability while accommodating larger and more complex topologies. It supports 253 groups by connecting separate redundant rings, offering enhanced flexibility and scalability. With a swift failover time of 50 milliseconds, Redundant Pair ensures seamless integration of all systems, compatible with third-party protocols. Refer to the topology diagram below for a visual representation.
---
Building a Modern and Safer Flight Experience
The objective was to create a top modernized, operational airport with a strong local character. Due to the massive airport size, smart networks were deployed strategically for traveler security. The EX61800A-00B switches enabled the modern lighting and security systems to run smoothly, ensuring no interruptions in airport operations. EtherWAN's high-performance Ethernet devices proved ideal for airport network deployment projects due to their compatibility with multiple applications and vendors, as well as adaptability to unique protocols.
---
Related products:
---
EtherWAN – " When Connectivity is Crucial "
► For more information, please contact: [email protected]
---