Back to top
EtherWAN to Release New Hardened-Grade Wireless Connectivity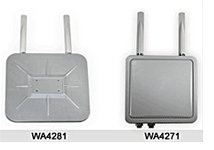 EtherWAN announces the release of two new products which support Power over Ethernet (PoE) and wireless Ethernet functionality; the WA4281 Hardened IP68 rated and the WA4271 Industrial IP65 rated Wireless Devices. The new PoE Wireless Devices will address the needs of mission critical networks in applications such as riverbanks, mountains, freeways and mining areas in environments where pulling extra cable is restricted. Power over Ethernet allows the wireless device to be powered by the Ethernet data cable; a power supply is not necessary at the device.

This allows the WA4271 and WA4281 to be mounted in inaccessible areas where power is not available. The new wireless series has received regulatory approvals in Europe, US and Japan.

The new WA4281 has a welded aluminum IP68 rated waterproof enclosure, Dual Radio design, and isdesigned to withstand extreme shock, vibration, and temperature conditions. The WA4281's superior software design provides multiple operational modes such as: AP Bridge, AP-CB-Bridge, AP-CB-Route, CB-CB-Route, AP-WDS-Bridge and AP4-WDS-Bridge. The WA4281 provides users the ability to configure networks to meet the requirements of their industrial applications. The ability to operate in a wide temperature range of -30°C to +80°C allows the WA4281 to be placed in almost any location.

The WA4271 was designed with an IP67 rated enclosure, and operates in a temperature range of-20°C to +70°C, coupled with multiple operational modes that allow flexible network configurations.The introduction of these new products adds depth to EtherWAN's extensive line of Ethernet networking products. EtherWAN is committed to expanding its product line with Ethernet networking solutions designed for harsh environments.
---
About EtherWAN
EtherWAN Systems, founded in 1996 in Irvine CA, has become a leader in Ethernet connectivity for applications in various markets including intersection traffic monitoring & surveillance, transportation, utility, oil & mining, factory automation, etc. EtherWAN specializes in designing and manufacturing fiber optic Ethernet products and Ethernet equipment for harsh environments. The available products are hardened Ethernet over VDSL equipments, hardened media converters from serial/Ethernet to fiber or wireless, PoE switches, IEC 61850 based hardened Ethernet equipments for power distribution and substation applications, EN50121-4 & EN50155 based products for railway and train networking applications, and those for UL1604 based hazardous locations. EtherWAN's US headquarters are located in California USA with Pacific Rim headquarters and manufacturing facility in Taipei, Taiwan. With engineering expertise at both sides of the Pacific Ocean and its own production lines in Taiwan, EtherWAN continues to serve the markets with most advanced Ethernet gears at very affordable prices.
---