Back to top
EtherWAN to Release New Hardened-Grade Wireless Connectivity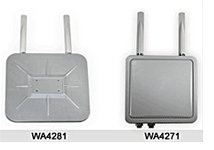 EtherWAN announces the release of two new products which support Power over Ethernet (PoE) and wireless Ethernet functionality; the WA4281 Hardened IP68 rated and the WA4271 Industrial IP65 rated Wireless Devices. The new PoE Wireless Devices will address the needs of mission critical networks in applications such as riverbanks, mountains, freeways and mining areas in environments where pulling extra cable is restricted. Power over Ethernet allows the wireless device to be powered by the Ethernet data cable; a power supply is not necessary at the device.

This allows the WA4271 and WA4281 to be mounted in inaccessible areas where power is not available. The new wireless series has received regulatory approvals in Europe, US and Japan.

The new WA4281 has a welded aluminum IP68 rated waterproof enclosure, Dual Radio design, and isdesigned to withstand extreme shock, vibration, and temperature conditions. The WA4281's superior software design provides multiple operational modes such as: AP Bridge, AP-CB-Bridge, AP-CB-Route, CB-CB-Route, AP-WDS-Bridge and AP4-WDS-Bridge. The WA4281 provides users the ability to configure networks to meet the requirements of their industrial applications. The ability to operate in a wide temperature range of -30°C to +80°C allows the WA4281 to be placed in almost any location.

The WA4271 was designed with an IP67 rated enclosure, and operates in a temperature range of-20°C to +70°C, coupled with multiple operational modes that allow flexible network configurations.The introduction of these new products adds depth to EtherWAN's extensive line of Ethernet networking products. EtherWAN is committed to expanding its product line with Ethernet networking solutions designed for harsh environments.
---
About EtherWAN
EtherWAN Systems, Inc. is a leading manufacturer of network connectivity products specifically designed for harsh and demanding environments. Founded in 1996, EtherWAN specializes in the design and manufacture of Ethernet switches, media converters, Ethernet extenders and Power over Ethernet products for applications where connectivity is crucial. With a core focus on sustained connectivity in extreme environments, product reliability and quality are top priority. EtherWAN's product development, engineering, manufacturing and quality assurance processes are structured to push the limits of stated specifications, resulting in products that surpass expectations.

The company's Pacific Rim headquarters and manufacturing facilities are in Taipei, Taiwan. Leveraging marketing and engineering expertise on both sides of the Pacific Ocean, EtherWAN's world class production lines deliver products of the highest quality and comprehensive professional support.

EtherWAN – " When Connectivity is Crucial "
---