Introduction of α (Alpha)-Ring
---
The α (Alpha)-Ring protocol was designed and developed by EtherWAN to overcome traditional STP and RSTP's inability to provide fast network recovery in minimizing packet loss caused by link failure.
■ High-speed Recovery: Less than 15 milliseconds
Non-stop data transmission is always the first priority especially in mission-critical applications. EtherWAN's highly-reliable α-Ring architecture provides a high-speed network redundancy mechanism to recover from a network disconnection in less than 15 milliseconds minimizing packet loss during the recovery process. With the proprietary α-Ring mechanism of setting the last connection as backup path, the process of the ring recovery will not cause any more data loss, when the ring is restored.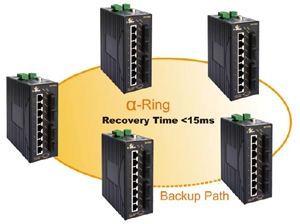 ■ Streamline Architecture to Avoid Extra Bandwidth Burden
The proprietary α-Ring technology does not send or need any bandwidth-consuming watchdog packets to check the ring health. The ring port connections are monitored by each attached switch. Therefore, the α-Ring mechanism does not increase network loading.
■ Flexibility for Network Deployment
Don't worry about those already set up STP/RSTP rings within the network. α-Ring does not require you to abandon or to alter already existing STP/RSTP rings. EtherWAN's α-Ring provides users with the greatest flexibility to communicate with other standard redundant protocols.
■ Ring Coupling to Ensure Network Efficiency and Performance
Industrial networks may be composed of numerous rings and interconnected networks among these individual rings. Network redundancy can be provided via the coupling methods between network rings. Therefore, all the switches do not have to be confined and connected in one big ring. A network containing numerous switches can be broken into smaller, more manageable rings to ensure network efficiency and performance.

■ Dual Homing to Communicate with Other Standard Redundant Protocols
Two rings may be connected together with redundant paths using α-Ring's dual homing feature. The back-up path between networks will activate within 15 milliseconds once the primary connection between the networks fails. Therefore, no matter what kind of standard network redundancy mechanism is incorporated, within each ring, whether it is STP or RSTP, network redundancy can be achieved between the two networks using α-Ring.
■ The Following EtherWAN Managed Switches Support α-Ring:
► Hardened Managed Ethernet Switch
► Industrial Managed Ethernet Switch
■ Ensure your system will run non-stop
EtherWAN's α-Ring features ring topology with a high-speed and reliable redundancy mechanism. The advanced α-Ring technology not only improves the traditional STP/RSTP recovery time but also minimizes possible packet loss during the recovery. With its easy maintenance and flexibility in enlarging network deployment, users do not have to worry about data packet loss if network connectivity is interrupted.