Seamless Weather Station Upgrade in Japan's Highest Peak
---
---
"Connecting a network infrastructure to meteorological equipment is essential, enabling remote data reporting to a centralized workstation. The new system integrates with existing weather data collection systems, employing fiber-based Ethernet equipment for efficient long-distance data transmission."
---
Mt. Fuji's Weather Observation
Soaring to an elevation of 3,776 meters, Mt. Fuji stands as the highest peak in Japan. Over the years, the Mt. Fuji Weather Station perched atop its summit has served as a crucial hub for weather observation. In recent years, this station has been opened to scientists, sparking a surge of innovative research capitalizing on its elevated vantage point. Meteorological data from Mt. Fuji's summit automatically gathers data through specialized equipment in the weather station. Network infrastructure is essential to connect with this meteorological equipment, enabling remote data transmission to a centralized workstation.
---
Enhanced Weather Data Dissemination
Enhanced Weather Data Dissemination The weather observation will be used to establish connections with distant web cameras and sensors, capture sensor data, analyze it, and disseminate real-time weather reports. These reports should be accessible within the Mt. Fuji station and throughout the global weather information network. While seamlessly integrating with the current weather sensor and data collection systems on Mt. Fuji, the enhanced system needs to utilize fiber-based Ethernet equipment to enable efficient long-distance data transmission.
---
Overcoming Geographic Constraints
The main concern is ensuring the reliability of the networking equipment, given that all data transmission hinges on the network's functionality. The equipment must endure the harsh climate, characterized by an average low temperature of -15°C and average wind speeds reaching up to 15m/sec. Opting for ruggedized Ethernet connectivity equipment is an imperative choice. Moreover, in certain regions, geographical constraints preclude the installation of fiber cables. However, the integrity of Ethernet transmission must not be compromised. The sole available communication avenue is through the wired telephone.
---
Optimizing Network Data Transmission
Data collecting devices and sensors have been strategically deployed at utility towers where signals convert to IP and are transmitted to a centralized room located remotely. The EL900 hardened media converter facilitates the fiber connections, complemented by an attached hardened unmanaged switch. The data is seamlessly relayed to a local control center via telephone wires, leveraging the robust capabilities of EtherWAN's ED3541 hardened Ethernet extenders.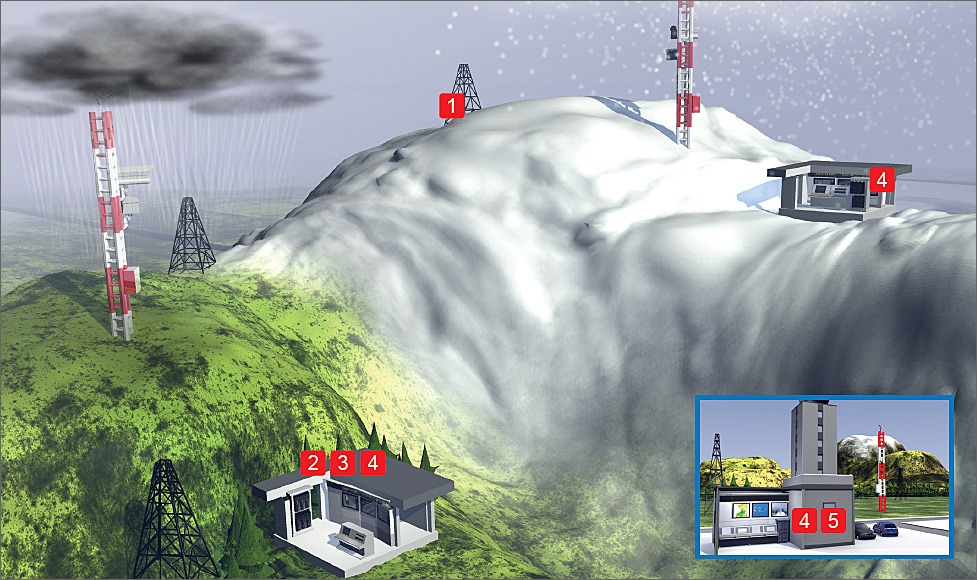 ---
Reliable Network Infrastructure
An operational network framework has been established using EtherWAN's robust unmanaged and managed switches, along with media converters. This comprehensive setup forms the backbone of a real-time weather observation system on Mount Fuji. EtherWAN further offers a rackmount commercial-grade managed switch, the EX3224 (featuring 24 fiber connections), strategically positioned within the local IT room. This switch serves to aggregate remote connections and link monitoring stations seamlessly.
The EX3141 hardened Ethernet Extender for phone wire deployment provides a cost-effective alternative for solution providers. This innovative approach paves the way for future projects to adopt similar technologies, particularly when extended Ethernet connectivity is required, especially when cost and fiber installation considerations are critical.
---
Related products:
---
EtherWAN – " When Connectivity is Crucial "
► For more information, please contact: [email protected]
---