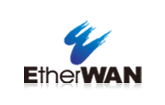 The Right Technology Saves Lives – Connecting Pumping Stations

Pumping stations, as the name implies, perform the function of pumping and drainage. They are located at the end of urban sewer systems. These stations keep sluice gates open when the water level of the river is low, allowing urban rainfall to be drained to the river through gravity.

During typhoons and torrential rain, the water level of rivers may become too high for the rainfall to be discharged through gravity. In these situations, the pumping station is used to pump water from the city into nearby rivers. Pumping prevents accumulation of flood water in urban catchment areas. When the water level of the river rises to a critical level, the sluice gate must be closed to prevent the river from flooding the city. These pumping stations must be connected to a central control center by an extremely reliable communication network...<read more>
Ensure the safety of people in areas with flood hazards
Remote monitoring and automation control of many devices
Reliable performance in hot or cold weather
Fast recover times
Management as necessary to divide the network into sub networks
Simple network topology
High EMI levels from the pumps were a major concern. Additionally, some of the pumping station sensors connected to a programmable logic controller (PLC) which had its own communication BUS. Noise between the PLC and the Ethernet Switch was present. Finally, advance Layer 3 networking was overly complicated for the environment.
The following products were employed:

► EX77900 Lite Layer 3 Hardened Managed 24-port Gigabit and 4-port 1G/10G SFP+ Switch (includes Lite Layer 3 and VRRP gateway redundancy)
► EX27000 Managed 24-port 10/100BASE and 4-port Gigabit Switch
► EX39924 Industrial Unmanaged 24-port Gigabit Switch with 4/16-port combo SFP Slots

To meet the challenge of the environment with high EMS and electrical surge issues, the EX77900 was chosen because it is certified for EN 61000-4-2 through EN 61000-4-8, which ensures a high level of resistance to ESD, RFI, burst and surge standards. This would effectively address the "Noise" problem from the large pumps in the pumping stations.

For maintenance reasons, the network had to be divided into easily managed sub-networks. In this circumstance, a Lite layer 3 switch was the ideal solution because it allows high performance Layer 3 segmentation at a lower cost. Basic RIP and static routing protocols were all that was needed in this application, the EX77900 was a perfect fit and saved thousands over other solutions that were just overkill for the application.

For maximum network redundancy and minimized failover time, EtherWAN's proprietary Alpha-Ring protocol was used in conjunction with VRRP (Virtual Router Recovery Protocol), ensuring redundancy in the event of any failure type. A recovery time of milliseconds instead of seconds can mean the difference between millions of gallons of water pouring into designated catchment areas – or pouring into the city streets.

The VRRP protocol provides for automatic assignment of available routers to participating hosts. This increases the availability and reliability of routing paths (the connection between the subnetworks), Working together, the Alpha-ring and VRRP protocols ensure the availability and reliability of data links for this critically important network. EtherWAN's years of experience and technical expertise delivered a robust, redundant yet simple cost-effective solution. Maximum reliability and a simple design at a reasonable cost was the perfect way to address this clients needs.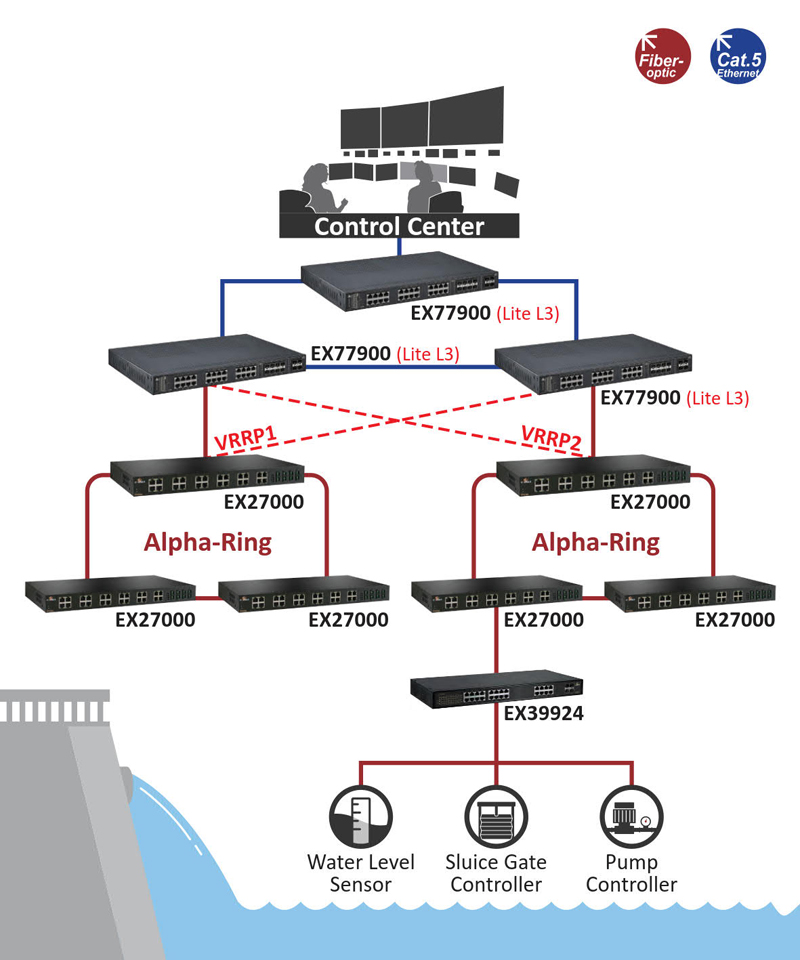 IEC 61850-3/IEEE 1613 Lite L3 Hardened Managed 24-port Gigabit and 4-port 1G/10G SFP+ Ethernet Switch
IEC 61850-3/IEEE 1613 Managed 8 to 24-port 10/100BASE and 4-port Gigabit Ethernet Switch with SFP options
Industrial Unmanaged 24-port Gigabit Switch with 4/16-port combo SFP Slots

Field-proven Reliability
Hardened Ethernet equipment with superior reliability, long MBTF, redundant power support, wide operating temperature range, EDI, EMI, RFI and surge protection.

Full Product Testing
Our hardened products are required to pass stringent real-time data transfer testing at temperatures from -40 to +85°C for up to 72 hours.



Customer-centered Services
EtherWAN has a professional support crew, with domain know-how and hands-on experience working with system integrators and solution providers.
If you do not want to receive this e-bulletin in the future, please click the unsubscribe link.
© EtherWAN Systems, Inc. All rights Reserved.
EtherWAN is committed to compliance with all applicable data protection laws