Contact Us

Hardened IEEE802.3at PoE Switches with DDM Support to Secure Your Fiber Connectivity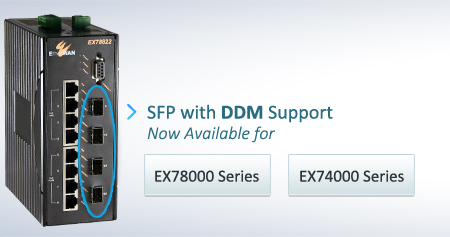 The latest switch technology from EtherWAN Systems allows customers to use the Switches management interface to troubleshoot fiber optic connectivity issues. This feature, called Digital Diagnostics Monitoring or Digital Optical Monitoring (DDM/DOM), saves customers time and money by expediting the installation process as well as reducing support costs.

EtherWAN's EX78000 and EX74000 series hardened Ethernet switches are featured with DDM/DOM. This newly-added feature provides real-time monitoring and measurement of the SFP module. Users can monitor optical output power, optical input power, temperature, laser bias current, and transceiver supply voltage from the optical characteristics and parameters. That allows users to determine the health of the Laser as well as the performance of the fiber optic cable plant.
| | |
| --- | --- |
|   | PoL™ Ethernet Extender is Awarded Taiwan Excellence |
| | | |
| --- | --- | --- |
|   | | EtherWAN's Hardened 10/100-TX PoL/PoE Ethernet Extender over Copper Wires, ED3538, has just won Taiwan Excellence Awards. The product is outstanding due to EtherWAN's assured R&D capabilities. |
Hardened Managed 4 to 10-port 10/100BASE (8 x PoE) and 2-port Gigabit Ethernet Switch
Hardened Managed 6-port 10/100BASE (4 x PoE) with 2-port SFP (DDM) Gigabit combo Ethernet Switch
Hardened 10/100BASE-TX PoL/PoE Ethernet Extender over Copper Wires
 

Field-proven Reliability
Hardened Ethernet equipment with superior reliability, long MBTF, redundant power support, wide operating temperature range, EDI, EMI, RFI and surge protection.

Full Product Testing
Our hardened products are required to pass stringent real-time data transfer testing at the temperature from -40° to +85°C for up to 72 hours without compromise.

Customer-centered Services
EtherWAN has a professional support crew, with domain know-how and hands-on experience working with system integrators and solution providers.
If you do not want to receive this e-bulletin in the future, please reply
here
© EtherWAN Systems, Inc. All rights Reserved.