Back to top

Contact Us

Form your data communication turn-key solution in power substations with EtherWAN's IEC61850-3 (KEMA tested) Ethernet products
Previously, standalone equipment is installed in many power substations, using proprietary communications protocols, to monitor remote terminal units and to collect power data for the control center. The drawback of such proprietary communication is compatibility issues and high maintenance costs. EtherWAN brings Ethernet solutions, with standard TCP/IP protocol, to the power substation for more efficient operation, using standards based communications protocols, including GOOSE messaging support. Accurate information and real-time monitoring data can be transmitted from the field to the control center.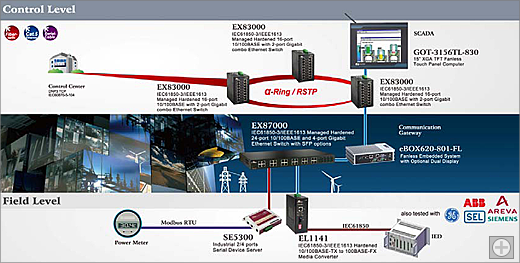 Many field devices such as, Remote Terminal Units (RTU), power meters and Intelligent Electronic Devices (IED) use serial communications interfaces. EtherWAN's Serial Device Servers (Serial to Ethernet) SE5300 series and Fiber Media Converters (100TX to 100FX) EL1141 series, allow these devices to connect to Ethernet and still use DNP 3.0 & IEC103/104 protocols. EtherWAN's Serial Device Servers are successfully running with leading IED brands including ABB, AREVA, GE, SEL and SIEMENS, in field deployments, today.

EtherWAN's hardened managed rack-mount Ethernet switch, IEC61850-3 compatible EX87000 series, combined with the SE5300 Serial Device Server and EL1141 Fiber Media Converter to create a complete network solution to transmit data from field to control center.. The EX87000 series Ethernet switch can be configured with 8, 12, 16 or 24 ports of 100BASE fiber connections in single-mode, multi-mode with SC, ST or LC connectors and 4 sets of combo Gigabit connections (fiber optic Plus RJ45). The EX87000 has been tested and certified by KEMA to meet the environmental requirements of IEC61850.

The edge of the network consists of multiple IEC61850-3 compliant EX83000 hardened managed Ethernet switches. EtherWAN's proprietary Alpha-ring, is featured in the EX83000 which provides network redundancy with recovery time >15ms guarantee and zero packet loss. EtherWAN's Alpha-ring can provide >15ms recovery time for a network with as many as 134 switches in one ring. The EX83000 may be configured with up to 4 100FX fiber optic ports in multi-mode or single mode with SC or ST connectors plus 2 sets of combo Gigabit ports (fiber optic plus RJ45) in multi-mode or single mode with SC or ST connectors.

EtherWAN is simulating a complete power grid application in their booth at Computex. This field-proven system is a turn-key solution for system integrators or solution providers. Axiomtek provides a SCADA gateway for data collection and HMI touch panel for the control center. Elipse's E3 software integrates the whole process management and monitoring. EtherWAN's IEC61850-3 compliant Ethernet connectivity equipment plays a crucial role for network communication and data transmission. Most importantly, the solution is tested, approved and installed in real power substations.
IF you are interested in other of EtherWAN products, please download each sales kit in following links.
| | |
| --- | --- |
| | EL2326 Series OAM Managed 10/100/1000BASE-TX to 100/1000BASE-FX Dual Rate Media Converter |
Auto sense for the fiber transmission rate at 100BASE and 1000BASE connections
Complies with 802.3ah OAM standard and supports SNMP V1, V2 management
Supports SFP fiber interface options
Built-in fiber tray for ease of fiber cable management and installation
Supports Link-Fault-Pass-Through
| | |
| --- | --- |
| | EL9020 Series Hardened 10/100/1000BASE-TX to Gigabit SFP Media Converter |
Provides 16 10/100Base-TX ports and 2 Gigabit ports
Supports auto 10/1000/1000BASE-T Ethernet transmission
Features SFP interface flexibility for Gigabit fiber optic expansion.
Harsh environment design, operating temperature -40°C to 75°C (-40°F to 167°F)
Industrial grade with UL508 safety certification and complies with NEMA TS2 environmental requirements for ITS applications
Redundant power inputs with two Terminal Blocks and one DC Jack interface

Field-proven Reliability
Hardened Ethernet equipment with superior reliability, long MBTF, redundant power support, wide operating temperature range, EDI, EMI, RFI and surge protection.

Full Product Testing
Our hardened products are required to pass stringent real-time data transfer testing at the temperature from -40° to +85°C for up to 72 hours without compromise.

Customer-centered Services
EtherWAN has a professional support crew, with domain know-how and hands-on experience working with system integrators and solution providers.
If you do not want to receive this e-bulletin in the future, please reply
here
© EtherWAN Systems, Inc. All rights Reserved.