Contact Us

The EX46900A Series — Hardened Unmanaged 8-port Gigabit PoE + 2-port Gigabit Uplink Ethernet Switch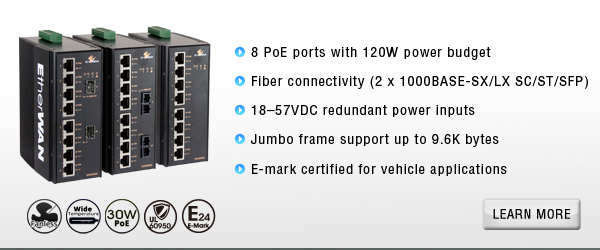 EtherWAN has released the EX46900A series, a new full Gigabit PoE switch with 8 IEEE802.3at-compliant PoE ports and 2 fiber optic ports. It is a hardened unmanaged switch which provides 120W power budget and 18–57 VDC flexible redundant power inputs; it also carries jumbo frame, IEEE803.az energy efficient Ethernet technology and a DIP switch for port fault alarm. Most importantly, the EX46900A series is compliant to E-mark for vehicle applications in Europe.

In summary, EtherWAN's EX46900A series includes the following features:
8 Power over Ethernet (PoE) ports with IEEE802.3at standard, up to 30W per port
Designed for harsh environment — meets low EMI, high EMS with intensive vibration endurance and compliant with E-mark for vehicle applications
2 optic ports available — selection from dual-core 850nm, 1310nm to single core 1310nm/1510nm with SC/ST connector, and SFP slots
Gigabit bandwidth supports better throughput, interoperability and backward compatibility, ideal for wireless AP connection or other bandwidth demanding applications
Supports jumbo frame carrying up to 9.6K bytes of payload to increase network efficiency
Compliant to IEEE802.3az EEE standard, allowing less power consumption during periods of low data transmission
Port link failure is reported immediately — alarm is activated by 3-pin relay supporting normal open / normal close
Hardened unmanaged 8-port 10/100/1000BASE (8 x PoE) with 2-port 1000BASE-X (SX/LX/SFP) Ethernet Switch

Field-proven Reliability
Hardened Ethernet equipment with superior reliability, long MBTF, redundant power support, wide operating temperature range, EDI, EMI, RFI and surge protection.

Full Product Testing
Our hardened products are required to pass stringent real-time data transfer testing at the temperature from -40° to +85°C for up to 72 hours without compromise.

Customer-centered Services
EtherWAN has a professional support crew, with domain know-how and hands-on experience working with system integrators and solution providers.
If you do not want to receive this e-bulletin in the future, please reply
here
© EtherWAN Systems, Inc. All rights Reserved.