Contact Us

The ER52000 Series — Hardened Unmanaged 8-port 10/100BASE M12 (8 PoE)+2-port Gigabit M12 Ethernet Switch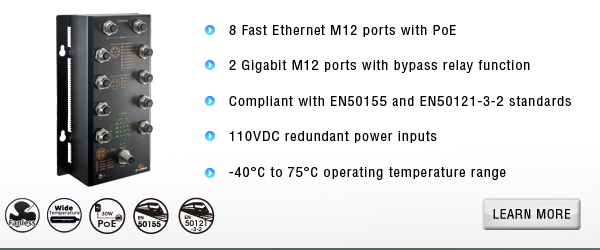 EtherWAN has released the ER52000 series, a new hardened unmanaged M12 PoE switch with wall mount form factor.

The ER52000 provides 10 robust M12 Ethernet ports with the vibration resistance required for railway or other demanding applications: 8 Power over Ethernet ports are available for powering up network devices such as an IP camera installed on rolling stock, plus 2 Gigabit uplink ports supporting bypass relay function, which ensures on-going data transmission despite an inactive switch due to power failure.

Specifically designed for railway applications, the ER52000 series is compliant with EN50155 and EN50121-3-2 regulatory approvals.
Hardened Unmanaged 8-port 10/100BASE M12 (8 PoE) + 2-port 10/100/1000BASE M12 Ethernet Switch

Field-proven Reliability
Hardened Ethernet equipment with superior reliability, long MBTF, redundant power support, wide operating temperature range, EDI, EMI, RFI and surge protection.

Full Product Testing
Our hardened products are required to pass stringent real-time data transfer testing at the temperature from -40° to +85°C for up to 72 hours without compromise.

Customer-centered Services
EtherWAN has a professional support crew, with domain know-how and hands-on experience working with system integrators and solution providers.
If you do not want to receive this e-bulletin in the future, please reply
here
© EtherWAN Systems, Inc. All rights Reserved.