If you are unable to see the message below, pleas view the online version here.
Dec. 02, 2014

Contact Us

EMC Regulations and the Integration with Industrial Ethernet Equipment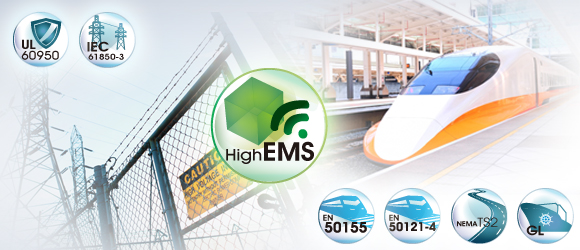 As the growing usage of microcomputers and electronic devices, the electromagnetic environments become comparatively complex over many applications; the external interference produced by unwanted electromagnetic energy produced by electromagnetic field, statics, lightning strike, or voltage variations may cause the electronic devices to fail, and this issue is eventually inevitable as it accompanies system integrations, and holds accountable to electronic manufacturers and project planners.

The concept of IP security surveillance has been gradually adapted in substations, factories, traffic control and other critical infrastructures. A complete surveillance solution consists a large number electronic devices along with higher frequency range and power rate, resulting the field site expose in high electromagnetic interference. The connections made by various medias could degrade or disconnect in the process of transmission, due to electromagnetic emissions and radiations.

To make sure the accuracy and efficiency of data flow, it is crucial to evaluate the operational risks and choose the most reliable equipment accordingly, reducing the cost of ownership at the same time. Based on years of Industrial Ethernet connectivity design know-how, EtherWAN summarized this note for your industry to help select Ethernet network products:
The mainstream of LAN—Ethernet
From design to application—5 points to consider when designing Ethernet connectivity products
Choosing an EMC-certified Ethernet product is the key in your network solution
IEC 61850/IEEE 1613 Hardened Managed 8 to 16-port 10/100BASE with 2-port Gigabit combo Ethernet Switch
IEC 61850-3/IEEE 1613 Hardened Managed 8 to 24-port 10/100BASE and 4-port Gigabit Ethernet Switch with SFP options
 

Field-proven Reliability
Hardened Ethernet equipment with superior reliability, long MBTF, redundant power support, wide operating temperature range, EDI, EMI, RFI and surge protection.

Full Product Testing
Hardened products are required to pass stringent real-time data transfer testing at temperatures from -40 to +85°C for up to 72 hours.
 

Customer Focus
EtherWAN has a professional support crew, with extensive industry know-how and hands-on experience working with system integrators and solution providers.
If you do not want to receive this e-bulletin in the future, please reply
here
© EtherWAN Systems, Inc. All rights Reserved.