EX62000 Series
Discontinued
Industrial Managed 8 to 14 ports 10/100BASE and 2-port Gigabit Ethernet Switch with SFP options
Maximum 14 ports in Desktop form factor
Three redundant power inputs
Available with either copper, SC, ST, WDM or SFP interfaces
This product is discontinued as of 13th Mar 2018.
EtherWAN's EX62000 Series provides an industrial Fully Managed 14-port switching platform combining high performance switching backbone with robust and secure management features required for mission critical and harsh environments where sustained connectivity is crucial.

The EX62000 Series is equipped with eight to fourteen 10/100BASE Fast Ethernet ports, or in combination with up to two Gigabit, Fixed Fiber, or SFP Combo port options. Panel mountable, the EX62000 Series is equipped with EtherWAN's Alpha-Ring self-healing technology, providing less than 15ms fault recovery time making it ideal for applications intolerant to interruption.

Users are able to access management features such as; port security, IGMP snooping, VLANs, GARP protocols, LACP, and via web browser, Telnet, SNMP, RMON, TFTP, and RS-232 console interfaces.

EtherWAN — "When Connectivity is Crucial."
Versatile Connectivity
» Provides flexibility of 8-port to 14-port 10/100BASE-TX/FX/BX plus 2-port Gigabit-TX/SX/LX/BX/SFP combos
Intelligent Data Management
» Optimize network performance with QoS, VLAN etc.
Secure Remote Access
» IEEE802.1x,and RADIUS support
Management
»

 Interface

   • CLI, Telnet and web browser
   • SNMP v1/v2c/v3

»

 Firmware and configuration upgrade and backup via TFTP

»

 Supports DHCP Server/Client

»

 RMON (Remote monitoring): group 1, 2, 3, 9

»

 Port mirroring: TX/RX and both

»

 NTP (Network Time Protocol) time synchronization

»

 IEEE802.1ab LLDP (Link Layer Discovery Protocol)
---
Security
»

 MAC address filtering

»

 Enable/disable port

»

 Storm control (broadcast and multicast types)

»

 IEEE802.1x LAN access control

»

 Remote authentication through RADIUS

»

 SSH for CLI and Telnet security

»

 SSL for web security

»

 Multi-level user account/password against unauthorized configuration

»

 System log (remote/local)
---
Quality of Service (QoS)
»

 Priority Queues: 4 queues per port

»

 Traffic classification based on IEEE802.1p CoS, DSCP, WRR

»

 (Weighted round robin) and strict mode

»

 Rate Limiting (Ingress/Egress)
---
Layer 2 Features
»

 Auto-negotiation for port speed and duplex mode

»

 Flow Control

   • IEEE802.3x full duplex mode
   • Back-Pressure half duplex mode

»

 Redundant Protocols

   • IEEE802.1D Spanning Tree Protocol (STP)
   • IEEE802.1w Rapid Spanning Tree Protocol (RSTP)
   • IEEE802.1s Multiple Spanning Tree Protocol (MSTP)
   • EtherWAN's Alpha-Ring network fault recovery (<15ms)

»

 VLANs

   • Port-based VLANs
   • IEEE802.1Q Tag VLANs (128 groups, 4096 VID)
   • GVRP (GARP VLAN Registration Protocol)
   • GMRP (GARP Multicast Registration Protocol)

»

 Link Aggregation

   • Static Trunk (2 groups, support MAC base)
   • IEEE802.3ad Link Aggregation Control Protocol

»

 IGMP Snooping
---
Performance
»

 Switching Capability: 6.8Gbps

»

 Packet Buffer Size: 2M bits

»

 MAC Address Table: 8192
---
Technology
Standards
• IEEE802.3 10BASE-T
• IEEE802.3u 100BASE-TX/100BASE-FX
• IEEE802.3ab 1000BASE-T
• IEEE802.3z 1000BASE-SX/1000BASE-LX
• IEEE802.3x Full duplex and flow control
• IEEE802.1p QoS
• IEEE802.1Q Tag VLANs
• IEEE802.1w RSTP
• IEEE802.1x Port-based Network Access Control
Forward and Filtering Rate
• 14,880pps for 10Mbps
• 148,810pps for 100Mbps
• 1,488,100pps for 1000Mbps
Packet Buffer MemoryProcessing Type
• Store-and-Forward
• Auto Negotiation
• Half-duplex back-pressure and IEEE802.3x full-duplex flow control
• Auto MDI/MDIX
Address Table Size
---
Power
Input
• Redundant power inputs:
  12 - 48VDC (Terminal Block)
  12VDC (DC Jack)
Power Consumption
• 15W Max. 1.25A @ 12VDC, 0.625A @ 24VDC
Protection
• Reverse polarity protection
---
Mechanical
Casing
Dimensions
• 235mm (W) x 125mm (D) x 50mm (H)
  (9.25" (W) x 4.92" (D) x 1.97" (H))
WeightInstallation
• DIN-Rail (Top hat type 35mm), Panel, or Rack mounting
---
Interface
Ethernet Port
• 10/100BASE-TX: 14, 13, 12 or 8 port
• 100BASE-FX: 0, 1 or 2 ports
• Gigabit: 0, 1 or 2 ports
Console Port
• Port: One DB9 RS-232 port
LED Indicators
• Per Unit: Power 1, Power 2, Power 3
• Per Port: Link/Activity, Speed
---
Environment
Operating Temperature
• -10°C to 60°C (-40°F to 167°F)
  Tested @ -20°C to 70°C (-40°F to 158°F)
Storage Temperature
• -40°C to 85°C (-40°F to 185°F)
Ambient Relative Humidity
• 5% to 95% (non-condensing)
---
Regulatory Approvals
ISO
• Manufactured in an ISO9001 facility
EMI
FCC Part 15B, Class A
EN61000-6-4
EN55022
EN61000-3-2
EN61000-3-3
EMS
EN61000-6-2

• EN61000-4-2 (ESD Standards)
• EN61000-4-3 (Radiated RFI Standards)
• EN61000-4-4 (Burst Standards)
• EN61000-4-5 (Surge Standards)
• EN61000-4-6 (Induced RFI Standards)
• EN61000-4-8 (Magnetic Field Standards)
Environmental Test Compliance
IEC60068-2-6 Fc (Vibration Resistance)
FED STD 101C Method 5007.1 (Free fall w/ package)
---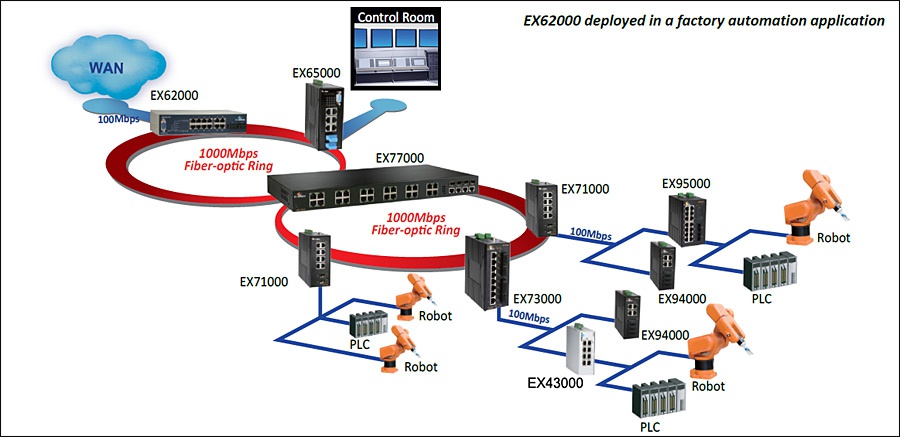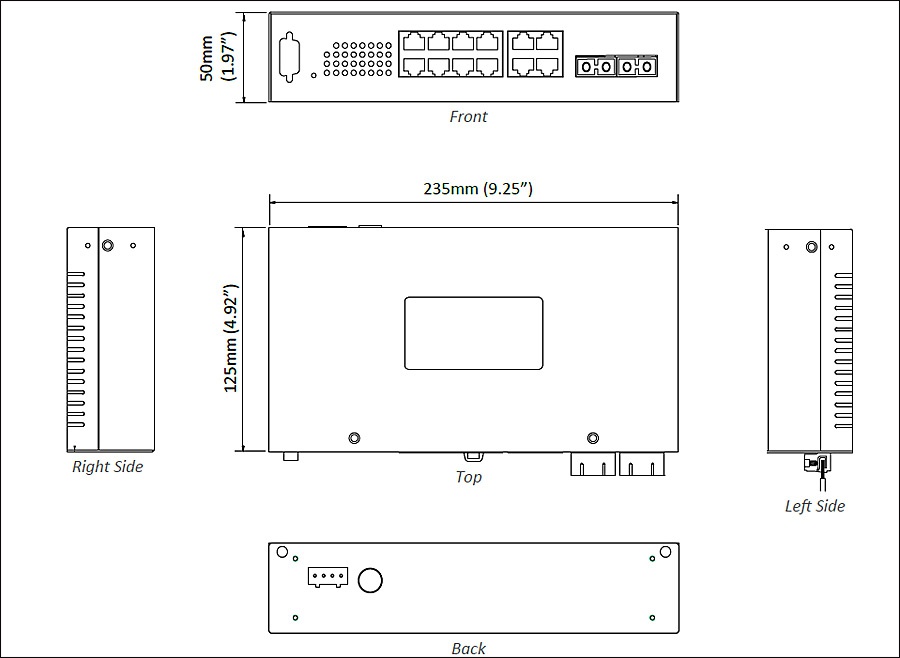 Model
EX62140-00B
14-port 10/100BASE-TX Industrial Managed Ethernet Switch
EX62141-

X

0B
13-port 10/100BASE-TX +1-port 100BASE-FX Industrial Managed Ethernet Switch
EX62142-

X

0B
12-port 10/100BASE-TX +2-port 100BASE-FX Industrial Managed Ethernet Switch
EX62102-

X

0B
8-port 10/100BASE-TX +2-port 100BASE-FX Industrial Managed Ethernet Switch
EX62128-0

Y

B
12-port 10/100BASE-TX +1-port Gigabit Industrial Managed Ethernet Switch
EX62129-0

Y

B
12-port 10/100BASE-TX +2-port Gigabit Indusrial Managed Ethernet Switch
EX62088-0

Y

B
8-port 10/100BASE-TX +1-port Gigabit Industrial Managed Ethernet Switch
EX62089-0

Y

B
8-port 10/100BASE-TX +2-port Gigabit Industrial Managed Ethernet Switch
---
100FX Fiber Options (X)
| | |
| --- | --- |
| 1 | Multi Mode (SC) - 2Km |
| 2 | Multi Mode (ST) - 2Km |
| 6 | Multi Mode (SC) WDM-TX: 1310nm/RX: 1550nm-2Km |
| 7 | Multi Mode (SC) WDM-TX: 1550nm/RX: 1310nm-2Km |
| 8 | Multi Mode (SC) WDM-TX: 1310nm/RX: 1550nm-5Km |
| 9 | Multi Mode (SC) WDM-TX: 1550nm/RX: 1310nm-5Km |
| A | Single Mode (SC) - 20Km |
| B | Single Mode (SC) - 40Km |
| H | Single Mode (ST) - 20Km |
| P | Single Mode (SC) WDM-TX: 1310nm/RX: 1550nm-20Km |
| Q | Single Mode (SC) WDM-TX: 1550nm/RX: 1310nm-20Km |
| R | Single Mode (SC) WDM-TX: 1310nm/RX: 1550nm-40Km |
| S | Single Mode (SC) WDM-TX: 1550nm/RX: 1310nm-40Km |
---
Gigabit Port Options (Y)
| | |
| --- | --- |
| 1 | 10/100/1000BASE-TX |
| 3 | 1000BASE-SX (SC) - 550m |
| 4 | 1000BASE-SX (SC) - 2Km |
| 5 | 1000BASE-SX (ST) - 550m |
| A | 1000BASE-LX (SC) - 10Km |
| B | 1000BASE-LX (SC) - 20Km |
| R | 1000BASE-BX (SC) WDM-TX: 1310nm/RX: 1550nm-20Km |
| S | 1000BASE-BX (SC) WDM-TX: 1550nm/RX: 1310nm-20Km |
| V | 2-port 1000BASE SFP combo 10/100/1000BASE-TX |
---
Optional Accessories
KD-AA96000
DIN-Rail mounting kit
KP-BK6212
Panel mounting kit
KR-BK72-400
Rack mounting kit
DR-30-24
30W/1.5A DIN-Rail 24VDC Industrial Power Supply (for Terminal Block)
DR-60-24
60W/2.5A DIN-Rail 24VDC Industrial Power Supply (for Terminal Block)
DR-75-24
75W/3.2A DIN-Rail 24VDC Industrial Power Supply (for Terminal Block)
EX41-136046-X
Power Supply 36W 12VDC with Open Wire
(X) = 1: US, 2: EU, 3: UK, 4: AU, 5: JP, 6: SA
EX41-136044-X
Power Supply 36W 12VDC with Latch
(X) = 1: US, 2: EU, 3: UK, 4: AU, 5: JP, 6: SA
---