4G Cellular Router
Available in North America only
High Capacity Router Ultra Low Power
Water and Dust Resistant with Field-Proven Cellular/4G Connectivity
Leading Edge Security with 2 Factor Authentication
C4G Overview
360° Product View
Designed for Harsh Environments
Designed to withstand extreme temperatures and conditions (ie: shock, vibrations, etc) for reliable and uninterrupted operation
Support for vehicle operation with built-in battery charge protection
High Capacity Router Ultra Low Power
Support for broadband mission critical applications, allowing over 100 clients to work simultaneously
Standby Mode protects power sources by dropping power consumption to a target of 53 mW when triggered
Water and Dust Resistant with Field-Proven Cellular/4G Connectivity
Die cast aluminum housing sealed to meet IP54
Reliable 4G connectivity in hazardous environmental conditions (ATEX Class 1 Zone 2/Class 1 Division 2)
Dual-SIM 4G Failover
Leading Edge Security with 2 Factor Authentication
Multiple concurrent VPN sessions and 2 Factor Authentication
Remote authentication (RADIUS, TACACS+) management
Secure software image CRC control protects against unwanted software corruption (i.e. malware)
EtherWAN's C4G Series is a high performance ruggedized Dual-SIM 4G router, developed for the world's most demanding mission critical applications, connecting network assets and infrastructures in fixed and mobile (vehicle/ train/subway/health) deployments for public, transit (i.e. stop lights), industrial equipment (i.e. video surveillance), field (i.e. oil pipes) and health (i.e. hospitals) deployments.

The C4G Series offers extensible multi-network connectivity from 1 to 4 Ethernet ports: Dual-SIM Cellular (up to CAT12 / 600Mbps), Wi-Fi AC (up to 866Mbps) & Ethernet (1Gbps ports), USB, RS232, RS485 & I/O ports supporting vehicle power connectivity and GNSS (GPS, Galileo, Glonass, Beidou). The C4G Series comes in two enclosure types: a) die cast aluminium enclosure with optional DIN Rail bracket and b) native DIN Rail industrial-grade enclosure. The router supports best-in-class link protection to ensure secure connectivity for all field applications and mobile assets through Dual-SIM and multiple diversity protocols.
EtherWAN — "When Connectivity is Crucial."
Main Features
Functionality

Bridging, Switching, Routing

Routing

IPv4/IPv6, Static Routing, RIP/RIPNg, NAT, OSPFv3, BGP-4, IPv6 Encapsulations (GRE, 6in4), Port Routing, RAW Connections

IP Applications

DDNS, DNS Proxy/Spoofing, DHCP/DHCPv6 server, relay, client, Opt. 82, NTP, SNTP

VPN & VLAN

IPSec, OpenVPN, VPN Failover, VLAN Access

Serial & I/O

RS232, RS485, PPP/SLIP, PPPoE

Diversity

Dual-SIM, Static Routing with Primary/Backup route, VPN Failover

Firewall & Security

ACL (list & ranges & time); Filter based MAC, IP, Port, Protocol, User; Secure HTTP/HTTPS/FTP/Telnet Authentication Proxy; AAA, Radius, TACACS+, LDAP, 802.1x, Certificate Support (X.509), Port Forwarding, BGP Communities, Zone Firewall, 2 Factor Authentication

Logging, Reporting & Alerts

Sys Log, Event Type, Report Type, Alerts & Monitoring, Triggers Status Screen Report, Data Usage, Diagnostic

Management

PerleVIEW Management, SNMPv1/v2/v3, SMS Control, Load Balancing, CLI, LDAP, Login Banner, E-mail, Ping, Telnet, FTP

Ports

1, 2 or 4 Ethernet Giga, USB-C (5Gbps), RS232, RS485, I/O and I/O Vehicle Power Monitoring

Wireless LAN

802.11 a/b/g/n/ac Dual Band 2.4/5GHz with speeds up to 867Mbps

Cellular Options

America & EMEA LTE (up to CAT6/300Mbps) and Worldwide LTE-A (up to CAT12/600Mbps) cellular card options

GNSS

GPS, Galileo, Glonass, Beidou
Environmental
Operating Temp

-40 to 70°C/-40 to 158°F (MIL-STD-810G)

Operating Humidity
Operating Altitude
MTBF (Hours)
Ingress Protection Rating

IP54 for the die cast aluminium enclosure
Power
Power Input

12/24/48VDC Nominal (7 to 36 VDC Range)

Power Line Protection

Surge: 8kV (EN 61000-4-5 common mode), 2kV (EN 61000-4-5 differential and common modes)

Vehicle Power

Built-in protection against voltage transient includes: 5 VDC engine cranking and +200 VDC load dump
Regulatory Approvals
Hazloc

ATEX Class 1 Zone 2
ANSI/ISA 12.12.01, Class 1 Division 2
Groups A-D

Emissions

FCC 47 Part 15 Class B
ICES-003 Issue 6 Class B (Canada)
EN61000-6-4 (Emissions for industrial environments)
CISPR 32:2015/EN 55032:2015 (Class B)
EN61000-3-2 Limits for Harmonic
Current Emissions
EN61000-3-3 Limits of Voltage
Fluctuations and Flicker

Immunity

EN 55025, EN 55035, EN 61000-4-2 (ESD), EN 61000-4-3 (RS), EN 61000-4-4 (EFT), EN 61000-4-5 (Surge), EN 61000-4-6 (CS), EN 61000-4-8 (PFMF), EN 61000-4-11, EN 61000-4-16, EN 61000-6-4, IEC/EN 610006-2 (General Immunity for Industrial Environments)

Electrical Safety

UL 61010-1 & UL 61010-2-201 & UL/ULC/EN 62368-1 (including CB/CE)
CAN/CSA C22.2 No. 62368-1-14

Environmental

Reach, RoHS and WEEE Compliant
Cellular
Cellular/Telecom Regulatory Approvals

FCC/ICES, RED, PTCRB/CTIA, CE

Carrier Certifications
Cellular/WWAN Radio Standards

EN 300 328, EN 301 893, EN 301 489-1, EN 301 489-17, EN 301 489-19, EN 301 489-52, EN 301 908-1, EN 301 908-2, EN 301 908-13, EN 301 511, EN 62311, EN 61000-3-2, EN 610003-3

Cellular/WWAN Radio Approvals

FCC 47 Part 15 Subpart B, Class B/ICES-003 Issue 6 Class B/FCC Part 15.247 Subpart C (2.4Ghz)/FCC Part 15.407 Subpart E (5Ghz)/ANSI C63.4
Miscellaneous
Vehicle Usage

E-Mark (UN ECE Regulation 10.04, ISO 7637-2)

Vehicle Velocity

Max 360km/h/224mph for sustainable cellular connectivity

Vibration, Mechanical & Thermal Shock
Railway

Euro: EN 50155/EN 50121-1/EN 50121-3-2/EN 50121-4 & International IEC 60571/IEC 62236-3-2/IEC 62236-4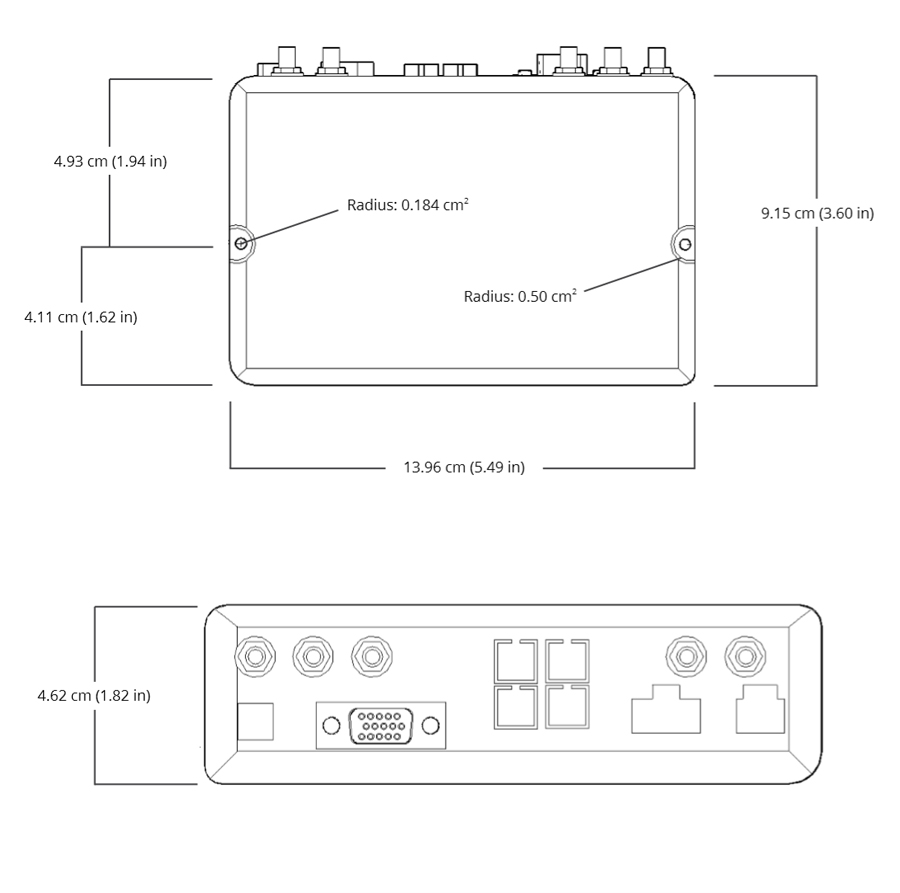 ITS (Intelligent Transportation Systems) Application

Security Application

"Branch-in-a-Box" Application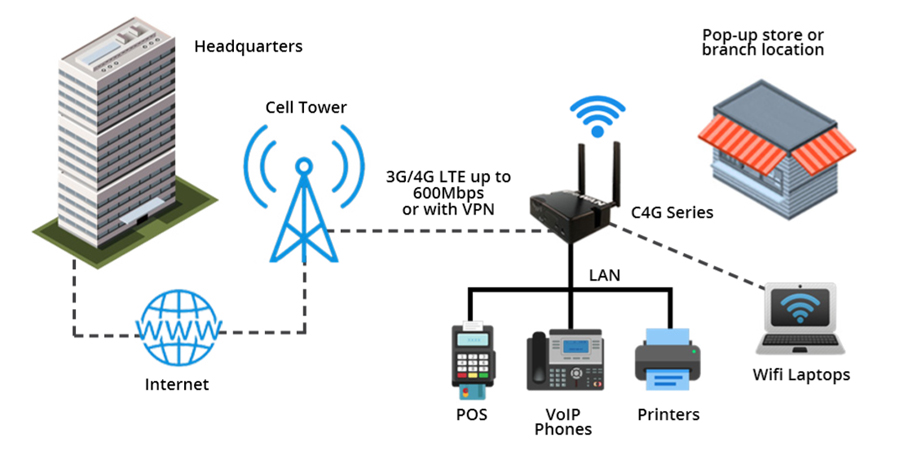 Model
| | |
| --- | --- |
| C4G-M-4P3M | 4G Router with integrated: LTE-A (CAT6 300M/50M), GPS/GNSS, 4 x 10/100/1000 RJ45 Ethernet, USB-C Port, RS232, GPIO, IGN (ignition sense pin), 2 x Digital Inputs, Alarm Relay, RS485 half-duplex, IP54 enclosure. North American power adapter included. |
| C4G-M-4P6M | 4G Router with integrated: LTE-A PRO (CAT12 600M/150M), GNSS, 4 x 10/100/1000 RJ45 Ethernet, USB-C Port, RS232, GPIO, IGN (ignition sense pin), 2 x Digital Inputs, Alarm Relay, RS485 half-duplex, IP54 enclosure. North American power adapter included. |
| C4G-M-4P3MW | 4G Router with integrated: LTE-A (CAT6 300M/50M), GPS/GNSS, Wireless LAN (2.4/5GHz), 4 x 10/100/1000 RJ45 Ethernet, USB-C Port, RS232, GPIO, IGN (ignition sense pin), 2 x Digital Inputs, Alarm Relay, RS485 half-duplex, IP54 enclosure. North American power adapter included. |
| C4G-M-4P6MW | 4G Router with integrated: LTE-A PRO (CAT12 600M/150M), GPS/GNSS, Wireless LAN (2.4/5GHz), 4 x 10/100/1000 RJ45 Ethernet, USB-C Port, RS232, GPIO, IGN (ignition sense pin), 2 x Digital Inputs, Alarm Relay, RS485 half-duplex, IP54 enclosure. North American power adapter included. |
| C4G-M-4P6FW | FirstNet Ready 4G Router with integrated: LTE-A PRO (CAT12 600M with B14 NA support), GPS/GNSS, Wireless LAN (2.4/5GHz), 4 x 10/100/1000 RJ45 Ethernet, USB-C Port, RS232, GPIO, IGN (ignition sense pin), 2 x Digital Inputs, Alarm Relay, 485 half-duplex, IP54 enclosure. North American power adapter included. |
| C4G-S-1P3M | 4G Router with integrated: LTE-A (CAT6 300M/50M), GPS/GNSS, 1 x 10/100/1000 RJ45 Ethernet, USB-C Port, RS232, GPIO, IGN (ignition sense pin), IP54 enclosure. North American power adapter included. |
| C4G-S-1P6M | 4G Router with integrated: LTE-A PRO (CAT12 600M/150M), GPS/GNSS, 1 x 10/100/1000 RJ45 Ethernet, USB-C Port, RS232, GPIO, IGN (ignition sense pin), IP54 enclosure. North American power adapter included. |
What's in the Box
C4G Unit, Power Supply, All appropriate antennas, Quick Install Guide
Accessories
| | |
| --- | --- |
| C4G-PSU-US-H | Hardened PSU -40 to 75°C (-40 to 167°F) 12VDC/2A with 4 pin Molex connector, 1.8m/6ft cable and NA wall plug |
| C4G-GPS1ANT | GPS/GNSS (GPS, Galileo, Glonass, Beidou) Passive Antenna with 5m/16ft cable SMA connector |
| C4G-WIFI2ANT | 2 x Wi-Fi Antenna with RP-SMA direct attach connector |
| C4G-LTE2ANT | 2 x LTE Antenna with SMA direct attach connector |
| C4G-4PIN-PT | Pigtail cable with 4 pin Molex connector, 3m/10ft for GPIO and power |
| C4G-8PIN-PT | Pigtail cable with 8 pin Molex connector, 3m/10ft |
| C4G DIN | Universal DIN Rail Router Mount |
| LTE2GPS1 | Puck GPS/Cellular combination antenna - IP67 rated - Bolt-thru, magnetic, or adhesive mounts. 2 x LTE + 1 x GPS |
| LTE2W2GPS1 | Puck GPS/Cellular combination antenna - IP67 rated - Bolt-thru, magnetic, or adhesive mounts. 2 x LTE + 2 x Dual Band Wi-Fi + 1 x GPS |