Upgrading a Network System for Highway Surveillance
Monitoring systems have always been the focus of traffic, and of course, the Middle East is no exception. Government units and system integrators have been working hard for better vision and improved road safety. In addition to adding higher bandwidth for greater data transmission and increased power for PoE devices, reliable network redundancy mechanisms must also be considered.... more
The Challenge
Highway construction in desert areas is complex. Network equipment must be installed or upgraded in a short time, and it is crucial to maintain flexibility for future applications. Therefore, choosing reliable equipment and planning an extensible topology in harsh environments are important tasks for system providers.

Choosing a popular and standard protocol for network redundancy is the economic approach for large highway construction, but how can a network be implemented that meets the above requirements?
EtherWAN solution
EtherWAN provides our partners with the EX78900E series to solve those challenges. The EX78900E is a Lite-Layer 3 PoE hardened full-gigabit managed Ethernet switch. It supports IEEE 802.3bt PoE Class 6, delivering 60 Watts of power that can drive a greater number of high-power demand devices in harsh environments, such as PTZ 4K resolution cameras.

The EX78900E series also provides standard redundancy protocols, including Virtual Router Redundancy Protocol (VRRP). It can be implemented in existing topologies for increased network availability and reliability.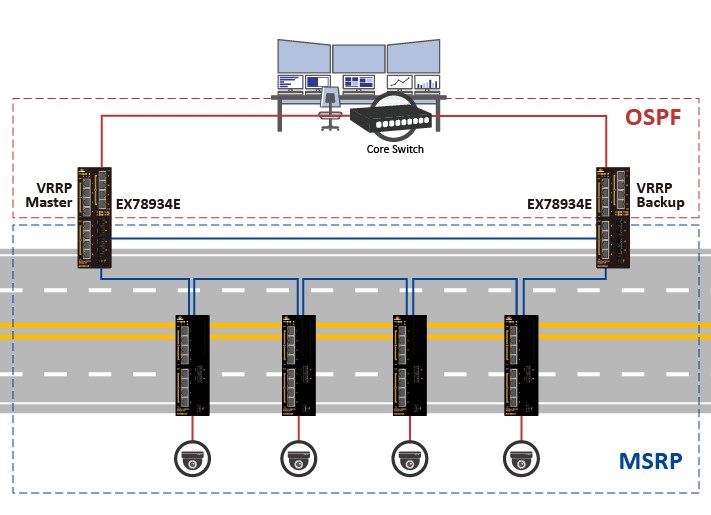 FOLLOW US ON OUR SOCIAL MEDIA

If you do not want to receive this e-bulletin in the future, please click the unsubscribe link.
EtherWAN is committed to compliance with all applicable data protection laws