New EX73900X prepares for the future of network infrastructure with high-bandwidth 10 gigabit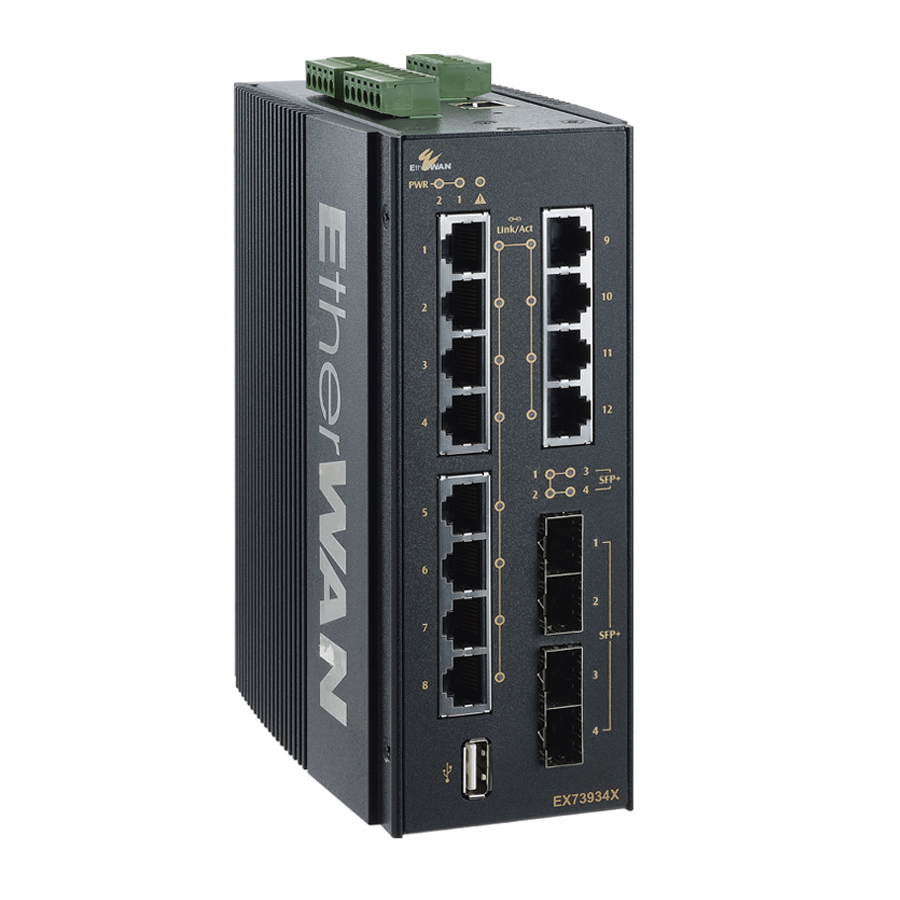 Taipei, Taiwan—June 25, 2021
EtherWAN has announced the launch of the EX73900X series, a hardened, Lite Layer 3 managed Ethernet switch, with up to 12 gigabit Ethernet ports and 4 10-gigabit uplink ports. It features ultra-fast speeds in a slim, DIN-rail mountable design, and the four dual-rate 10-Gigabit uplink SFP+ ports provide outstanding flexibility, meeting the high bandwidth needs of today's data-intensive applications. As a Lite Layer 3 switch, the EX73900X offers many security features, as well as the routing functionality often needed in small to medium-sized networks.
 
Regarding physical construction, the EX73900X is IEC 61850-3 and IEEE 1613 compliant, ensuring high resistance to electrostatic discharge and electrical surges. Hardened design supports operation in temperatures from -40° to 75°C. These features make the EX73900X ideal for industrial Ethernet applications such as national-scale public infrastructure, Intelligent Transportation Systems (ITS), and power substations.
 
An additional feature is support for EtherWAN's DnA (Detect and Alert) solution, which provides local risk prevention and instant response via built-in digital inputs and relay outputs, allowing for notification and alarm functionality for devices, eliminating the need for a separate I/O device.
 
All EtherWAN products are backed by professional technical support, giving customers the confidence to plan for the long-term maintenance and growth needs of their networks.
---
About EtherWAN
EtherWAN Systems, Inc. is a leading manufacturer of Hardened Ethernet, PoE, and Fiber connectivity products specifically designed for harsh and demanding environments. Founded in 1996 in Irvine CA, EtherWAN specializes in the design and manufacture of Ethernet Switches, Media Converters, Ethernet Extenders and Power over Ethernet products for applications where connectivity is crucial.
 
With a core focus on Ethernet connectivity for extreme environments in which product reliability and quality are top priorities, EtherWAN's product development, engineering, manufacturing and quality assurance processes are structured to push the limits of stated specifications.
 
EtherWAN– " When Connectivity is Crucial"
► EX73900X series official product page: https://www.etherwan.com/products/ex73900x-series
► For more information, please contact: [email protected]