Back to top
EtherWAN Systems Announces the Release of the EX78600 Family of Hardened Managed Ethernet Din-Rail 60W PoE++ Switches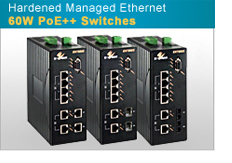 Taipei, Taiwan — 9th, October, 2014 —
The EX78600 Series switch provides 4 10/100 Ethernet 802.3at supporting 30W per port, 2 10/100 60W PoE++ ports plus 2 Gigabit ports and is designed specifically for power hungry outdoor HD Pan Tilt Zoom (PTZ) cameras and outdoor Wireless Access Points (WAP).

In addition, to the high PoE++ power, the EX78600 series has an operational temp. of ‐40°C to 75°C and is a fully managed switch incorporating EtherWAN's exclusive Alpha‐Ring redundancy recovery technology allowing redundant network designs to recover from connectivity loss in less than <15 milliseconds.

The EX78600 is designed to support fiber connectivity options for the Gigabit ports making it ideal for applications where extended distances to remote devices are necessary. "This new series of Hardened high power PoE++ switches", according to VP of US Sales & Marketing, Mark Prowten, "was created by demand from mutual customers of ours and a few IP camera companies that currently must supply either a 60W PoE injector or have the customer run separate power to the camera to accommodate the high power draw of these cameras".

Typically customers would prefer not to run separate power to the camera due to the added expense. PoE was originally designed to provide both power and data over network cabling but with the higher power demands from outdoor HD PTZ and High Power WAP products, manufactures and customers could not reap the benefits of using PoE without a product like the EX78600.
---
About EtherWAN
EtherWAN Systems, Inc. is a leading manufacturer of network connectivity products specifically designed for harsh and demanding environments. Founded in 1996, EtherWAN specializes in the design and manufacture of Ethernet switches, media converters, Ethernet extenders and Power over Ethernet products for applications where connectivity is crucial. With a core focus on sustained connectivity in extreme environments, product reliability and quality are top priority. EtherWAN's product development, engineering, manufacturing and quality assurance processes are structured to push the limits of stated specifications, resulting in products that surpass expectations.

The company's Pacific Rim headquarters and manufacturing facilities are in Taipei, Taiwan. Leveraging marketing and engineering expertise on both sides of the Pacific Ocean, EtherWAN's world class production lines deliver products of the highest quality and comprehensive professional support.

EtherWAN – " When Connectivity is Crucial "
► EtherWAN's Website: www.etherwan.com
► EX78602 Youtube Video: 60W PoE Switch EX78602
► Contact: [email protected]
---