Back to top
EtherWAN Sponsored Managed Industrial Ethernet Switch to IP Camera Field Test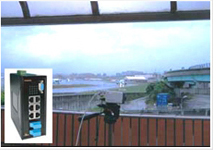 EtherWAN is pleased to announce that it participated in an event held by A&S magazine as the connectivity product provider for the IP camera field test. EtherWAN was picked as the only Ethernet connectivity company that offered switch for the test. With the EX65000, 6-port + 2-port Gigabit Fiber Switch, allows IP camera users to set the maximum bandwidth on each port individually. The distinct advantage of Layer 2 switch is that it can be easily set-up with 4MB bandwidth for each port. This Layer 2 switch can manage the bandwidth the same way as a Layer 3 switch.

This endorsement demonstrates that EtherWAN's industrial-grade managed switch products are equipped with the technology know-how to play an important role for Ethernet connectivity solutions when migrating to IP security.

The IP camera manufacturers who participated in the test alphabetically are Alinking, Arecont Vision, Basler, Brickcom, GWinstek, Ingrasys, Pelco, Sony and Zero One. A&S graded each camera based on industrial applications for installers and end-users to see the best buy IP cameras. The magazine looked at the design, functions including how the cameras reacted to Vision Quality, Bit Rate Testing, Environment Testing, D/N Function Testing, and Auto White Balance (AWB) Testing. EtherWAN is proud to be the only Ethernet switch sponsor and provided on-site technical support.

Over the course of five days A&S tested on the Megapixel IP cameras from nine of world's leading manufacturers in outdoor and indoor environments to see who offered the best video quality. It was the first time a test of this scale was held by a security magazine in the security industry-wide. The result will be published on A&S Taiwan No. 94 issue in December.
---
About EtherWAN
EtherWAN Systems, founded in 1996 in Irvine CA, has become a leader in Ethernet connectivity for applications in various markets including interaction traffic monitoring & surveillance, transportation, utility, oil & mining, factory automation, etc. EtherWAN specializes in designing and manufacturing fiber optic Ethernet products and Ethernet equipment for harsh environments.

The available products are hardened Ethernet over VDSL equipments, hardened media converters from serial/Ethernet to fiber or wireless, PoE switches, IEC61850 based hardened Ethernet equipments for power distribution and substation applications, EN50121-4 based products for railway and train networking applications, and those for UL1604 based hazardous locations. EtherWAN's US headquarters are located in California USA with Pacific Rim headquarters and manufacturing facility in Taipei, Taiwan. With engineering expertise at both sides of the Pacific Ocean and its own production lines in Taiwan, EtherWAN continues to serve the markets with most advanced Ethernet gears at very affordable prices.
---