Back to top
EtherWAN Showcases Ethernet Extender at SeucTech Vietnam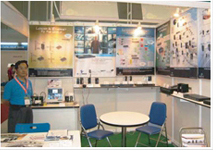 Taipei, Taiwan — November 12, 2009 —
EtherWAN, showcased the reach of their Ethernet Extender with a live demo at SeucTech in Ho Chi Minh City, Vietnam. The demo proved that the Ethernet Extender is the best solution to transmit data from IP cameras across a CCTV solution when longer distance is a must. "This prestigious trade show provides an informative venue to visitors, and to show that EtherWAN has the networking solution ready to support the IP integrated security solutions seekers to switch from CCTV to IP networking," Laurence Lin, Executive VP at EtherWAN said.

EtherWAN's Ethernet Extender takes the advantage of existing phone wires or coaxial cables to break the 100-meter copper Ethernet barrier and provide a solution to IP cameras. Thanks to PoE technology, EtherWAN provides switches that achieve faster connection speeds and simplify the wiring hassle in extreme environments. Lin explained why EtherWAN choose to participate in SeucTech Vietnam, "Ho Chi Minh City plays an important role in location-wise in Southeast Asia. EtherWAN is prepared to meet the changing demands of IP networking trends, and we're delighted that we have chosen SecuTech Vietnam as a platform to demonstrate our industrial and hardened grade equipments for critical environment."

Lin offered views on the connectivity trend of "New Solution for Ethernet Long Distance Transmission" at GDSF Vietnam (Global Digital Surveillance Forum Vietnam). EtherWAN demonstrated critical infrastructure surveillance applications in Power Plant, Water Supply & Treatment and ITS that EtherWAN brought solutions with reliable and cost-effective equipments.
---
About EtherWAN
EtherWAN Systems, Inc. is a leading manufacturer of network connectivity products specifically designed for harsh and demanding environments. Founded in 1996, EtherWAN specializes in the design and manufacture of Ethernet switches, media converters, Ethernet extenders and Power over Ethernet products for applications where connectivity is crucial. With a core focus on sustained connectivity in extreme environments, product reliability and quality are top priority. EtherWAN's product development, engineering, manufacturing and quality assurance processes are structured to push the limits of stated specifications, resulting in products that surpass expectations.

The company's Pacific Rim headquarters and manufacturing facilities are in Taipei, Taiwan. Leveraging marketing and engineering expertise on both sides of the Pacific Ocean, EtherWAN's world class production lines deliver products of the highest quality and comprehensive professional support.

EtherWAN – " When Connectivity is Crucial "
---