Back to top
EtherWAN to Showcase Ethernet Connectivity Solutions at Intersec Dubai 2010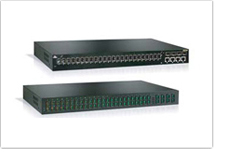 Taipei, Taiwan — January 10, 2010 —
EtherWAN, a leader in Ethernet connectivity solutions, will showcase its entire line up of the hardened Ethernet connectivity solutions at Intersec Dubai 2010. On display at booth number 2-715C will be the features of Ethernet Extenders over telephone line and coax, PoE Switches and Media Converters. From serial, copper, fiber to wireless connections, EtherWAN will demonstrate how surveillance solution providers can benefit from all available products to accelerate the migration into IP-security networks.

In order to meet infrastructures requirement in industrial and rugged environments, EtherWAN EX76000 series comes with 16 10/100BASE-TX, each with PoE (IEEE802.3af) plus 2 10/100/1000BASE-TX/SX/LX/BX ports in a package. The EX76000 functions at temperatures ranging from -40°C to 75°C and is tested for functional operation @ -40°C to 85°C. It can work reliably in any environments from the ice cold of Siberia to the hot deserts of the Middle East.

Another innovative model from EtherWAN hardened group is the EX77000, designed to integrate 24 10/100BASE-TX/FX into fiber optic Gigabit backbones via SFP combo ports. The EX77000 can also be operated in the same temperature range as the EX76000.

Both EX76000 and EX77000 are featured with the α-Ring, EtherWAN's fault tolerant technology for ring-type topologies. It significantly increases the speed of recovery, allowing Ethernet to be configured as redundant rings that may be used in mission critical operations. EtherWAN α-Ring is a proprietary protocol that operates at layer 2 and offers extremely short recovery time. It provides uninterrupted operation that even in the event of a cut cable or a device failure.

EtherWAN will also present the hardened Ethernet Extenders breaking Ethernet 100-meter barrier without changing existing cables. It uses either telephone line or coaxial cable that already existed in current infrastructure. It is the best solution for operate equipment from a long distance on the market.

The new outdoor wireless access point will also be part of EtherWAN at Intersec. The WA4184 is an IP66 weatherproof with multi-functional wireless feature. It will provide the best protection from the elements for outdoor communications networks that rely on wireless applications in industrial solutions.

With the technology know-how and product manufacturing quality, EtherWAN Ethernet connectivity solutions can meet all critical environment, when migrating to IP security. EtherWAN is ready to serve the needs of the latest physical infrastructure to the world.
---
About EtherWAN
EtherWAN Systems, founded in 1996 in Irvine CA, has become a leader in Ethernet connectivity for applications in various markets including interaction traffic monitoring & surveillance, transportation, utility, oil & mining, factory automation, etc. EtherWAN specializes in designing and manufacturing fiber optic Ethernet products and Ethernet equipment for harsh environments. The available products are hardened Ethernet over VDSL equipments, hardened media converters from serial/Ethernet to fiber or wireless, PoE switches, IEC61850 based hardened Ethernet equipments for power distribution and substation applications, EN50121-4 based products for railway and train networking applications, and those for UL1604 based hazardous locations. EtherWAN's US headquarters are located in California USA with Pacific Rim headquarters and manufacturing facility in Taipei, Taiwan. With engineering expertise at both sides of the Pacific Ocean and its own production lines in Taiwan, EtherWAN continues to serve the markets with most advanced Ethernet gears at very affordable prices.
---