Back to top
EtherWAN to Showcase Ethernet Connectivity Solutions at CeBIT 2010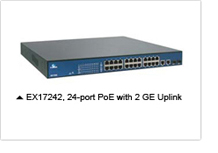 Taipei, Taiwan — March 03, 2010 —
EtherWAN, a leader in Ethernet connectivity solutions, will display at CeBIT 2010, which runs from March 2nd to the 6th. EtherWAN's booth number E69, in Hall 13 will showcase its entire line up of industry applications including: Power over Ethernet Switches, Media Converters, Ethernet Extenders.

When lined up with existing ED3101 and ED3331 series, the new ED3011 allows Ethernet over twisted to extend longer, up to 6.8km. It is clearly the best solution for distance-demanding application on the market. The ED3011 is suitable for applications which fiber cables are not feasibly or too costly. EtherWAN will also present the ED3101 and ED3331 that break the Ethernet 100-meter barrier without changing existing cables. They work with the current infrastructure telephone line or coaxial cable.

In the process of IP-Network migration, EtherWAN has launched products compliant with both 802.3af and 802.3at. It is not only limited in Layer 2 switches, EtherWAN also has revolutionize the Ethernet Extender industry with PoE. From pampered to robust units, EtherWAN's has an extender to solve any problem.

The EL150A series features built-in operations, administration and maintenance (OAM) with IEEE 802.3ah OAM standard, including fault detection, performance monitoring and remote loopback. It is effective bandwidth for the first mile of Ethernet cable. More of SFP and Gigabit media converters, from indoor to outdoor, will be showcased in EtherWAN booth.

EtherWAN specializes in designing hardened-grade networking equipments. We have products meet the IEC61850/IEEE1613 standard for Smart Grid and Substations, such as the EX87000, which offers superior protection in rugged and harsh environments. Another hardened-grade model, EtherWAN EX73000 series meets the UL1604 Class 1, Div. 2 standard for explosive environments. Both models feature with the α-Ring, EtherWAN's fault tolerant technology for ring-type topologies which offers extremely short recovery time of less than 15MS. This allows Ethernet to be configured as redundant rings making it ideal for mission critical operations.

Exhibiting at CeBIT underlines EtherWAN's dedication in European markets, and continued focus on providing innovations to the automation industry.
---
About EtherWAN
EtherWAN Systems, founded in 1996 in Irvine CA, has become a leader in Ethernet connectivity for applications in various markets including interaction traffic monitoring & surveillance, transportation, utility, oil & mining, factory automation, etc. EtherWAN specializes in designing and manufacturing fiber optic Ethernet products and Ethernet equipment for harsh environments. The available products are hardened Ethernet over VDSL equipments, hardened media converters from serial/Ethernet to fiber or wireless, PoE switches, IEC61850 based hardened Ethernet equipments for power distribution and substation applications, EN50121-4 based products for railway and train networking applications, and those for UL1604 based hazardous locations. EtherWAN's US headquarters are located in California USA with Pacific Rim headquarters and manufacturing facility in Taipei, Taiwan. With engineering expertise at both sides of the Pacific Ocean and its own production lines in Taiwan, EtherWAN continues to serve the markets with most advanced Ethernet gears at affordable prices.
---