Back to top
EtherWAN Releases Upgraded Lite Layer 3 EX73900E Series Hardened Managed Switch with Digital Input/Output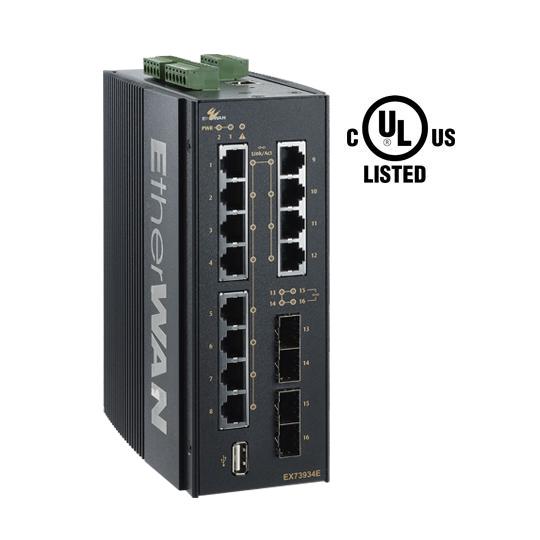 Taipei, Taiwan—June 1st, 2020
EtherWAN Systems Inc., has released the EX73900E series, a new hardened managed gigabit Ethernet switch that supports lite layer 3 functions. The EX73900E provides Ethernet connectivity with 8 or 12 gigabit copper ports and 2 to 4 port 100/1000 dual rate SFP ports for greater flexibility.

The EX73900E switches are designed to operate in harsh environments, and can withstand temperatures from -40°C to 75°C. The EX73900E is EN 50121-4 certified, making it suitable for operation in railway applications.
Furthermore, the EX73900E supports surge, EFT & ESD protection, following the IEC 61850-3 standard, suitable for power plant applications.

The EX73900E series supports Layer 3 switching with OSPF, RIP v1/v2 and static route protocols. Also supported are SNMP, port mirroring, QoS, flow control, VLAN, Link Aggregation, IGMP snooping, DHCP, and DDM. The switches can be managed via RS-232, CLI, Telnet and web browser. Dual power inputs are available and network redundancy can be achieved by STP, RSTP, MSTP, or EtherWAN's Alpha-Ring™ technologies.

Two digital inputs and two relay outputs allow the EX73900E to connect directly to sensors and devices, supporting a broad range of practical applications and simplifying security and control requirements. The EX73900E series is also equipped with a USB port for configuration backup and easy exporting of the syslog, making the device more user friendly.

Additional features of the EtherWAN EX73900E include dual firmware image backups, which prevent firmware upgrade failures, and support for Dying Gasp, which provides immediate notification through SNMP if the switch loses power.
---
About EtherWAN
EtherWAN Systems, Inc. is a leading manufacturer of Hardened Ethernet, PoE, and Fiber connectivity products specifically designed for harsh and demanding environments. Founded in 1996 in Irvine CA, EtherWAN specializes in the design and manufacture of Ethernet Switches, Media Converters, Ethernet Extenders and Power over Ethernet products for applications where connectivity is crucial.

With a core focus on Ethernet connectivity for extreme environments in which product reliability and quality are top priorities, EtherWAN's product development, engineering, manufacturing and quality assurance processes are structured to push the limits of stated specifications.

EtherWAN – " When Connectivity is Crucial "
► EX73900E official product page: https://www.etherwan.com/products/ex73900e-series
► For more information, please contact: [email protected]
---