Back to top
EtherWAN Launches Expansion Version of Popular EX78900E Ethernet Switch
New EX78900E Incorporates Ultra PoE and Digital Input/Output Features for Broad Range of Applications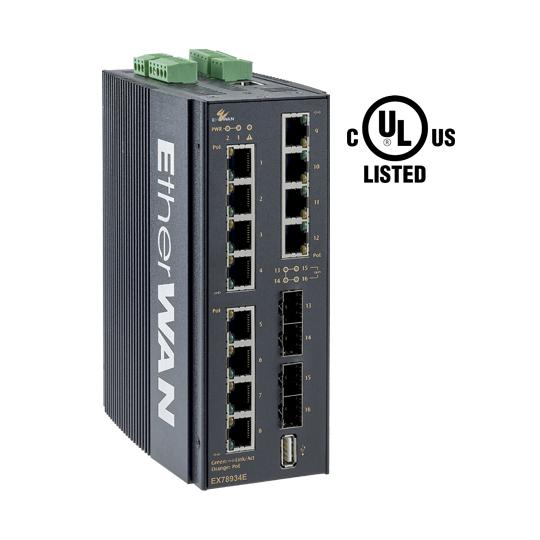 Taipei, Taiwan—April 23rd, 2020
EtherWAN Systems Inc., has announced the launch of the EX78900E series hardened managed Ethernet switch. The EX78900E series is a hardened DIN-rail mounted managed PoE Ethernet switch equipped with up to 4 ports of 60 watt, and up to 8 ports of 30 watt PoE ports and 4 dual-rate fast & gigabit Ethernet SFP ports. The EX78900E series provides flexibility, speed, and reliability for networks in urban infrastructure, transportation, security, and other areas where connectivity is crucial.

Complying with the latest IEEE 802.3BT standard, this high power PoE switch offers up to 4 ports of 60 watt, and up to 8 ports of 30 watt PoE with support for IEEE 802.3af/at/bt (15.4/30/60W). Additionally, up to 4 dual rate ports SFP Gigabit ports support 100/1000M for improved scalability.

6kV surge protection on all PoE ports helps to prevent damage to the network caused by power surges and electronic interference, both of which can cause dangerous voltage to travel through Ethernet STP cabling and directly into valuable equipment. Each copper port can endure a 6kV surge and protect the device from disconnection without warning.

A common problem experienced in the maintainenance of valuable network equipment is lack of notification for critical external events. For example, nearby window glass is smashed in attempt at illegal ingress, or a local cooling fan breaks down. Industrial switches are often located outside of a locked cabinet or a server room, and the addition of extra Digital Input and Relay Output in the field site can provide intelligent alarm system & notification for user-configured events. The EX78900E series is equipped with 2 DI and 2 Relay output interfaces for flexible notification setups.

Overall, the EX78900E series is a powerful and cost efficient way to achieve uninterrupted network connectivity and the most out of your PoE devices.
---
About EtherWAN
EtherWAN Systems, Inc. is a leading manufacturer of Hardened Ethernet, PoE, and Fiber connectivity products specifically designed for harsh and demanding environments. Founded in 1996 in Irvine CA, EtherWAN specializes in the design and manufacture of Ethernet Switches, Media Converters, Ethernet Extenders and Power over Ethernet products for applications where connectivity is crucial.

With a core focus on Ethernet connectivity for extreme environments in which product reliability and quality are top priorities, EtherWAN's product development, engineering, manufacturing and quality assurance processes are structured to push the limits of stated specifications.

EtherWAN – " When Connectivity is Crucial "
► EX78900E official product page: https://www.etherwan.com/products/ex78900e-series
► For more information, please contact: [email protected]
---