Back to top
EtherWAN Launches EX75900 Hardened Managed Power over Ethernet Switch
Newest Model Meets the latest IEEE PoE 60 Watt Standard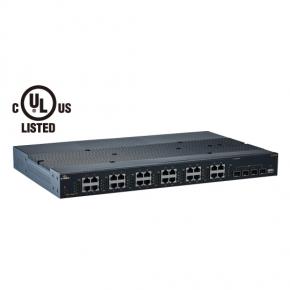 Taipei, Taiwan—June 19th, 2020
EtherWAN Systems Inc., has announced the launch of the EX75900 series hardened managed Ethernet switch. With 24 ports of 60 watt PoE and a total power budget of 720 Watts, the hardened EX75900 is designed for industrial application and is highly suitable for enabling future extension.

The EX75900 is a hardened full gigabit managed switch in rack-mount form factor featuring 24 ports of 10/100/1000BASE-T(X) each in compliance with IEEE 802.3bt plus 4 ports of 1G/10G SFP+ for connecting the switch to the core network. The switch provides extended Layer 3 routing and Layer 2 switching functions for versatility and performance.

Extra protection is also built in to the EX75900: 6kV surge protection on all PoE ports helps to prevent damage to the network caused by power surges and lightning strikes, both of which can cause dangerous of voltage to travel through Ethernet cabling and directly into valuable equipment.

A suite of intelligent PoE features includes PoE scheduling, PoE watchdog, PoE to 250 meters, and PoE force mode, in which the switch can force a connected but nonresponsive PoE device to reboot. EtherWAN is currently the only hardened Ethernet equipment provider offering this robust combination of 24 ports of 60 Watt PoE, with 720 watt power budget.
---
About EtherWAN
EtherWAN Systems, Inc. is a leading manufacturer of Hardened Ethernet, PoE, and Fiber connectivity products specifically designed for harsh and demanding environments. Founded in 1996 in Irvine CA, EtherWAN specializes in the design and manufacture of Ethernet Switches, Media Converters, Ethernet Extenders and Power over Ethernet products for applications where connectivity is crucial.

With a core focus on Ethernet connectivity for extreme environments in which product reliability and quality are top priorities, EtherWAN's product development, engineering, manufacturing and quality assurance processes are structured to push the limits of stated specifications.

EtherWAN – " When Connectivity is Crucial "
► EX75900 official product page: https://www.etherwan.com/products/ex75900-series
► For more information, please contact: [email protected]
---