Back to top
EtherWAN Announces New Look Website Launch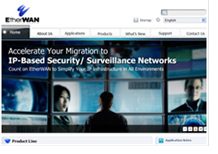 EtherWAN Systems is pleased to announce the launch of its new and improved web site at www.etherwan.com. Over the course of the last six months the site has been upgraded to make it easier to navigate and to highlight EtherWAN's reputation for unparalleled quality and selection. "Our goal is to deliver a clear brand image for those who visits our web site for the first time," Maggie Chao said, Associate VP at EtherWAN.

The application tab has been transformed to give potential customers clear examples of how companies around the world are utilizing EtherWAN's products in several different industries. The new website highlights of application for product solutions for different industries, such as Intelligent Transportation Systems, Building and Factory Automations, IP Surveillances, Water Treatment, Renewable Energy and Weather Observation.

The site also gives more detailed to options like the company's profile to give clients a better understanding of EtherWAN's place as a global leader in Ethernet solutions. With the launch of the new web site, EtherWAN has received more sales inquiry e-mail each day. "EtherWAN is equipped with full gear in terms of product lines and plan to launch a marketing campaign in target industries," Chao said.
---
About EtherWAN
EtherWAN Systems, founded in 1996 in Irvine CA, has become a leader in Ethernet connectivity for applications in various markets including interaction traffic monitoring & surveillance, transportation, utility, oil & mining, factory automation, etc. EtherWAN specializes in designing and manufacturing fiber optic Ethernet products and Ethernet equipment for harsh environments.

The available products are hardened Ethernet over VDSL equipments, hardened media converters from serial/Ethernet to fiber or wireless, PoE switches, IEC61850 based hardened Ethernet equipments for power distribution and substation applications, EN50121-4 based products for railway and train networking applications, and those for UL1604 based hazardous locations. EtherWAN's US headquarters are located in California USA with Pacific Rim headquarters and manufacturing facility in Taipei, Taiwan. With engineering expertise at both sides of the Pacific Ocean and its own production lines in Taiwan, EtherWAN continues to serve the markets with most advanced Ethernet gears at very affordable prices.
---