EL2321 Series
Discontinued
Managed 10/100/1000BASE-TX to 100/1000BASE-X Dual Rate Media Converter
This product is discontinued as of 28th August 2020.click
here
for alternative product.
The EL2321 Series provides media conversion between "10/100/1000BASE-TX" and "100BASE/1000BASE-SX-LX Fiber or 100/1000BASE-SFP Fiber." The EL2321's fiber design is compatible to 100BASE fiber or 1000BASE fiber transceiver.

The EL2321 managed media converter supports Telnet, SNMP v1/v2, and web browser management enabling value-added connectivity and bandwidth control. Key features include; 802.3ah OAM compliance, VLAN tagging, broadcast storm protection, Far-End-Fault, and Link-Fault-Pass-Through resulting in reliable communications between networks. With link down alarming and a wide range of fiber connectivity options the EL2321 is the ideal media converter for environments where connectivity is variable.

EtherWAN — "When Connectivity is Crucial."
Gigabit Connectivity
» Auto 10/100/1000BASE-TX and 1000BASE-SX/LX/BX Ethernet transmission conversion
» 1000Mbps Full duplex, 10/100MBps Full/Half duplex
» Fiber interface supports dual rate 100BASE-FX and 1000BASE-SX/LX fiber transmission
Managed Functions
» Supports IEEE802.3ah OAM standards
» Supports SNMPv1, SNMPv2
» Supports bandwidth control and VLAN base priority tag
Management
»

 Interface

   • Web Browser
   • SNMP v1/v2c

»

 Firmware and configuration upgrade and backup via TFTP

»

 Supports DHCP Server/Client
---
Security
»

 MAC Address by port security

»

 Enable/disable port

»

 Storm control (broadcast and multicast types)

»

 IEEE802.1x LAN access control
---
Quality of Service (QoS)
»

 Priority Queues: 4 queues per port

»

 Traffic classification based on IEEE802.1p CoS, DSCP, WRR (Weighted Round Robin)

»

 Rate Limiting (Ingress/Egress)
---
Layer 2 Features
»

 Auto-negotiation for port speed and duplex mode

»

 Flow Control

   • IEEE802.3x full duplex mode
   • Back-Pressure half duplex mode

»

 VLANs

   • Port-based VLANs
   • IEEE802.1Q Tag VLANs (4096 VID)
---
Technology
Standards
• IEEE802.3 10BASE-T
• IEEE802.3u 100BASE-TX/100BASE-FX
• IEEE802.3ab 1000BASE-T
• IEEE802.3z 1000BASE-SX/1000BASE-LX
• IEEE802.3x Full duplex and flow control
Forward and Filtering Rate
• 14,880pps for 10Mbps
• 148,810pps for 100Mbps
• 1,488,100pps for 1000Mbps
Processing Type
• Store-and-Forward
• Auto Negotiation
• Half duplex back-pressure and IEEE802.3x full-duplex flow control
• Auto-MDI/MDIX
---
Power
Power Input
Power Consumption
---
Mechanical
Casing
Dimensions
• 80.3 x 109.2 x 23.8mm (W x D x H))
  (3.16" x 4.3" x 0.94")
WeightInstallation
---
Interface
Ethernet Port
• 10/100/1000BASE-TX: 1 port
• 100BASE/1000BASE-SX-LX or 100/1000BASE SFP slot: 1 port
LED Indicators
• Per Unit: Power Status, OAM loop
• Per Port: TX Speed, Link/Activity, Full-duplex
---
Environment
Operating Temperature
• 0 to 50°C (32 to 121°F)
Storage Temperature
• -20 to 70°C (-4 to 158°F)
Ambient Relative Humidity
• 5% to 95% (non-condensing)
---
Regulatory Approvals
ISO
• Manufactured in an ISO 9001 facility
Emission Compliances
CE Mark Class A
FCC Part 15B Class A
VCCI Class A
---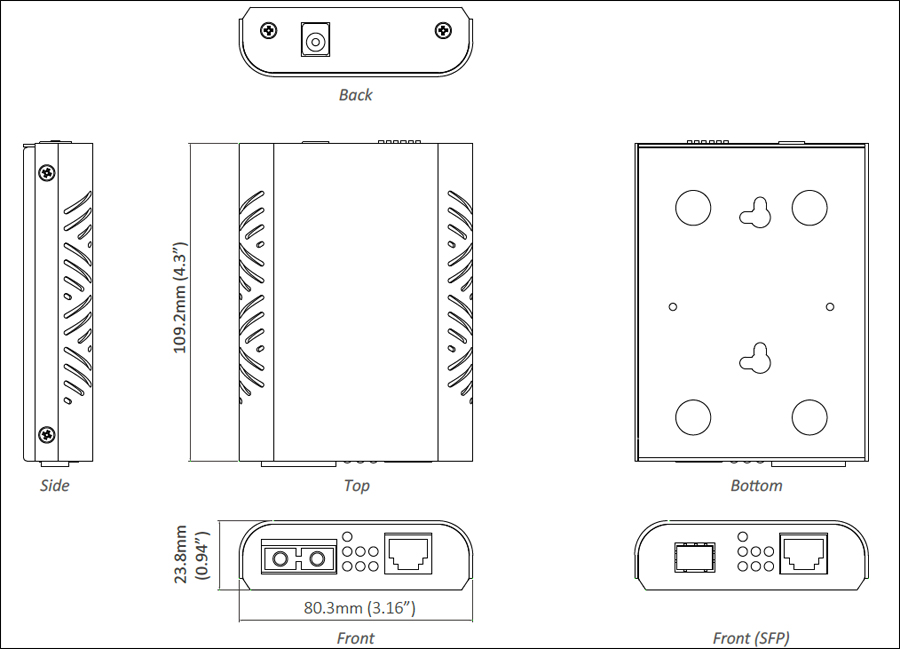 Model
EL2321-

X

1

Z

Managed 10/100/1000BASE-TX to 100BASE/1000BASE-X Dual Rate Media Converter
---
Gigabit Port Options (X)
| | |
| --- | --- |
| 3 | 1000BASE-SX (SC) - 550m (850nm) |
| 4 | 1000BASE-SX (SC) - 2Km (1310nm) |
| 5 | 1000BASE-SX (ST) - 550m (850nm) |
| A | 1000BASE-LX (SC) - 10Km (1310nm) |
| B | 1000BASE-LX (SC) - 20Km (1310nm) |
| E | 1000BASE-LX (SC) - 40Km (1310nm) |
| R | 1000BASE-BX (SC) WDM-TX:1310nm/RX:1550nm - 20Km |
| S | 1000BASE-BX (SC) WDM –TX:1550nm/RX:1310nm - 20Km |
| V | 100/1000BASE SFP |
---
Power Adapter Options (Z)
| | |
| --- | --- |
| A | with external power adapter for AU |
| E | with external power adapter for EU |
| J | with external power adapter for JP |
| K | with external power adapter for UK |
| U | with external power adapter for USA |
| 3C | with external power adapter for China |
---