Back to top
EtherWAN Introduces IEC61850 Compliant Equipments for Substations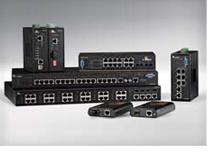 Taipei, Taiwan — September 08, 2010 —
EtherWAN introduces hardened-grade Ethernet Switches, Media Converters and Serial Device Servers that is compliant to IEC61850/IEEE 1613 standard, which is an Ethernet-based protocol standard that mainly used in power grid and substations for data communications.

While communication is a crucial criterion to utility, power grid and substations, the IEC61850/IEEE1613-certified equipments guarantee all the reliability in communication to different terminals such as on measuring, monitoring and control stations. "Our IEC61850-certified equipments meet all requiring criteria for substation environments. This certification demonstrates the safety and stability of implementation when they choose EtherWAN," Ben Chiang said, Product Manager at EtherWAN.

EtherWAN's EX87000, Managed Hardened 24-port 10/100BASE and 4 Gigabit ports Ethernet Switch, has been certified to IE61850/IEEE 1613. The EX87000, rack-mountable and fan-less design with redundant power supply options, provides wide operating temperature range, -40 to 75 degree Celsius, to handle severe conditions. It comes with "α-ring" features that provide excellent redundancy with recovery time less than 15 milliseconds.

"IEC61850 is the trend, since it ensures accurate functionalities on implementing control, protection and monitoring tasks in power system, " said Louis Chen, Product Manger, EtherWAN. EtherWAN teamed up with IEC61850/IEEE1613 hardened-grade Media Converter, EL1141, as a complete application for substations. EtherWAN's SE5300, Industrial 2/4 ports Serial Device Server, emphasizes DNP 3.0 transparent that can be compatible with legacy in utility industry. EtherWAN continues to provide a higher level of reliability on utility, power grid and substations that go above and beyond the industry's standards. "EtherWAN's Media Converters and Serial Device Servers have successfully become part of solutions in renewable energy sites and power substations around the world. More opportunities continuously emerge. We have a very promising product roadmap to keep this momentum in this new yet growing market," said Maggie Chao, Associate VP of Sales& Marketing, EtherWAN.

► IEC 61850/IEEE 1613 products from EtherWAN include EX27000, EX29000, EX47000, EX70900, EX83000, EX87000, EX89000 and EL1141.
---
About EtherWAN
EtherWAN Systems, Inc. is a leading manufacturer of network connectivity products specifically designed for harsh and demanding environments. Founded in 1996, EtherWAN specializes in the design and manufacture of Ethernet switches, media converters, Ethernet extenders and Power over Ethernet products for applications where connectivity is crucial. With a core focus on sustained connectivity in extreme environments, product reliability and quality are top priority. EtherWAN's product development, engineering, manufacturing and quality assurance processes are structured to push the limits of stated specifications, resulting in products that surpass expectations.

The company's Pacific Rim headquarters and manufacturing facilities are in Taipei, Taiwan. Leveraging marketing and engineering expertise on both sides of the Pacific Ocean, EtherWAN's world class production lines deliver products of the highest quality and comprehensive professional support.

EtherWAN – " When Connectivity is Crucial "
---