More Power over Ethernet Features and Applications
In Selecting the Right PoE Switch, we discussed the various kinds of PoE switch, and the factors to be considered when choosing one. In this article we will discuss further how PoE works, and explore some extra PoE functions and how they are implemented.
PoE Classes
With the release of the 802.3bt standard in January of 2019, there are now eight classes of PoE power delivery. PSE stands for Power Sourcing Equipment, and is the device that provides the PoE power. This is most often an Ethernet switch, but there other types of devices that can deliver PoE. "PD" stands for Powered Device and is the device receiving the PoE, such as a VoIP phone, camera, or wireless access point.

| Class | Min Power from Source (PSE) | Min Power to Device (PD) |
| --- | --- | --- |
| 0 and 3 | 15.40W | 13.00W |
| 1 | 4.00W | 3.84W |
| 2 | 7.00W | 6.49W |
| 4 | 30.00W | 25.50W |
| 5 | 45.00W | 40.00W |
| 6 | 60.00W | 51.00W |
| 7 | 75.00W | 62.00W |
| 8 | 90.00W | 71.30W |
Note: Class 0 and 3 deliver the same power requirements. Class 0 is assumed if a specific class is not requested by the PD.
---
Power Sourcing Equipment PSE Process Cycle
The PSE process cycle is comprised of five steps:
Powered device (PD) detection is performed to determine if the connected device is PoE enabled.
PD classification determines the PD's rated power consumption prior to powering up.
Startup is done gradually to avoid data interference.
Real-time protection and power management is performed during operation.
Disconnection is monitored, and will cause power for the port to be shut down if detected.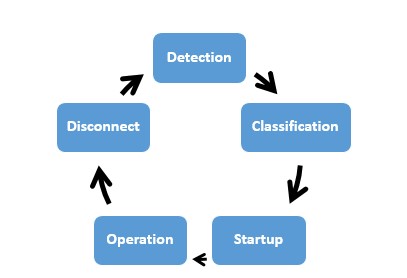 ---
Extended PoE
In addition to the PoE standards discussed previously, certain models of EtherWAN switches support an additional function called Extended PoE. The currently released PoE standards support a maximum range of 100 meters (328 feet). However, EtherWAN's Extended PoE can supply power at distances up to 250 meters (820 feet) with 10Mbps data transmission speed.
The amount of power provided to the end device at maximum distance (based on power supply):
52VDC input = 19.9W
55VDC input = 25.9W
57VDC input = 30W
EtherWAN switch models that support Extended PoE are:
Enabling Extended Poe (Extend Mode) can be easily done by clicking the corresponding check box on the PoE Port Setting screen in the web GUI.

---
PoE Watchdog
PoE Watchdog is a function that allows the switch to digitally monitor connected PoE devices, such as IP cameras. By systematically employing routine checkups via sending and receiving data packets, or pinging to and from the device, PoE watchdog can verify the working status of each connected PoE device.

EtherWAN offers an extension of PoE Watchdog and introduces new additional features, including a remote reset function via PoE which could also be configured to reset PoE devices after a scheduled delay. This feature saves users valuable time as they no longer have to perform a manual reset on every single one of their PoE devices when needed.
PoE Watchdog is supported on the following EtherWAN switches:
Implementing PoE Watchdog
In the switch's web GUI, navigate to Switching -> PoE Watchdog
The "PoE Watchdog Config" dialog box gives several options for configuration:
1. Enable/Disable PoE Watchdog – Turns on or off the feature
2. Target IP Address – Enter the address of the end device
3. Ping Interval – Sets how often the end device should be tested
4. Failure Count – Sets how many failures before the No Response Action occurs
5. No Response Action – Determines what happens when failure count is reached (nothing, power cycle (reset end device) turn off PoE port
6. Startup Delay – Sets how long to wait before performing No Response Action after failure count is reached

To summarize, EtherWAN's Extended PoE and PoE Watchdog are valuable features that help you get the most out of your PoE switches and devices.