Efficient Technology to Reduce Crime Rates
With crime cases an ever-growing concern, lighting has become increasingly important - not only in order to record crimes clearly but also to deter criminal behavior. EtherWAN has collaborated with Cast Lighting to write a new page in the world of PoE solutions. By using the latest PoE technology, lights can be automatically turned on when movement is sensed.
Safety through Triggered Outdoor Lighting
One PoE lighting application is the chasing away of intruders. When the surveillance system is installed in a place that to be secured, the PoE lighting can work with EtherWAN's PoE switches to efficiently turn on the lights, startling intruders. According to an investigation by UChicago Urban Labs, effective lighting can result in a 36% reduction in nighttime outdoor crimes, due to the fact that the lighting makes intruders more likely to abandon their targets.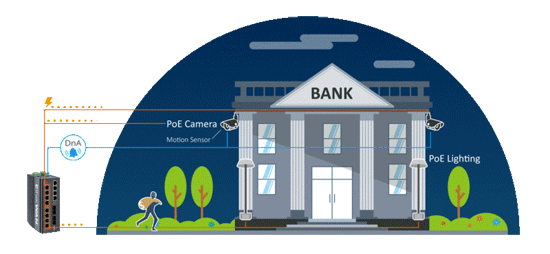 Video surveillance systems are designed to clearly record events within a specific area. However, nighttime recording is often problematic, in that there is not enough light provided from existing light sources to allow for the recording of clear and viewable video footage. EtherWAN now offers a solution to this problem with PoE switches that can not only output power to PoE cameras, but also to PoE lighting. This enhances the video recording quality, while eliminating the problem of black and white or blurred video.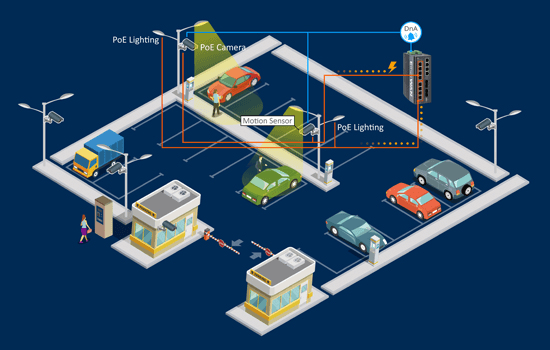 Integrate with EtherWAN's DnA to trigger PoE lighting

Multiple PoE lights can be triggered by the same event

Configurable lighting duration and repeat time

Energy saving, lights turn on only when required

Easy installation
Gigabit
DnA x 2 sets
PoE IEEE 802.3bt
LL3
-40°C to 75°C

Gigabit
DI x 2, Relay Output x 1
PoE IEEE 802.3bt
LL3
-40°C to 75°C

Gigabit & 10 Gigabit
DnA x 2 sets
PoE IEEE 802.3bt (90W)
LL3
-40°C to 75°C