When it Comes to Saving our Earth, EtherWAN Can help!
---

---
A Shift Towards Solar Energy
Amid the global surge in environmental consciousness, the terms "green" and "renewable" have seamlessly integrated into our energy discourse. Across the globe, nations are bidding farewell to carbon dependency and embracing the realm of renewable energy, with solar power leading the way.
Solar energy is used worldwide and is increasingly popular as a potent avenue for electricity generation and heating on an international scale. Taiwan is a subtropical country in Asia, with an average annual solar irradiation of 2000 kWh/m2, giving the region a great advantage for the collection of energy from sunlight. Technological breakthroughs have enabled direct energy capture from sunlight even during overcast conditions. However, optimizing energy collection through solar panels mandates periodic adjustments in angle, operational timing, and transit duration. Given these requisites and the expansive spatial layout of solar panels, Ethernet switches have emerged as pivotal components within solar power installations.
EtherWAN is supporting solar energy applications both overseas and in Taiwan. A milestone was achieved as the company proudly marked the completion of a distinctive solar energy endeavor in the southern region of Taiwan. This initiative is positioned to introduce a fresh era within the domain of renewable solar power.
---
Meeting Essential Criteria
Must withstand extreme temperatures.
Must support data redundant transmission and redundant power input.
Must have the most stringent certifications, including EMI, EMS, FCC, CE, and UL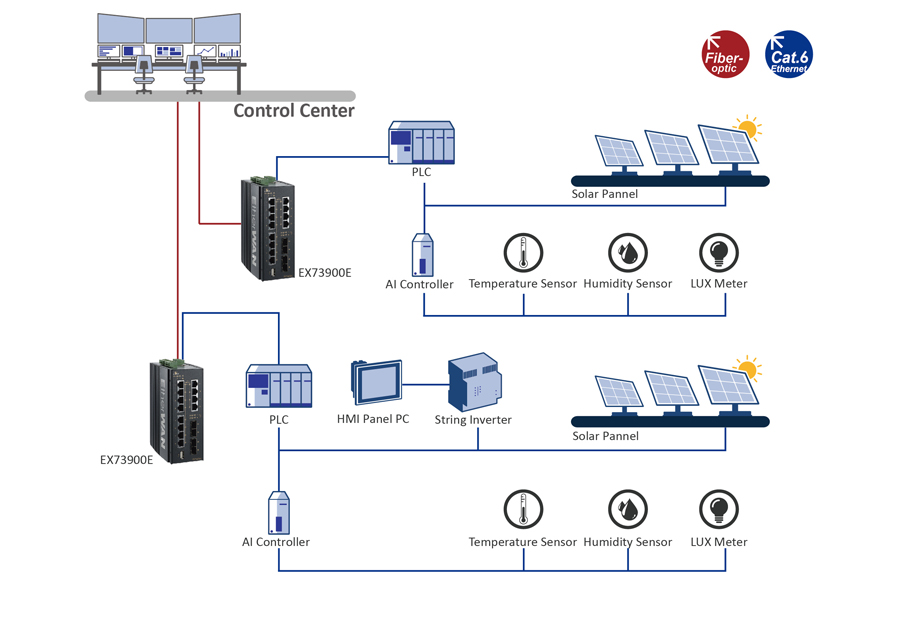 ---
One Stop Networking Solution
Engineered for rugged conditions, the EX73900E switches exhibit resilience even in the harshest environments, enduring temperatures spanning from -40°C to 75°C. Having earned EN 50121-4 certification, the EX73900E excels across diverse applications. Boasting surge, EFT, and ESD protection in alignment with the IEC 61850-3 standard, this switch finds favor in ventures involving high voltage, including power plants and solar energy installations.
---
Smart Choices for a Sustainable Future
As humanity paves the way for a smarter energy future, various challenges persist, including the need for consumer energy and carbon emission reduction. We're facing the consequences of our own choices, such as the pollution caused by greenhouse gases. It is important to effectively utilize the available sustainable resources. In this pursuit, EtherWAN stands as an efficient networking solution partner, dedicated to a more environmentally conscious and prosperous future.
---
Related products:
---
EtherWAN
When Connectivity is Crucial "
►
For more information, please contact:
[email protected]
---