Power Independence: A Drive for Localized Energy Generation
---

---
A Shift Toward the Renewable Power Source
Vietnam's rapid industrialization has resulted in a surge in energy, particularly electricity. The country has been experiencing fast population and economic growth combined with depleting oil and gas supplies. The country's power consumption has been significantly increasing from 10% to 12% annually until 2030, which might lead to power shortages.

Taking proactive steps to lessen the use of fossil fuels and promote long-term energy growth is one of the government's priorities, including investing in renewable solar and wind energy.
---
Raising the Bar for Sustainable Power Solutions
The control system upgrade for unmanned solar and wind power substations was completed by the end of the 2nd quarter of 2020. This upgrade was a strategic decision aimed at unifying electricity transformation goals. As part of this decision, new operational requirements were implemented starting in 2020. These requirements include the flexibility to utilize fiber optics and a 4G LTE VPN tunnel for remote management of the Distribution Automation System (DAS). This advanced system enables reliable communication, scalability, monitoring, control, grid integration, and security are essential for generating clean and sustainable energy.
---
Ensuring Sustained Power Continuity
Their upgraded Distribution Automation System (DAS) incorporates the latest advancements to enhance performance. The DAS utilizes fiber cables, specifically the EtherWAN EX27000 series for remote-control systems within shorter distances and the EW50 LTE cellular gateway for remote areas, utilizing the convenience of 4G wireless VPN connectivity.

To meet the specific requirements of solar and wind power facilities, managed switches are essential. These switches not only provide power redundancy but also offer a WAN connection for backup purposes. EtherWAN, known for its reliable networking solutions, delivers managed switches with a highly efficient redundancy protocol. This protocol ensures a seamless redundancy function, guaranteeing an uninterrupted power supply and backup connectivity for the entire infrastructure.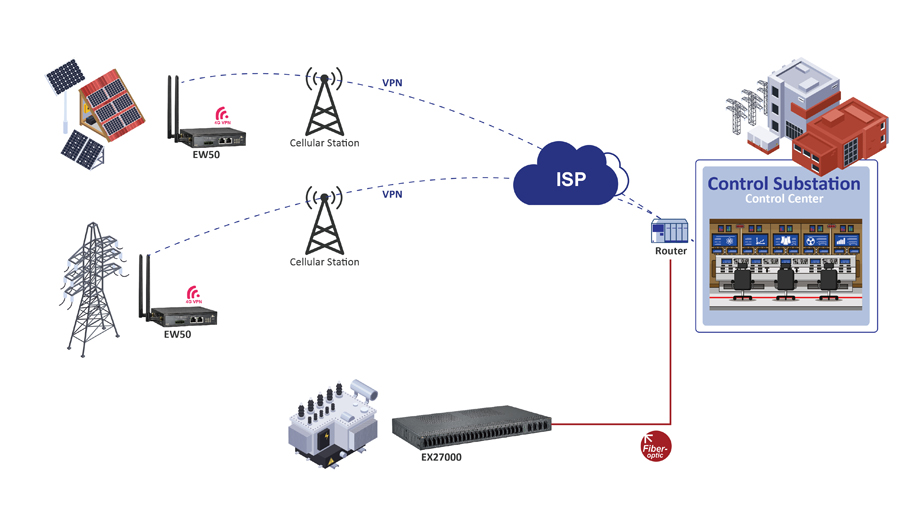 ---
Robust Power Substation Management
EtherWAN's EX27000 series and EX73900E switches were used for mission-critical substations since both switches are IEC 61850-3 and IEEE 1613 certified and perfect for harsh unmanned and harsh environments. They also provide immunity to electromagnetic interference and power surge that can cause power issues.

The switches connected to SCADA were used to integrate with intelligent electronic devices (IED) to enhance and complement the functionality of each remote terminal unit (RTU) within the system to allow a reliable and convenient substation power management and communication system and a more robust and efficient network environment.
---
Effortless Integration for Reliable Automation
Wind towers are strategically spaced apart and require the conversion of copper Ethernet signals to fiber optics. This fiber optic infrastructure caters to current wind power needs and allows seamless integration with solar panels in future expansions of solar plants. EtherWAN provides efficient fiber optic solutions with dual-rate SFP ports specifically designed for generation applications. On top of this, EtherWAN incorporates the Alpha-ring redundancy protocol, ensuring minimal downtime in the event of a link failure.

To establish seamless connectivity, the installed EX27000 switches within the wind and solar power main control cabinet complement the EX73900E switches. These switches are engineered to withstand high levels of electromagnetic interference (EMI), vibrations, and extreme temperatures. Together, they form an alpha-ring configuration that ensures power redundancy, effectively controlling various aspects of wind power plant automation, such as I/O operations, turbine blade control, and solar charge controllers.
---
A Drive for Power Generation Freedom
EtherWAN's switches played a crucial role in ensuring power continuity, efficient communication, and reliable performance in the country's renewable energy sector. They enabled seamless connectivity, integration, and power redundancy, facilitating effective management and solar and wind power substations and plants.

The EW50 series utilized 4G wireless VPN connectivity to ensure reliable communication and provided power redundancy, backup WAN connection, and immunity to interference and power surges. The EX27000 series was optimized for remote-control systems within shorter distances, making it suitable for wind power applications and future integration with solar panels. By utilizing fiber cables, these switches offered reliable and high-speed communication. Incorporating the Alpha-ring redundancy protocol, they ensured power continuity, backup connectivity, and seamless integration with SCADA systems and intelligent electronic devices (IEDs) for enhanced functionality and management capabilities. The EX73900E Switches were the ideal choice for substations' harsh environments. With reliable performance, immunity to interference and power surges, and connection with SCADA systems and IEDs, these switches provided a resilient and robust network environment.
---
IG5 Rack Optimizes Power Grid Performance, Enables Reliable Coordination
EtherWAN's highly recommended IG5 Rack is a Layer 3 switch that is a tailored fit for power grids, providing a range of powerful features to enhance network performance.

The IG5 Rack incorporates the Open Shortest Path First (OSPF) routing protocol to optimize network routing and management. This enables efficient and reliable data transmission across the network. Being IEEE 1588-certified, the IG5 Rack provides precise time synchronization for sub-microsecond communication and data transmission. This level of accuracy is essential for synchronization and coordination in power grid applications that rely on precise timing. Its features ensure enhanced network performance, precise time synchronization, and improved functionality and management capabilities in power grid environments.
---
Related Products:
---
EtherWAN – " When Connectivity is Crucial "
► For more information, please contact: [email protected]
---