The Influence of Network Connectivity in a Medical Center's IP Surveillance
---

---
Significance of Surveillance Infrastructure
A major public medical center in Taiwan houses 1,500 beds and employs over 3,000 staff members. It cares for 6,000 outpatients, 130 inpatients, and 180 emergency room patients daily. Additionally, it provides high-quality medical services, advanced facilities, training courses, and outstanding research and development programs. The medical center comprises several multi-level buildings, and the outdated analog surveillance system operated independently in each building. The client approached a system integrator (SI) to upgrade the outdated system with a fully digitized and centralized surveillance solution.
---
Network Connectivity Challenges
The facility covered a vast area of 27 hectares (67 acres), and the buildings needed to be connected to long-distance fiber cabling to establish a centralized system. A significant amount of video surveillance data was expected to be transmitted to the server end. This necessitated a network backbone with ample bandwidth. Additionally, most modern IP cameras support Power over Ethernet (PoE). The new system would demand dependable PoE and fiber optic connectivity to ensure a robust surveillance operation.
---
Robust Gigabit Connectivity
The SI established a gigabit Ethernet backbone using 8-core fiber cables to connect the networks between the buildings. EtherWAN's PoE switches were selected to establish fiber-to-fiber connections among the buildings. Additionally, more than 460 PoE cameras were connected to 49 EtherWAN's PoE switches at the installation site. EtherWAN's EX17000 series web smart PoE switches offered the following benefits:
IEEE 802.3af/at Power over Ethernet compliance, enabling camera power via CAT5 or better Ethernet cables
Configurable and resettable via a web browser, saving maintenance time
Gigabit SFP transceiver slots for forming a gigabit network backbone
Network redundancy with a low failover time
Support for Virtual Local Area Network (VLAN) configuration
EtherWAN assisted the SI in planning 35 VLAN segments, each dedicated to a specific floor in the major buildings. This segmentation allowed each network segment to operate independently without interference.

EtherWAN also recommended deploying EX77900 lite-L3 managed switches to converge data from the VLAN segments. The EX77900 switches intelligently identified network segments using the Routing Information Protocol (RIP) and optimized data transmission and routing across the extensive and complex network topology.

To receive data from the PoE switches connected to the cameras, EtherWAN's EX25611 L2 managed Ethernet switches, each equipped with 24 gigabit data ports, were used. Both the EX25611 and EX77900 were equipped for 10G SFP+ connectivity for uplinking to the core switches, NVR, or NAS storage. For example, at the facility's administration center, the NAS received all data from the NVR via the EX77900, enabling security personnel to access and monitor important footage instantly, whether from the NVR or directly from an IP camera.

Thanks to the well-organized network segments, the SI successfully provided an optimized surveillance infrastructure.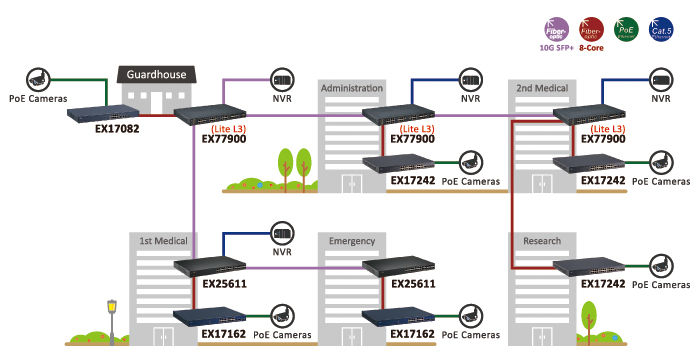 ---
Stable and Reliable Surveillance System
The surveillance system has operated stably and reliably since its installation. Live footage from the CCTVs is captured, recorded, and smoothly transmitted back to the NVRs and the control room. Medical data is also accessible through the IP network, ensuring that both the hospital's property and patients' safety are secured through a resilient network infrastructure.

EtherWAN provided the client with prompt inquiry responses, network design suggestions, and technical support, delivering the performance and value that this important project demanded.
---
Related products:
---
EtherWAN – " When Connectivity is Crucial "
► For more information, please contact: [email protected]
---