How Weigh in Motion Technology Streamlines Road Infrastructure
---

---
In Taiwan, almost 8.5 million trucks underwent weigh station checks in 2020 according to Freeway Bureau, M.O.T.C., resulting in 23 thousand checked trucks in a single day. Overloaded trucks accelerate the deterioration of roads and highways, leading to higher maintenance costs for the maintenance department. Moreover, overloaded trucks increase the chances of experiencing flat tires that endanger the safety of drivers.
As road usage continues to increase globally, governments, road owners, and operators face the challenges of monitoring traffic and maintaining highways.
Weigh-in-motion (WIM) technology is the perfect solution for traffic monitoring, weight enforcement, and weight-based tolling. A well-established WIM system is the key to sustainably managing and protecting the road infrastructure.
---
Factors Affecting WIM Efficiency
There are key considerations to ensure the optimal performance and reliability of a WIM system:
Installation: The working unit must be able to operate under extreme temperatures. The system should operate at 0 to 70°C without a fan.
Backup: The network devices needed to support redundant data transmission and redundant power input availability.
Certification: The system must achieve the most stringent standards, including EMI, EMS, FCC, CE, and UL.
Management: The devices must support at least Lite Layer 3 functions.
---
All In One Device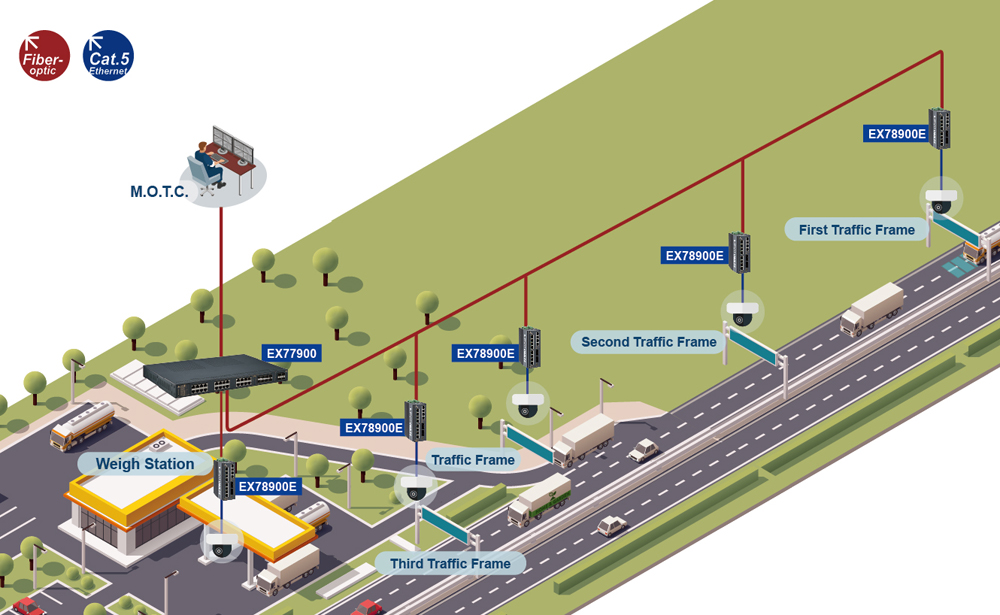 EtherWAN's EX78900E PoE Lite Layer 3 managed switch was installed at the WIM station in central Taiwan. Not only does the switch device provides 802.3bt standard PoE power that allows up to 60w output that allows efficient integration with surveillance systems, but it also meets the most stringent safety and quality standards.
To secure the application for outdoor installation, it provides 6kV surge protection at PoE ports through STP cabling, the best option for WIM integration and installation in weigh stations.
It is the ideal choice for automated real-time traffic data collection, refined infrastructure planning, optimized road maintenance, and improved traffic flow uniformity.
---
Experience a Reliable WIM System
The deployment of EtherWAN's EX78900E PoE solved the issues in data transmission, infrastructure design, and traffic flow. With 60w output and 6kV surge protection for outdoor installation and WIM integration, the switch provides dependable and resilient PoE systems that exceed strict safety and quality criteria.
EtherWAN is always helping to create a safe and intelligent transportation system by offering PoE systems with outstanding efficiency and reliability.
---
Related products:
---
EtherWAN – " When Connectivity is Crucial "
► For more information, please contact: [email protected]
---