Elevating Aviation Safety with HK Airport's Lightning Warnings
---

---
The Airport's Proactive Approach
With its monsoon-influenced subtropical climate, Hong Kong is prone to receiving heavy thunderstorms from April to September. These thunderstorms bring with them a significant number of lightning strikes. On average, Hong Kong experiences more than 5,000 cloud-to-ground lightning strikes each month during this period. While lightning is generally not a direct threat to aircraft, the open landscape, towers, and antennae at airports create an environment susceptible to lightning strikes, posing a potential danger to ground handling personnel, service staff, and even passengers. Therefore, it is crucial for airports to receive timely lightning alerts to ensure the safety of airport personnel.

Hong Kong's airport does not possess sophisticated lightning detection equipment, but the Hong Kong Observatory, established in 1883, is equipped with state-of-the-art sensors for this purpose. The Hong Kong Observatory is responsible for monitoring and forecasting weather in the Hong Kong region, including issuing warnings for weather-related hazards such as lightning. Their Lightning Location Information System (LLIS) consists of a network of lightning location sensors strategically placed throughout the city.

To bridge the data provided by the observatory with the needs of the airport, the Hong Kong Airport Authority introduced an airport lightning warning system. This system connects the Hong Kong Observatory with the airport, providing warnings to personnel when lightning is detected nearby. The system receives high-level alerts from the Hong Kong Observatory and notifies the airport when lightning is expected to strike within a 5-kilometer radius (Amber alert) or a 1-kilometer radius (Red alert) of the airport. During an amber warning, all non-essential activities on the airport apron are suspended, while a red warning advises all personnel on the apron to seek protective shelter
---
Calls for a Scalable Lightning Warnings
In the sultry climate, all components of the system had to exhibit a high resistance to heat and moisture. Given the potential for future expansion of the lightning warning system, scalability was a critical design consideration. Additionally, there was a need for comprehensive network redundancy with minimal failover time, and the system had to seamlessly integrate various redundancy protocols.
Immunity to electromagnetic interference (EMI)
Scalability for accommodating future expansion
Exceptional resistance to moisture (with a capability to operate at 95% ambient relative humidity)
Implementation of synchronized redundancy protocols (including standard RSTP and Alpha-Ring)
Capability to function within an extremely wide temperature range: -40°C to 75°C (tested successfully at 85°C)
---
Key to Network Optimization
The EX61800, an 8-port 10/100BASE-TX industrial managed Ethernet switch, offers a fully managed switching platform that seamlessly combines high performance with robust and secure management features. Enhanced reliability is achieved through support for dual firmware images, providing independent primary and secondary operating system files for backup and recovery.

On the other hand, the EX29000 is an industrial, fully managed 28-port switching platform. This highly modularized switch supports up to 28 electrical and/or optical interfaces with data transfer rates of 10/100 Mbit/s, and it accommodates up to four Gigabit, Fixed Fiber, or SFP Combo port options. Designed for convenient rack mounting in a 1U space, the EX29000 Series also fully supports EtherWAN's Alpha-Ring technology.

Both the EX29000 and EX61800 offer essential management and security features, such as SNMP and IGMP snooping, and these can be easily configured through an intuitive web-based management interface. Of utmost importance for safety-critical applications within airport settings, both models comply with the following EMI standards: FCC Part 15B Class A, EN 61000-6-4, EN 55032, EN 61000-3-2, and EN 61000-3-3. These certifications ensure stable operation and data transmission even in the presence of strong electromagnetic interference.

Additionally, both models support a wide array of redundancy protocols, including EtherWAN's Alpha-Ring self-healing technology—an exclusive redundancy protocol known for delivering a fault recovery time of less than 15 milliseconds. This protocol is particularly well-suited for systems where network downtime must be minimized to the absolute minimum.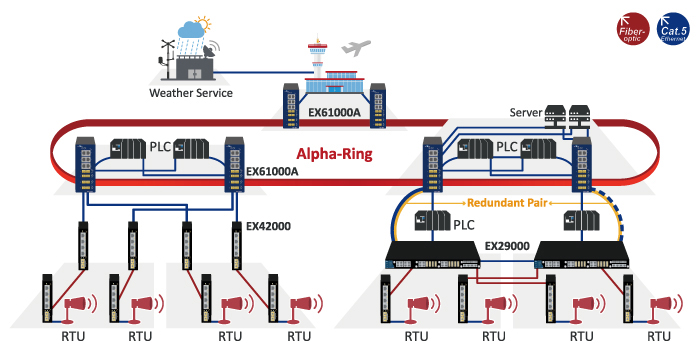 ---
Strengthened Airport Safety
Lightning threats pose a significant risk to airport operations in tropical and subtropical regions. One promising approach to mitigating these threats is to harness the detection capabilities of local meteorological observatories. Nevertheless, the success of such systems hinges on the use of network components that can withstand adverse environmental conditions, all while supporting the latest and most advanced redundancy protocols. EtherWAN's expertise in rugged Ethernet equipment empowers the company to enhance network reliability in these new systems, ultimately translating to increased safety for airport operations staff worldwide.
---
Related products:
---
EtherWAN – " When Connectivity is Crucial "
► For more information, please contact: [email protected]
---