Next Generation 10-Gigabit, 90W PoE Switch, Built for Urban & Building Infrastructure and Security Networks
EtherWAN's latest PoE switch is built to power a wide range of next-generation devices utilizing the latest IEEE 802.3bt PoE standard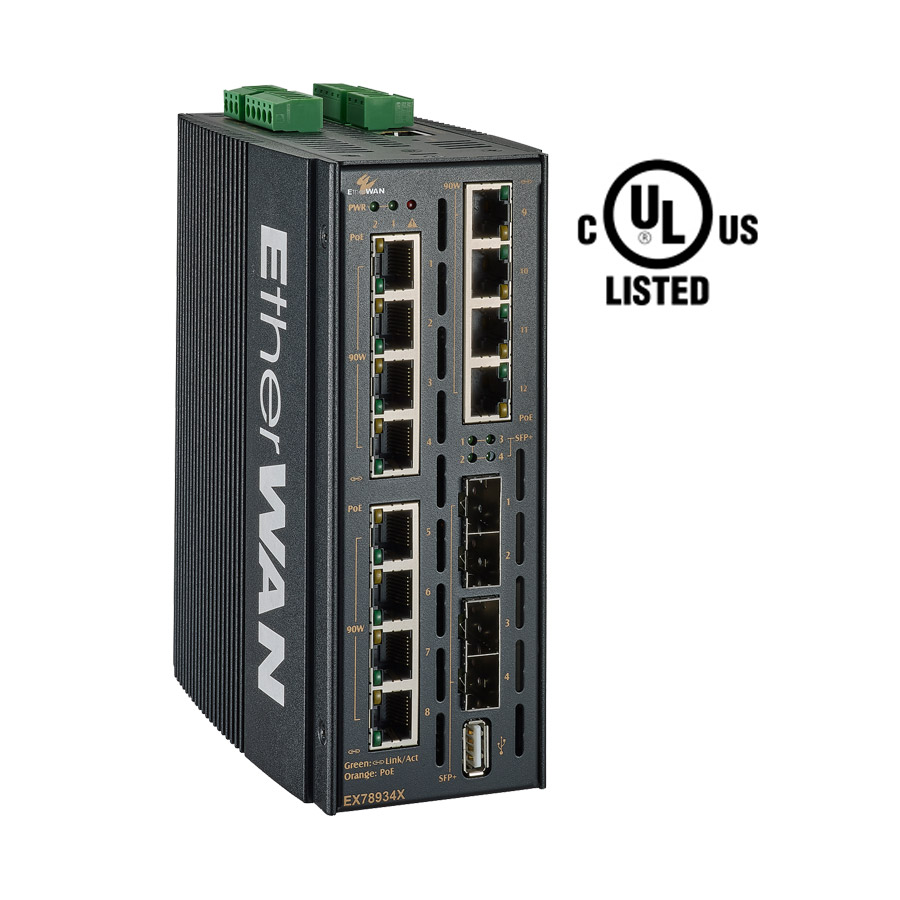 Taipei, Taiwan—March 8, 2021
EtherWAN Systems Inc.'s latest product featuring next generation PoE and ultra-fast speeds allows for a wide range of devices to be powered and connected to the network. The EX78900X series is a hardened, managed PoE switch, built to support the latest IEEE 802.3bt PoE protocol, with 12 PoE ports each providing up to 90W power to compatible devices, along with 4 10-gigabit uplink ports.
 
The EX78900X series adopts the latest standards to better support the long-term networking needs of PoE applications. 90W PoE opens the door to many more devices being powered and networked with a single cable, and is also backward compatible with PoE af and PoE at (15W/30W). 10-gigabit speeds ensure that data-intensive applications can be handled properly.
 
Additional features provide more flexibility and control. With PoE auto-recovery, the switch monitors and automatically reboots unresponsive PoE devices. Built-in digital inputs and relay outputs allow for notification and alarm functionality for devices. PoE power can be controlled granularly, allowing power to be toggled on and off on a user-defined schedule, ideal for PoE-powered security lighting applications.
 
All of EtherWAN's products are backed by professional technical support, giving customers the confidence to plan for the long-term needs of their networks including maintenance and future growth. Hardened products, backed by a limited lifetime warranty, are rated to operate within a -40 to 75°C range and can resist vibration and electromagnetic interference.
 
Visit EtherWAN's website for more details and learn how to integrate the EX78900X into your network.
 
---
About EtherWAN
EtherWAN Systems, Inc. is a leading manufacturer of Hardened Ethernet, PoE, and Fiber connectivity products specifically designed for harsh and demanding environments. Founded in 1996 in Irvine CA, EtherWAN specializes in the design and manufacture of Ethernet Switches, Media Converters, Ethernet Extenders and Power over Ethernet products for applications where connectivity is crucial.
 
With a core focus on Ethernet connectivity for extreme environments in which product reliability and quality are top priorities, EtherWAN's product development, engineering, manufacturing and quality assurance processes are structured to push the limits of stated specifications.
 
EtherWAN– " When Connectivity is Crucial"
► EX78900X official product page: https://www.etherwan.com/products/ex78900x-series
► For more information, please contact: [email protected]