Pivotal Changes on Power and Utility Industry
In 2022, the electric power sector faced energy source challenges and opportunities. As the world began to recover from the pandemic, the United States had a 2.6% increase in electricity consumption over the first eight months, exceeding the previous year's record. However, the power industry also had to deal with higher power costs, which were mostly due to a substantial spike in natural gas prices. These price hikes were a direct consequence of global energy shortages exacerbated by the Russia and Ukraine conflict.
Decarbonization efforts can be driven by the collaboration of diverse businesses and strong partnerships, higher investments in renewable energy, and a stronger emphasis on sustainable behaviors. This environmental transformation will enhance value for society and the environment while improving economic opportunities. Embracing these initiatives is not only important but also crucial in today's world.
Renewable energy is the natural power source that can be utilized to generate electricity Some of the naturally abundant renewables include solar, wind, hydroelectric, geothermal, and biomass. The most extensively used renewable energy source varies based on geography. However, due to their availability in collecting and converting their energy into useful forms, solar and wind energy are often the most widely deployed renewable energy sources globally.
When rising power demand is linked with the desire to reduce carbon emissions, renewables are on the rise. This expansion is aided by dropping renewable energy costs and policies aimed at decarbonizing the energy industry. In the electric power system, the electricity supply always needs to be balanced with electricity demand to ensure dependable and stable system operation.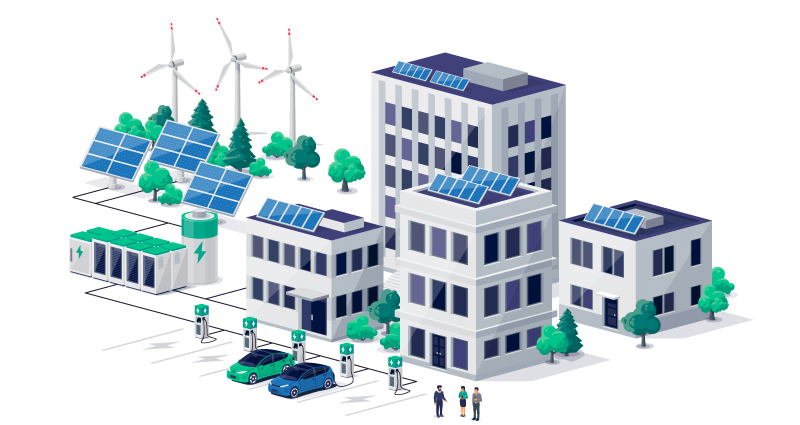 Industries using renewables:
Pharmaceutical laboratories
Farms/wind farms
Retail stores (Department store malls, and supermarkets)
Tech companies
Car manufacturing plants
Rural residentials (Erratic or no power supply)
Requirements for effective renewable integration:
Remote field monitoring and control
Ability to send notification to devices
Support for communication protocol
Support for data transmission protocol
Ability to operate in extremely high temperatures
Power redundancy
Physical and cybersecurity
---
Electricity supply process and risks
This coordinated procedure assures a consistent supply of power to provide society's electricity demands:
Generation– It involves both highly valuable and centralized assets of power plants and distributed systems such as wind and solar farms.
Since the risk of outages potentially severe in these cases, comprehensive protection for the cyber and physical security of power and utility plants is essential.
Transmission– Power plants transmit bulk electricity via high-voltage transmission lines to electrical substations.
Power and utility companies are increasingly leveraging automated technology and processes to move power around the grid safely, ensuring a steady supply.
Energy distribution - Distributing power and utility services to users consists of a complex network of water and sewer mains, substations, and smart metering devices at the core of the system.
This means the risk of IIoT device attacks in a utility's service area is high, along with hundreds of unmanned substations that run autonomously.
---
Gaps to fill
The power industry is experiencing significant gaps, ranging from the need for efficient monitoring and work solutions to meeting the growing demands of consumers for enhanced services and real-time information.
Need for lesser contact monitoring and work solutions
Growing customer expectations (Service, engagement, and real-time information)
Sustainable power during an extreme weather scenario (Climate change/extreme weather continuously tests grid resilience)
Ensuring power reliability to a growing demand
Streamlining operations to reduce costs
Certification of conformance to the standards and specifications
---
IEC and IEEE standards
IEC and IEEE standards help develop and establish market-relevant standards to guarantee product and system compatibility, safety, and quality for seamless integration, reliability, and consumer trust.
IEC61850 – Its purpose is to integrate various functions within a substation, including regulation, monitoring, and protection. This standard aims to enhance overall substation performance and efficiency.
IEEE1588 - This enables the network to utilize the most reliable source of clock synchronization. The self-adjusting nature of the network ensures precise and accurate timekeeping across all connected devices.
IEEE1613 - An industry standard for communications networking devices in electric power substations. It specifies ratings, environmental performance requirements, and testing requirements for networked devices in electric power substations. IEEE1613 calls out several classes of operational temperature ranges. They are as follows:

-40°C to +70°C
-30°C to +65°C
-20°C to +55°C (The default range if no other range is specified.)
---
The key role of an effective network system
An effective network system allows consistent and reliable electricity supply while reducing losses and disruptions. It provides effective grid control and monitoring, addressing concerns for a steady power supply as the demand rises. A stable network streamlines the power supply chain while increasing operational efficiency and safety.
Accessing the network traffic: Get a reliable, real-time overview of the network with a very high precision timing (PTP).
Managing and optimizing data flow: Build a visibility architecture to deliver actionable network data to monitoring and security tools.
Data capture and analysis: Invest in tools that enable remote monitoring. Leave no blind spots.
Cybersecurity: Deliver a secure and scalable Ethernet solutions. Monitor the devices on the network and analyzes their behavior. Make sure to keep track of all physical movement across locations with network-based video security from a camera/recorder for instant visual surveillance.
---
Conclusion
The electricity and utility industries are undergoing key developments that need close monitoring and aggressive interventions. Stakeholders must adapt and innovate in response to changing technology and consumer needs, as well as the pressing need for sustainability and grid resilience. The industry can explore developing renewable energy opportunities by implementing efficient solutions that will result in a dependable and sustainable renewable power supply to the public.