Pandemic Prevention – Networked Thermal Imaging Cameras
In 2020 the COVID-19 virus spread rapidly around the world. In addition to medical treatment of those infected, public steps to prevent group infections became extremely important. Persons infected with COVID-19 will generally have high fever symptoms. Infrared thermal imaging cameras can quickly identify people with high body temperatures. People who have high temperatures can then be directed to the appropriate medical facility for assessment and encouraged to isolate. Scanning is instantaneous, there is no contact, and data can be viewed from a distance, resulting in minimal disruption and low risk of cross-contamination or danger to the camera viewer...more

The Challenge
Legacy data collection systems required on-site installation in order to keep records. The deployment is troublesome, and the systems have poor mobility. The collection of data from multiple locations is not easy, and the tracking and storage of data is very difficult...more
The Network Solution: EW50 Series
EtherWAN's EW50 industrial 4G gateway solution is perfect for this kind of application. The EW50 is an intelligent industrial grade 4G gateway designed for critical infrastructure and industrial applications. It features a metal housing with fan-less cooling and IP30 protection against particle ingress. It supports dual SIM cards for failover, ensuring that data flow remains largely uninterrupted. The EW50 is also equipped with a host of firewall functions, including packet filter, URL blocking, content filter, MAC Control, application filter, and intrusion prevention system (IPS)...more
Frequently asked questions about Cellular Gateways
. What is an industrial cellular gateway?
Industrial Cellular Gateways are used to connect remote devices even when it is not possible to connect with standard Ethernet cabling. The gateways play an important part in SCADA connectivity, M2M communications, and IoT deployments.
. What is the difference between modems and gateways?
A modem is a combined device for modulation and demodulation of the digital data of a computer and the analogue signal of a phone line. Gateways are more complex, combining the functions of modems and routers.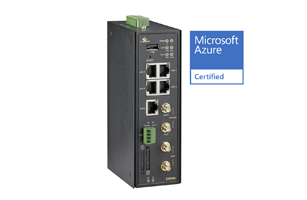 EW200 Series
Industrial LTE Cellular with IEEE 802.11 a/b/g/n/ac Wi-Fi Gateway
Product page
FOLLOW US ON OUR SOCIAL MEDIA

If you do not want to receive this e-bulletin in the future, please click the unsubscribe link.
EtherWAN is committed to compliance with all applicable data protection laws